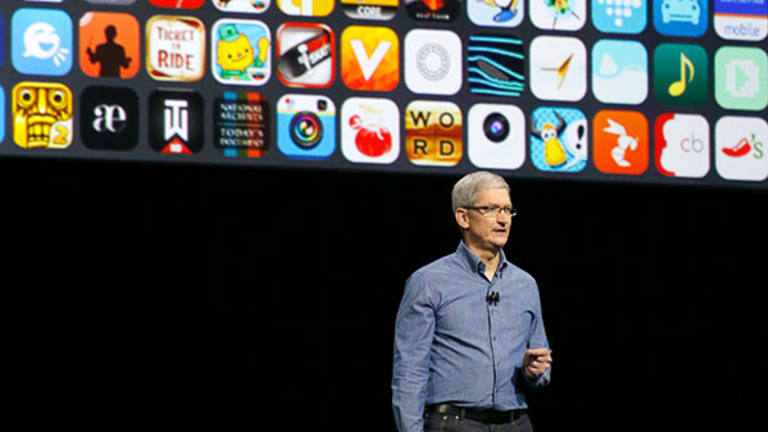 Forget About Apple's Developers Conference -- It Has Bigger Issues to Worry About
Yes, Apple's Worldwide Developers Conference wasn't very impressive, but the company has bigger issues to worry about.
Apple's (AAPL) - Get Report stock slid 1.5% on Monday as the company held its widely watched Worldwide Developers Conference. Many observers appeared underwhelmed by Apple's presentation at the conference, and CNETperhaps summed things up best: 
"WWDC laundry list leaves us high and dry. From a new name for OS X to a revamped Apple Music, the company lays out a dizzying array of new features and improvements. But few stand out in an event that's all over the place."
Forget about the WWDC for a moment, however, because there are other issues that could have more profound impacts on Apple's stock and its investors.
First, Apple's de facto status as an Irish company means that a British exit from the European Union could have implications for Apple's sales. Second, Apple may be headed for another showdown with the U.S. government, and the company's use of Ireland to reduce its U.S. taxes and China for its manufacturing could leave U.S. officials very unsympathetic toward it.
It's true that Apple's corporate headquarters are in Cupertino, Calif., but it's no secret the technology company has effectively turned itself into an Irish company, at least when it comes to taxes. This Business Insider article from 2014 notes how Apple uses corporate entities based in Ireland to lower its taxes. And the company came under fire several years ago from U.S. lawmakers. Sen. Carl Levin (D., Mich.) said at the time that Apple was using "alchemy" and "ghost companies" to avoid taxes, The Wall Street Journal reported.
Apple is a holding in Jim Cramer's Action Alerts PLUS Charitable Trust Portfolio. See how Cramer rates the stock here. Want to be alerted before Cramer buys or sells AAPL? Learn more now.
It's important to remember this now, because in recent days global stock markets have been pressured by the prospect that British voters will cast their ballots in favor of withdrawing from the EU. A report by Ireland's Economic and Social Research Institute and the country's Department of Finance says that a so-called "Brexit" would reduce bilateral trade between Ireland and the U.K. by at least 20%, The Washington Post recently reported.
Because Apple uses corporate entities in Ireland, including one that is responsible for selling its iPhones around the world, a reduction of bilateral trade between Ireland and U.K. could have negative implications of Apple sales.
As mentioned above, Apple's tax strategy may make the U.S. government take a hard line in what could turn into another showdown over privacy. Let's look at this issue in more detail.
After the San Bernardino, Calif. terrorist attack in December, in which 14 people were killed and 22 were seriously injured, Apple's CEO refused to cooperate with the Federal Bureau of Investigation in unlocking an encrypted iPhone used by one of the attackers. After a judge in February ordered Apple to assist the FBI in unlocking the phone, Cook said he would fight the decision and said it was "an unprecedented step which threatens the security of our customers." The government later dropped the case after it unlocked the phone by itself.
But Saturday's horrific mass shooting in Orlando, which left 49 dead, raises the possibility that this struggle over privacy and security could erupt again. The FBI is now searching the computing devices used by the gunman, Omar Mateen, and the EFE news agency reported that an Apple computer was among the items placed in police cars on Sunday as police removed items from a house owned by Mateen.
Apple CEO Cook's speech Monday at the WWDC -- and its difference from his public response in the wake of the San Bernardino attack -- suggests that he's starting to get worried. In the speech, he offered deepest sympathies to all who were affected by the attack and asked the audience to stand in a moment of silence. Earlier, on Sunday, he tweeted that the Orlando massacre was an "unspeakable tragedy."
He didn't make any mention of privacy or law enforcement's investigation of Mateen's computing devices. This is different from his famous "A Message to Our Customers" letter of Feb. 16.
Then, while he said Apple was "shocked and outraged" by the deadly attack and said Apple has "no sympathy for terrorists," he added that, "We are challenging the FBI's demands with the deepest respect for American democracy and a love of our country ... While we believe the FBI's intentions are good, it would be wrong for the government to force us to build a backdoor into our products."
It's noteworthy that Cook reacted to the Orlando shootings after just a day, while it apparently took more than two months after the San Bernardino tragedy to deliver his "shocked and outraged" comment.
The FBI has not disclosed yet whether there are any encryption issues that Apple needs to re-address, but technology watchers are wondering whether Cook will continue to challenge the government if there are.
Apple is facing some serious issues. First, there's the less-than-enthusiastic reception at the WWDC. Then there are potential trade issues associated with a Brexit. But Americans, and human beings around the world are disgusted about these terrorist attacks, and if Apple is caught in another fight with the government, it will be the tipping point.
Apple CEO Cook has demonstrated his bravado against the Internal Revenue Service, the U.S. Senate, and the FBI. It would be a simple thing for the U.S. government to reciprocate by passing a law affecting Apple sales.
Since the San Bernardino attack, there have been the Brussels suicide bombings and now the worst mass shooting in U.S. history, and some observers may now be rethinking Cook's past bravado and whether the company is doing enough to help prevent terrorism.
The U.S could easily impose a tariff on any Apple product coming into the U.S., the same way it does on Chinese solar panels coming into the U.S. After all, Apple is not really a U.S. company, and its products are not made in the U.S.
This article is commentary by an independent contributor. At the time of publication, the author held no positions in the stocks mentioned.