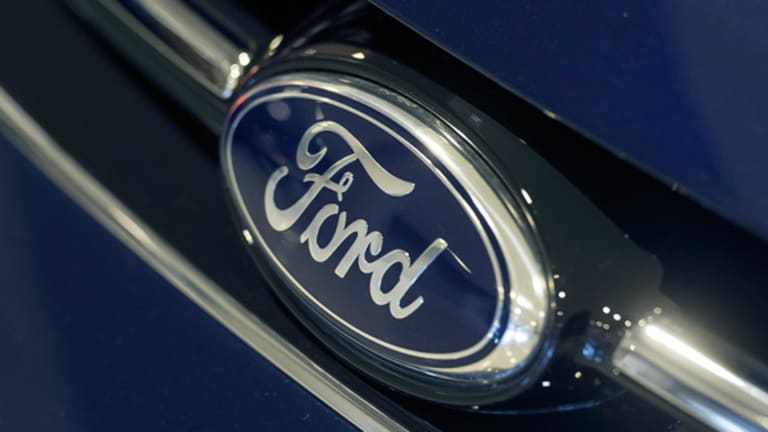 Ford's Mulally Is Beating Around the Bush
As Ford's stock continues to drop, Mulally refrains from providing investors with clarity regarding his future plans.
NEW YORK (TheStreet) -- Dismissing the price action over the past two days, Ford (F) - Get Ford Motor Company Reportstock has essentially remained unchanged over the previous three months. This even includes an earnings beat that exceeded analysts' lofty expectations.
Still, the share price barely budged. Of course, any remotely active F investor has likely witnessed the stock drop to $15.30, an 8% fall from Tuesday's closing price of $16.70. 
Even during Wednesday's rally -- induced by the Federal Reserve's latest tapering announcement -- shares of F still closed lower by some 6+%. Not generally a good sign, especially when both the Dow Jones Industrial Average and S&P 500 posted record closing highs. 
Before dissecting the recent move lower, let's take a step back and discuss the previous three months of share price stagnation. 
Increased speculation regarding CEO Alan Mulally's potential departure to Microsoft (MSFT) - Get Microsoft Corporation Report has created uneasiness among the shareholder base. (Of course, it shouldn't really matter, since Mulally's whole plan was to likely retire at the end of 2014 anyways).
But it has mattered, and honestly, it will continue to do so until the headwind is removed. Personally, I don't think Mulally's going anywhere. 
This directly clashes with what Normura Securities' Rick Sherlund has so confidently predicted over the past several months, only to back away from those comments more recently. 
The move for Mulally to stay would (and should) not come as a surprise to investors at this point. Although to reassure them that it's true seems rather important now. 
Of course, the most recent shellacking was not helped by this management uncertainty. Many investors -- admittedly, myself included -- were hoping that the company's last-minute analyst meeting was staged to announce Mr. Mulally's future plans, which hopefully included staying put in Dearborn, MI. 
Instead, the meeting was much worse than expected. Not only was there no light shed on the Mulally situation, but the company also announced that it expects 2014 pre-tax profit to be lower than 2013. (Click here for the entire slideshow.)
Even though global markets are recovering and the U.S. remains strong, new vehicle launches and recalls (particularly the Ford Escape) are expected to weigh on its bottom line. 
The price action isn't shocking, given this news. Over the short term, the stock is oversold and will probably see a little bounce back in the next couple of trading sessions. If anything, it should at least settle down and find a bottom, even if it's only temporary. 
But why should investors rush into Ford, when automakers like General Motors (GM) - Get General Motors Company Reportand part suppliers like BorgWarner (BWA) - Get BorgWarner Inc. Reportare doing so well?
GM just announced a seamless transition with its chief executive, naming Mary Barra the new CEO -- which was a tremendous and deserving accomplishment on her part.

The U.S. Treasury has also completely liquidated its position in the company. GM has cleaned up its balance sheet and released a slew of solid new vehicles. It's luxury line, Cadillac, has been crushing it in sales, up 25% year-to-date from the same time last year, while the 2014 Cadillac CTS just won the coveted Motor Trend Car of the Year award.
And then there's Ford, with a shaky management position and declining profits. Granted, the projected drop in profit is mainly due to Ford investing in its future, but it's not giving investors many reasons to stand by its side. Especially when its top leader is refusing to publicly do so. 
Yes, Mulally has said vague things, like the plan hasn't changed -- the plan being to stay through 2014 -- and I'm happy being at Ford. But it hasn't yet been official. Until the words, "I'm not taking the job at Microsoft and will remain at Ford," leaves his mouth, it will never be official.
That's how these kinds of things work. We all hear that nothing will change and all is well, then suddenly, Bam! It's exactly what the rumors had said in the first place.
Look at the Mack Brown situation. University of Texas' head football coach was at the center of swirling speculation regarding his job status for months. Between rumors saying he would leave and him defending his staying thereof, it was hard to know which was true. Ultimately, he resigned. 
I think Mulally will stay put. I've said that all along. He might not stay long, as in retire, but I think he'll stay at Ford. 
My one plea is this: Alan, please do your shareholders a favor and just tell them your plans. On the record. Don't dance in circles or beat around the bush. Just say it. Give them something to cheer for, even if it's just clarity. Otherwise, they should just buy GM. 
At the time of publication, the author was long Ford.

-- Written by Bret Kenwell in Petoskey, Mich.

Bret Kenwell currently writes, blogs and also contributes to Robert Weinstein's Weekly Options Newsletter. Focuses on short-to-intermediate-term trading opportunities that can be exposed via options. He prefers to use debit trades on momentum setups and credit trades on support/resistance setups. He also focuses on building long-term wealth by searching for consistent, quality dividend paying companies and long-term growth companies. He considers himself the surfer, not the wave, in relation to the market and himself. He has no allegiance to either the bull side or the bear side.