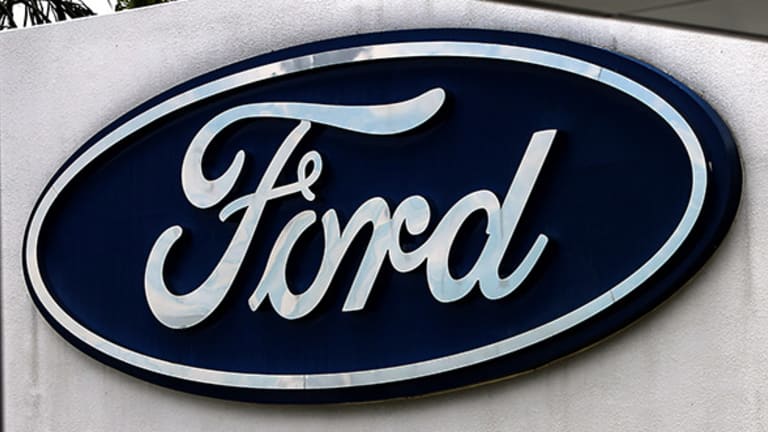 Ford's Strong Results Don't Bring It Rewards From Skeptical Investors
Investors may be looking beyond current strong conditions in the U.S., remaining skeptical of Ford's ability to perform in a downturn.
For Ford's  (F) shareholders, management and founding family members, record financial results in 2015 leave a slightly bitter aftertaste.
Ford's profit of 58 cents a share in the fourth quarter beat Wall Street's expectation of 51 cents, according to Thomson Reuters. The full-year results, released Thursday, were a record, as the company successfully rolled out its new and highly profitable aluminum-bodied F-Series pickup truck in the U.S. and posted a profit in Europe for the first time since 2011.
But Ford's stock price has remained weak. In the last year, Ford shares have declined in value more than 20%, compared with a decline of 8.2% for the S&P 500. Ford's shares were off another 4.9% in trading on Thursday.
Investors are spooked by a fear that the U.S., on which Ford is disproportionately dependent compared to other regions, has peaked in terms of automotive sales. A cooling of China's economy further raises worries of a global recession.
A consensus of equity analysts rate Ford stock a hold, mostly because the analysts are anxious to see how the company performs when current strong vehicle demand in the U.S. weakens. Given the business's strong need for capital and its cyclicality, automakers have run into trouble operating during a downturn without having to cut investment in new vehicles and technology or to omit the dividend.
Ford has been in this position. In 2006, two years before the global financial crisis, the automaker trimmed and then omitted its dividend as vehicle inventories climbed and vehicle pricing weakened in the U.S. The automaker was forced to mortgage the company's assets to raise cash, allowing it to avoid bankruptcy three years later, as befell General Motors, its crosstown rival.
Earlier this month, Ford declared a special dividend of $1 billion. In addition to the regular dividend, which was restored in 2011, the special payout means that buyers of Ford shares at the current price will earn roughly 7%, an attractive yield on a relative basis to other dividend stocks and certainly to interest rates.
But paying a one-time dividend instead of increasing a regular payout, which later might need to be trimmed or omitted if cash or credit grows tight, paradoxically may have been read by investors as a signal that Ford isn't yet confident in its ability to withstand the next downturn.
Most forecasters are calling for 2016 to be another strong year for the U.S. auto industry, albeit at a slowing rate of growth. Accordingly, Ford is calling for another strong year of profit, especially in light of low gasoline prices that will help sales of pickups and other large vehicles.
Ford has supporters on Wall Street who argue that the bad old days of boom-and-bust for the company have passed. The consensus opinion, however, is that Ford still must prove its mettle in tough times in order to attract investors with long memories.
Doron Levin is the host of "In the Driver Seat," broadcast on SiriusXM Insight 121, Saturday at noon, encore Sunday at 9 a.m.
This article is commentary by an independent contributor. At the time of publication, the author held no positions in the stocks mentioned.