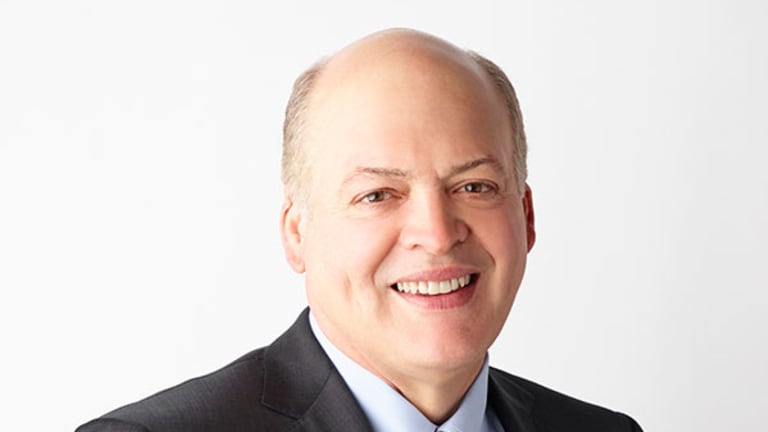 Ford's Jim Hackett Has Unusual Resume for an Auto Executive
Jim Hackett led Steelcase as CEO and served as Michigan's interim athletic director. His resume is unusual for a transportation executive.
In the very new field of advanced mobility, few executives have as little experience or as incongruous a resume as Jim Hackett, 61 years old, the executive placed in charge of Ford's (F) Ford Smart Mobility unit.
Hackett's other qualities, however, may give Ford a boost.
A 30-year veteran of Steelcase, the Grand Rapids, Michigan-based maker of office furniture, Hackett retired from the company as CEO to take over in 2015 as interim athletic director of the University of Michigan.
A former center on Michigan's football team under the legendary Bo Schembechler, Hackett was tapped by the university's president to resuscitate the school's beleaguered football program. He hired Jim Harbaugh, a former Michigan quarterback who had coached the San Francisco 49ers National Football League team.
"I ran Steelcase for 20 years, in a town where most of people worked there; and I got more press in three weeks as athletic director," Hackett told a breakfast crowd of 80 people in Ann Arbor earlier this year, on his last day as interim director.
On March 11, Hackett was named head of Ford Smart Mobility, simultaneously stepping down from the automaker's board, a role in which he had served since 2013. Many -- who knew little about his background at the time --were baffled.
Mark Fields, Ford's CEO, said "our plan is to quickly become part of the growing transportation services market, which already accounts for $5.4 trillion in annual revenue. Jim Hackett is the right visionary leader -- with extensive experience in business development and design -- to take us into the mobility services business in the future."
As global automakers race to invest directly in ride-sharing ventures like Uber and Lyft, Ford has yet to make a "big bang" transaction. Ford has created a FordPass app that can be used as a portal to mobility services, whether or not the user is driving a Ford vehicle.
Last January, Ford was widely expected to announce an alliance with Alphabet's Google, possibly in the area of autonomous driving. Ford never acknowledged the talks officially; in April, Google and Fiat Chrysler announced an agreement under which the automaker will build driverless prototypes for Google.
Hackett most likely is undertaking a strategic and methodical review of what rivals have done and what Ford is trying to accomplish, much in the same manner that he analyzed and renovated Michigan's football program. He likes to talk about "human-centered" design, finding out from people exactly what bothers them, what motivates them and what they want. In the case of the football players, it was a new apparel contract with Nike.
Less well known about Hackett was his key role in leading innovation in the design of office spaces and furniture, away from closed offices and spirit-killing cubicles. Ford sees an analogy between the way modern work spaces have evolved and the way the transportation grid is progressing as a result of digital technology and the sharing economy.
"He's wicked smart. He really is," said David Kelley, CEO of Palo Alto, Calif.-based design consultancy IDEO, Kelley has been a colleague and friend since the 1990s when Hackett negotiated an equity investment in IDEO to foster design innovation at Steelcase.
Kelley said Hackett has a penchant for being able to solve the dilemma Ford and other automakers face between how much to spend on the existing business of manufacturing vehicles vs. how much to invest in new ideas.
According to a prepared biography prepared by Ford, Hackett said he uses a "human-centered strategy, also called design thinking." He wasn't available for an interview, the automaker said.
"There's no magic or mysticism in saying Jim Hackett knows the future. But what I'm comfortable doing is studying and playing in that realm," he said in the Ford profile.
Doron Levin is the host of "In the Driver Seat," broadcast on SiriusXM Insight 121, Saturday at noon, encore Sunday at 9 a.m.
This article is commentary by an independent contributor. At the time of publication, the author held no positions in the stocks mentioned.