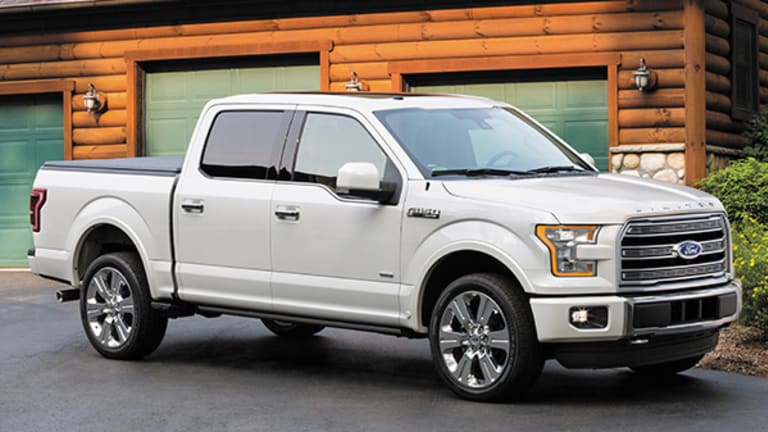 Publish date:
Ford's Earnings Fall, Automaker Says U.S. Growth Is 'Improving'
Ford says it remains committed to guidance for the rest of 2016, while noting 'risks' and a maturing economic recovery.
Ford says it remains committed to guidance for the rest of 2016, while noting 'risks' and a maturing economic recovery.
Updated with comments from Jim Cramer
Ford Motor (F) - Get Report posted second-quarter net income of $1.97 billion, or 49 cents a share, down from year-earlier profit of $2.16 billion, or 54 cents, while adjusted earnings of 52 cents a share missed estimates, sending the stock down 9.5% in trading on Thursday.
Pretax profit of $2.99 billion for the quarter was $293 million less than last year. Ford said its operating profit margin and global market share fell slightly in the period.
Revenue for the quarter totaled $39.5 billion compared with $37.3 billion a year ago.
The No. 2 U.S. automaker said it remained committed to its financial guidance for the remainder of the year of equal or better performance than in 2015. Bob Shanks, chief financial officer, referred to heightened "risks" to the company's performance, caused by a "plateau" in demand.
"The market isn't that bullish for North America," said TheStreet's Jim Cramer.
"I think autos are plateauing, I don't think they are going down," Cramer added.
Shanks said the "entire Ford team is working to mitigate the risks," mainly through cost containment. He said costs associated with the launch of Ford's Super Duty pickup truck in the current quarter will have a negative impact on financial performance.
U.S. growth is "improving" after a slow start to the year, though economic signs pointed to a "maturing recovery," he said.
Pretax profit in Europe for the quarter reached $467 million, up from $161 million a year ago. The automaker has been accounting for the negative impact on the pound and euro exchange rates due to the U.K.'s vote to exit from the European Union.
Shanks highlighted what he termed "best ever" quarterly automotive cash flow of $4.2 billion and "continued strength of our balance sheet," which has led to upgrades by credit ratings agencies over the past few months.
Strong sales of the automaker's F-Series full-size pickup truck were a major stimulus to earnings. In the first quarter, Ford profit more than doubled on a 20% increase in sales. Stronger sales of Edge, Escape and Explorer SUVs also helped.
Mark Fields, president and chief executive, issued an upbeat assessment: "We delivered another strong quarter -- one of our best second quarters ever -- and record pretax profits for the first half of the year.
"We remain committed to delivering another full year of strong profitability, even as we address some new risks and market challenges around the world."
Ford's pretax profit from financial services fell to $400 million in the quarter from $506 million last year, due mostly to falling residual and auction values on small cars, credit losses and reduced financing margins.
Doron Levin is the host of "In the Driver Seat," broadcast on SiriusXM Insight 121, Saturday at noon, encore Sunday at 9 a.m.
This article is commentary by an independent contributor. At the time of publication, the author held no positions in the stocks mentioned.