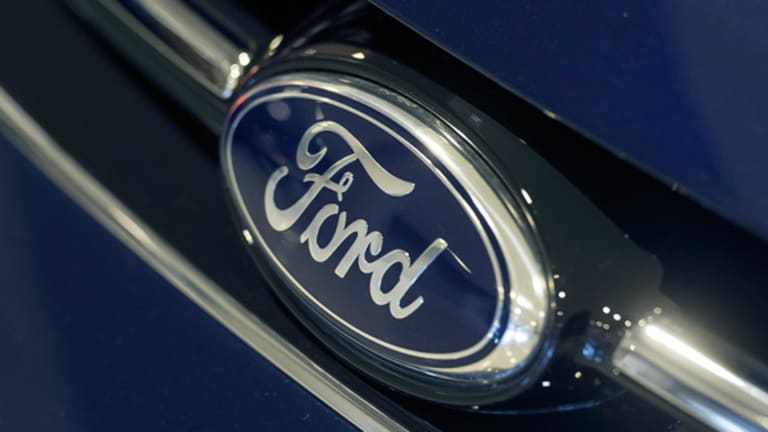 Ford: Pedal to the Metal
After another strong quarter of earnings, Ford is proving it's going in the right direction.
NEWYORK (TheStreet) -- Ford (F)  reported third-quarter earnings on Thursday morning, again beating analysts' expectations in both revenue and earnings. 
But perhaps, more importantly, the company proved that its European operations are improving. 
For the third quarter, Ford posted a pre-tax loss of $228 million in Europe. While that may seem like a large amount, consider that in the same period last year, the company lost $468 million in the region. 
The multiyear goal from CEO Alan Mulally was to break even in the region by mid-decade. At this pace, with the third-quarter loss falling 52% year over year, investors could be looking at more than just covering the costs of doing business. 
Chief Financial Officer Bob Shanks confirmed this possibility, saying, "I think we could turn a profit -- not just break even -- by 2015." 
He added that along with cost-cutting and operational improvements in Europe, "there are signs we're seeing some markets return to growth." 
Shares of Ford, which briefly rallied over $18 for the first time since January 2011, have been on a tear this year, up over 37%.
With revenue overall up roughly 12.5% and earnings per share up 12% from the same period last year, Ford seems to be doing all the right things. 
In January, management announced that it would double the company's quarterly dividend to 10 cents a share from 5 cents. I wouldn't be shocked to see a 15 cent or possibly 20 cent quarterly dividend announcement when fourth-quarter and full-year results are reported later this winter. 
Assuming the price remained the same, the current 2.25% dividend yield would increase to 3.4% with a 60 cent annual payout and balloon all the way to 4.5% on an 80 cent annual dividend. Obviously, a 15 cent quarterly (60 cent annual) payout would be the more likely outcome.
This stock could be a growth and value investor's dream. With a higher dividend payout, Ford could be considered an income stock, while the company gains market share in all of the regions in which it operates -- North America, South America, Europe and Asia Pacific Africa.
Although sales in China are relatively small compared to those in North America, the growth rate is tremendous, up 51% in the first nine months of the year compared with last year, with pre-tax profits nearly tripling from the third quarter of 2012.  
Management suggested it could have a 5% market share in China by the end of the fourth quarter, an increase from 3.2% in the year prior. This view is not surprising, considering that Ford just posted a record quarterly profit in the region, (which was mentioned on the conference call). Mulally has focused on turning around Europe and making China one of the company's biggest markets. He is headed in the right direction. 
Europe, meanwhile, seems to be bottoming, which has been confirmed by other companies such as GeneralElectric (GE)  and Alcoa (AA) . 
Imagine if Ford's $228 million quarterly loss didn't exist. I know, that sounds stupid at first, but consider that through the first nine months of this year, Ford has lost $1.04 billion in Europe.  
If those losses were wiped away and Ford turned a profit in Europe, the stock would rip. It would be trading drastically higher and earnings per share would be so much stronger. 
This scenario is not from a fairy tale. Eventually it will happen, and as Shanks, the CFO, suggested, could be the case by 2015. 
Investors who feel like they've missed the boat can still buy shares of Ford with a long-term view. If the dividend gets hiked and European operations go from red to black, the stock should climb as a result. 
Disclosure: At the time of publication, the author was long Ford.

-- Written by Bret Kenwell in Petoskey, Mich.

Follow TheStreet.com on Twitter and become a fan on Facebook.
Bret Kenwell currently writes, blogs and also contributes to Robert Weinstein's Weekly Options Newsletter. Focuses on short-to-intermediate-term trading opportunities that can be exposed via options. He prefers to use debit trades on momentum setups and credit trades on support/resistance setups. He also focuses on building long-term wealth by searching for consistent, quality dividend paying companies and long-term growth companies. He considers himself the surfer, not the wave, in relation to the market and himself. He has no allegiance to either the bull side or the bear side.