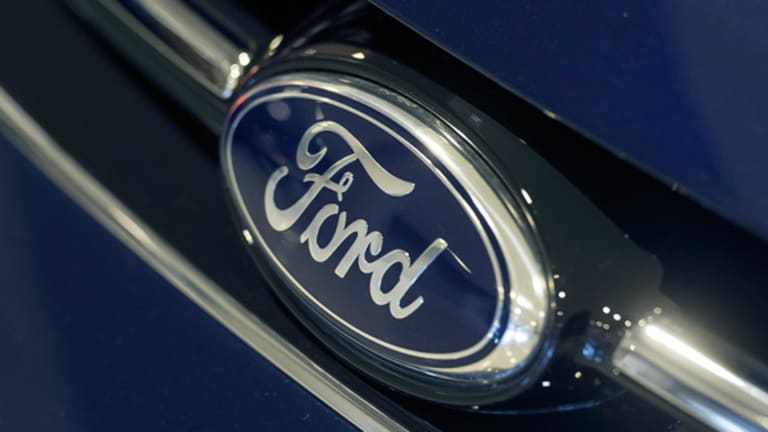 Ford Must Avoid Road Hazards to Reach $30
The next two quarters for Ford will determine what 2014 will look like for investors.
NEW YORK (TheStreet) -- There was a point earlier this year when the Street was completely in awe about what Alan Mulally has done to turn around the fortunes of Ford (F) - Get Ford Motor Company Report, which, until his arrival, had struggled to execute.
Impressively, in only the first seven months of the year, Ford had already surpassed its entire cash total for 2012. This (among other things) not only propelled Mulally to the top of everyone's candidacy for CEO of the year, but some have even suggested he should replace Steve Ballmer as CEO of
Microsoft
(MSFT) - Get Microsoft Corporation Report
.
Unfortunately, though, while Ford has been -- without a doubt -- the model of what can happen when vision meets strong execution, investors have grown frustrated about the lack of movement in the share price. Although the stock closed Tuesday at $17.60 and is sitting near its 52-week high, shares have gone nowhere for more than four months.
Read: Netflix Could Benefit From Elon Musk's Strategy at Tesla and SolarCity
Now with third-quarter results due out Thursday, during which the company is expected to post a 7.5% year-over-year earnings decline, these shares seem miles away from $20. The Street will be looking for earnings per share of 37 cents, which is a 3-cent decline from the 40 cents per share the company posted a year ago.
Some of this pessimism stems from the fact that even though Ford has been consistently profitable over the past eight quarters, there's been an average of 25% profit decline over the past four quarters. The good news here is that consensus EPS estimates have risen by 2 cents over the past three months. So there are still analysts that believe Ford will fare much better.
Revenue, meanwhile, is expected to grow 6% year over year to $34.18 billion, surpassing the year-ago total of $32.17 billion. Given that Ford grew revenue by 18% year over year in the July quarter, the Street seems less optimistic that Ford can continue its growth trend. But the 6% projected revenue growth is 2% lower than what Ford has averaged over the past four quarters.
In fact, Ford broadly exceeded every meaningful metric in the July quarter, which I believed should have propelled the stock north of $20. To the extent management can avoid some "road hazards" in Europe and China when it reports its results, the stock may drive by $20 before the end of the year. The company's earnings estimates will weigh heavily on how fast the stock gets there.
We know that in the company's first two earnings reports combined, Ford has already earned 86 cents per share on the year. Analysts are projecting full-year earnings to be at $1.56. This means that management only has to post combined earnings of 70 cents per share in the next two quarters. Now, subtracting the 37 cents per share that the company is expected to post this quarter, means that Ford would only have to achieve 33 cents per share in the fourth quarter.
Read: How to Survive Flu Season
The way I see it, these estimates are awfully low. And while the company has shown some recent struggles in Europe, management has been able to offset this weakness with better-than-expected performances in China and North America. In that regard, it would come as no surprise if earnings per share were to arrive on Thursday at 40 cents, which would keep Ford on track to reach my projected full-year EPS target of $1.65.
Now, I don't want to exaggerate the importance of one quarter and blow the company's EPS results out of proportion. But should Ford achieve full-year earnings per share of $1.65, I believe this level will support investors' demands for an increase in the dividend by the first quarter of 2014. With the dividend increase, the stock should then begin to appreciate commensurately.
And even if Ford were to only meet its earnings estimates for this quarter, there's still a chance for a strong fourth quarter as dealerships are known to aggressively discount current year models to move inventory for new arrivals. To that end, I believe $30 per share some time in 2014 is more than possible. Accordingly, I would be a buyer here ahead of the company's earnings report.
At the time of publication, the author had no positions in the stocks mentioned
.
Follow @saintssense
This article was written by an independent contributor, separate from TheStreet's regular news coverage.
Richard Saintvilus is a co-founder of
where he serves as CEO and editor-in-chief. After 20 years in the IT industry, including 5 years as a high school computer teacher, Saintvilus decided his second act would be as a stock analyst - bringing logic from an investor's point of view. His goal is to remove the complicated aspect of investing and present it to readers in a way that makes sense.
His background in engineering has provided him with strong analytical skills. That, along with 15 years of trading and investing, has given him the tools needed to assess equities and appraise value. Richard is a Warren Buffett disciple who bases investment decisions on the quality of a company's management, growth aspects, return on equity, and price-to-earnings ratio.
His work has been featured on CNBC, Yahoo! Finance, MSN Money, Forbes, Motley Fool and numerous other outlets.
Follow @saintssense