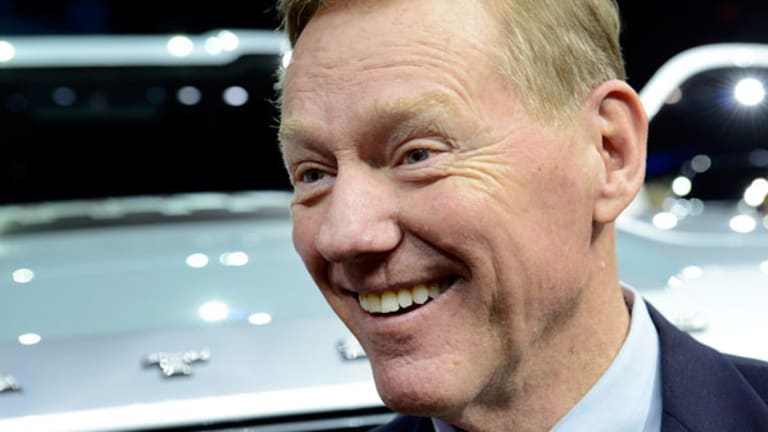 Publish date:
Ford Is the 'Apple' of the Automotive Industry
Just like Apple, Ford is bringing first-to-market technology that can change the landscape.
Just like Apple, Ford is bringing first-to-market technology that can change the landscape.
NEW YORK (TheStreet) -- Just like Apple (AAPL) - Get Report, Ford (F) - Get Report leads its respective field in the latest, greatest new product. 
Was the iPhone the first smartphone? Was the iPad the first tablet? Ahhh...you know what, the iPod had to be the first MP3 player, right? 
No. To all of them. 
But Apple was the first company to get all three categories right. The first to come out with a premiere product and really nail it. It gave the consumer what it wanted, even if consumers weren't sure they wanted it. 
This is exactly the same situation for Ford! Of course there are doubters. Of course there are skeptics. But that's what happens when a company unveils something as radical as Ford has done with its top selling product. 
The new F-Series pickup truck will still be built on a high-grade steel frame, but will now feature a high-strength aluminum alloy for its body, cab and cargo bed. 
In Is The New F-150 Tinfoil on WheelsI took a look at the new truck and included a great video featuring the vehicle's chief engineer Pete Reyes. I highly recommend it, even if only for the interview. 
The new truck will be 700 pounds lighter, drastically improving driving performance and fuel efficiency. And due to its heat-treated process with the new metal, its strength won't be compromised. 
If this new technology proves true -- faster, stronger, more fuel efficient, and tougher -- then the new F-Series is truly earth-shattering. Ground-breaking. Revolutionary.
Sure, you can tell me how German engineers have been using aluminum since 1950. Whatever. Nobody has ever taken this concept and so radically planned to turn the pickup truck market on its head. 
In the U.S., the F-Series has been the top-selling vehicle for the past 32 years and top-selling truck for the past 37 years. 
CEO Alan Mulally is just the man for this type of move to happen at Ford. With all his years at the helm of Boeing (BA) - Get Report, the man is well aware of the benefits that come with using aluminum, which has become quite prevalent in the airline industry. 
When asked about the risk of drastically changing the top-selling vehicle, Reyes said, "Doing nothing or not enough was a bigger risk."
Remind you of anyone? Instantly, I thought of the late-Steve Jobs, the former CEO of Apple. 
He was willing to cannibalize his own products, because he knew someone else would if he didn't. Jobs was a leader. He brought innovation and quality to the market. And he was the first one to do it right when he did. 
The competition will only find themselves playing catchup. If the 2015 F-Series is a hit -- meaning it gets stellar fuel efficiency without sacrificing power or durability -- then General Motors (GM) - Get Report and Chrysler will be in a frenzied rush trying to duplicate its success. 
From an article at the Associated Press: 
"... Competitors aren't panicking, but they're on notice. Chrysler CEO Sergio Marchionne, whose company makes Ram trucks, said he'll be watching the Ford truck carefully. Still he believes cost is still a big barrier to the wider adoption of aluminum.

"We've looked at it, but right now I can't make the weight to cost benefit analysis to work. But it may be my fault," he said. ..." [Emphasis added]
You see? The CEO of Chrysler is literally in wait-and-see mode. 
(Is Ford reminding you of a certain tech company yet?). 
Apple's competitors couldn't match the new products from its top rival, and soon began battling amongst themselves to try and play for second place. 
The consumer technology market is no doubt much different than the auto market. But market share is not the point. 
Like Apple, Ford is bringing first-to-market technology to one of the top product categories in its respective industry.
It's an outright game-changer. In a product category where brand loyalty is quite high, this could be just the thing to tip the scales. 
How many loyal PC users now have a Mac? How many loyal BlackBerry users now have an iPhone? 
Apple. Ford. 
Jobs. Mulally. 
Winners make winners, and Mulally's a winner. 
This article represents the opinion of a contributor and not necessarily that of TheStreet or its editorial staff.
DISCLOSURE: At the time of publication, the author was long AAPL and F. 
-- Written by Bret Kenwell in Petoskey, Mich. 
Bret Kenwell currently writes, blogs and also contributes to Robert Weinstein's Weekly Options Newsletter. Focuses on short-to-intermediate-term trading opportunities that can be exposed via options. He prefers to use debit trades on momentum setups and credit trades on support/resistance setups. He also focuses on building long-term wealth by searching for consistent, quality dividend paying companies and long-term growth companies. He considers himself the surfer, not the wave, in relation to the market and himself. He has no allegiance to either the bull side or the bear side.