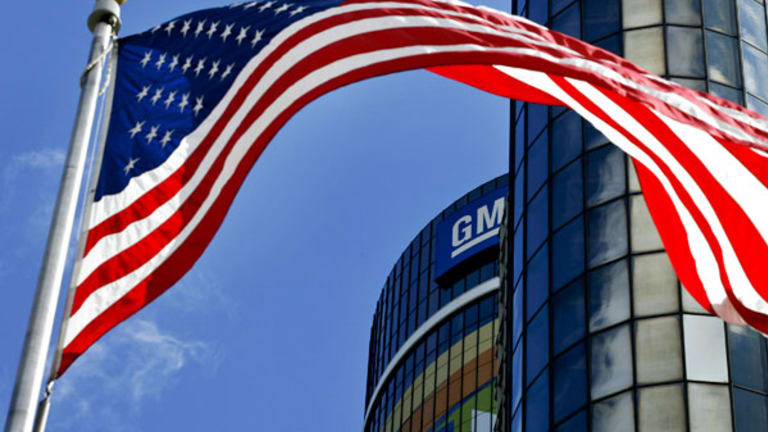 Ford, GM, Toyota Shares Could Rev on Auto Sales Report
March auto sales number could well be robust -- welcome news for Ford, GM and Toyota shareholders.
NEW YORK (TheStreet) -- General Motors (GM) - Get Report, Ford (F) - Get Report, Toyota (TM) - Get Report shares could get a boost if March auto sales due out next Tuesday come in better than expected. 
The sales number should exceed analysts' expectations -- welcome relief for investors in automakers' shares, which haven't fared so well this month.
In February, U.S. auto sales showed a very slight year-over-year decline, but overall they were still better predicted.
General Motors posted a 1% decline in sales for the month, beating analysts' expectations for a 6% drop. Ford posted a 6% drop in sales results, slightly ahead of what analysts were expecting. 
[Read: GM, Toyota Are Strong Buys, Says S&P Analyst]
In Ford's announcement about its February sales, John Felice, vice president of U.S. marketing, sales, and service at Ford, said, "Sales surged in the final week, providing us momentum after a slow start to the month." 
This tells me two things, the most obvious being that March started off with solid momentum. The second, more subtle, thing is that demand for new vehicles continues to build, as weather has been holding back purchases. 
February's auto sales barely declined year-over-year despite poor weather, and when the weather improved toward the end of the month, sales kicked up.
[Read: On GM, Anatomy of an Options Trade]
People want to buy new cars. In fact, that's exactly what Paul Nadjarian, CEO of Mojo Motors, told me a few weeks ago when I talked to him on the phone. Initially, I was discussing his company with him. Later, we broadened our discussion to the auto industry in general. 
Nadjarian, who's been in the industry for two decades (and spent plenty of time at Ford), was optimistic on auto sales in 2014. He added that U.S. auto sales likely will surpass the 16 million seasonally adjusted annual rate (SAAR) this year. 
Furthermore, he said that pent-up demand existed for new cars. He also said that the fierce winter weather would actually help auto sales once the weather improves, because the bad weather either damaged or made existing cars less reliable.
In sum, I think this pent-up demand should lead to a strong March sales number.

All of that said, GM has some specific problems right now. 
In February, it announced that it would recall 1.6 million vehicles over the now infamous ignition switch issue. 
In March, the U.S. Attorney General announced that the launch of a criminal investigation into the company's handling of the recall. The Justice Department recently settled with Toyota Motors (TM) - Get Report in a similar case for a whopping $1.2 billion. 
[Read: Mobile Apps Are Often Wide Open Security Traps]
GM also announced a 1.55 million vehicle recall in March, with 1.2 million vehicles being recalled over air bag issues. The company also announced that it would take a $300 million charge in the first quarter due to the recalls. 
Although these events may seem irrelevant to monthly auto sales, this is not the case. First, investors must ask themselves, how much have these recalls affected sales for General Motors?
In other words, did customers opt for a Ford, Chrysler, Toyota, or other ride because of these issues? Has the negative press coverage weighed on customers' decision-making?
If it has not, and sales were indeed better than expected for General Motors, will GM's stock end its recent slump? 
The stock is down 8.5% since March 10 and 15.5% year to date. Compare that to Toyota, which is down 8.5% year to date, and Ford, which is down 1% year to date. It's obvious that GM is in the gutter. 
But it deserves to be in the gutter right now! After two large recalls and a criminal investigation, I wouldn't expect shares to trade well. The question now remains, will sales be enough to help turn the stock around, even if only for the short term? 
On Wednesday, Kelley Blue Book suggested that monthly auto sales for March would rise by 2%, totaling 1.48 million vehicles. That would bring the SAAR up to 15.7 million vehicles. Specifically, the company forecasts GM to grow sales by 0.4%, Ford to grow sales 1% and Chrysler to grow sales 7.2% -- the highest forecast for an automaker this month.  
TheStreet's Ted Reed writes, Toyota "took an unusual step" by announcing that auto sales were good so far through March.
My rough estimates are that a healthy beat in a particular automaker's number could boost its stocks 3%-5%, while a slight beat might lift it 1%-3%. An in-line result or a slight miss would probably result in the stock making mild gains of up to 1% or dropping about 1%.

At the time of publication, Kenwell owned shares of Ford. 
-- Written by Bret Kenwell in Petoskey, Mich.
This article represents the opinion of a contributor and not necessarily that of TheStreet or its editorial staff.
Bret Kenwell currently writes, blogs and also contributes to Robert Weinstein's Weekly Options Newsletter. Focuses on short-to-intermediate-term trading opportunities that can be exposed via options. He prefers to use debit trades on momentum setups and credit trades on support/resistance setups. He also focuses on building long-term wealth by searching for consistent, quality dividend paying companies and long-term growth companies. He considers himself the surfer, not the wave, in relation to the market and himself. He has no allegiance to either the bull side or the bear side.