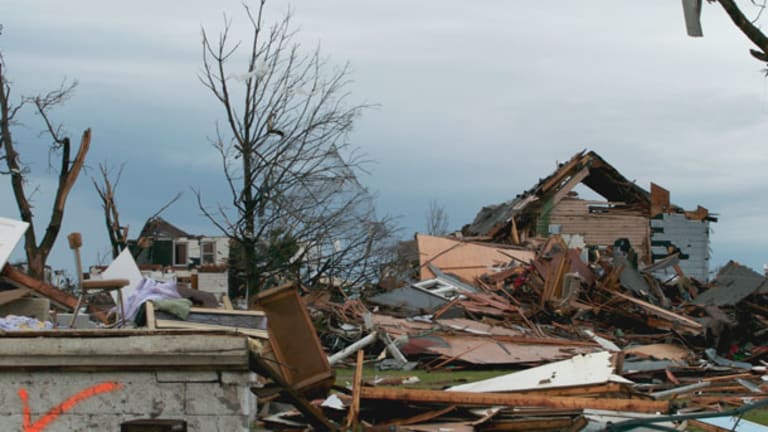 Force-Placed Insurance Is a Necessary Good
Headlines have focused on the big bad banks' practice of forcing mortgage borrowers to have insurance, but it's actually a good thing.
NEW YORK (
) -- Since the housing bubble burst in 2008, there have been many headlines bashing banks for forcing mortgage borrowers to have insurance on their homes, but it's a good thing they do.
The
Wall Street Journal
on Tuesday reported that the Federal Housing Finance Agency -- which took
Fannie Mae
(FNMA)
and
Freddie Mac
(FMCC)
under government conservatorship in September 2008 -- was preparing to "to ban lucrative fees and commissions paid by insurers to banks on so-called force-placed insurance."
Also see: Cramer Greets the 21st Century: Lango
The FHFA is clearly doing something good, but it's important to take a balanced look at force-placed, or lender-placed, insurance, to understand why it is actually a good thing for borrowers, as well as lenders.
When taking out a mortgage loan or a home equity loan, the borrower agrees to make sure that the home's potential replacement cost is covered by a homeowner's insurance policy. For borrowers in special flood-hazard zones, as determined by maps prepared by the Federal Emergency Management Agency, borrowers will also be required to have flood insurance.
In some states, certain perils, such as hurricane wind damage, aren't covered by regular homeowner insurance policies. Mortgage borrowers in coastal areas in Florida, for example, may need to purchase separate windstorm insurance policies.
Borrowers are required to have insurance covering the replacement cost of their structures to protect banks' interest in the collateral. For flood insurance, banks are required by law to make sure customers in special flood hazard zones are covered from the damage caused by rising water. Bank examiners -- especially in areas prone to hurricanes, tornadoes, floods and earthquakes -- carefully scrutinize banks' loan servicing operations, not only make sure the lenders are complying with the law, but to make sure the banks are adhering to their own risk management policies.
Also see: How Retirees Can Maximize Their Social Security Payouts
Most borrowers with a first-lien mortgage loan have escrow accounts set up from the start, through which the bank or loan servicer pays annual insurance premiums. Borrowers who are not escrowed for insurance, as well as borrowers with home equity loans, are required to provide annual proof of homeowner's insurance, as well as flood or other types of insurance if applicable.
If the lender or loan servicer doesn't receive the proof of insurance, they are supposed to provide notice to the borrower before taking out a much more expensive force-placed insurance policy.
From my own experience in loan servicing at a community bank in Florida, I can assure you that obtaining proof of insurance can be quite a challenge for a large mortgage loan portfolio. In order to comply with state and federal regulations, we would send a reminder notice to a non-escrowed insurance customer 45 days before the current insurance policy was due to expire. Then if proof of insurance wasn't received, we would call the agent for the expired policy and request proof if insurance be sent directly to the bank. If that wasn't immediately successful, we would send another notice to the borrower demanding proof of insurance within 30 days. We would then call the borrower to make the same request.
I would even, on occasion, personally visit insurance agents to get the proof of insurance, if we were unable to receive it by fax, email or by regular mail.
Also see: 8 Ways to be Frugal on Easter
If we were still unable to obtain proof of insurance, we would force-place a policy, which was nearly always more expensive than the previous policy. We would then set up an escrow account if necessary and increase the customer's month loan payment. If the customer subsequently proved they had insurance the whole time, we would receive a full refund of the force-placed insurance premium and would pass all of that to the customer.
The bank I worked for received no commissions or kick-backs from the force-placed insurance broker.
In case you don't consider banks to be taking much risk from not having proof of insurance coverage, there were over 500 collateral houses for mortgage loans in our serviced portfolio that incurred serious damage either from Hurricane Frances in early September 2004 or Hurricane Jeanne three weeks later. Some of those customers were very pleased to have their damage covered by the force-placed insurance policies.
Banks primary reason for force-placing insurance is to protect their collateral interest. Regulators obviously need to make sure banks and loan servicers properly communicate with their customers in order to make sure that regular insurance policies are in place, so that lender-placed policies are only put in place as a last resort. Banks and services also, obviously, shouldn't be receiving kickbacks from insurance brokers.
On a grand scale, lenders can be taking a major risk if their collateral is not properly insured.
Bank of America
, for example had $22.3 billion in mortgage loans in some stage of the foreclosure process as of Dec. 31, according to the company's consolidated financial statements filed with the Federal Reserve. With a rather long foreclosure process, a good portion of those loans will require lender-placed insurance.
Bank of America also had $63.1 billion in one-to-four family mortgage loans, including junior liens and home equity loans, that were past due 90 days or more, or in nonaccrual status, as of Dec. 31. Considering that those borrowers have missed their loan payments for so many months, it would seem unlikely that the ones without loan escrow accounts would pay their annual insurance premiums.
So there's no question that banks really do need to force-place insurance for some of their borrowers and that the borrowers can occasionally benefit.
-- Written by Philip van Doorn in Jupiter, Fla.
>Contact by
.
Philip W. van Doorn is a member of TheStreet's banking and finance team, commenting on industry and regulatory trends. He previously served as the senior analyst for TheStreet.com Ratings, responsible for assigning financial strength ratings to banks and savings and loan institutions. Mr. van Doorn previously served as a loan operations officer at Riverside National Bank in Fort Pierce, Fla., and as a credit analyst at the Federal Home Loan Bank of New York, where he monitored banks in New York, New Jersey and Puerto Rico. Mr. van Doorn has additional experience in the mutual fund and computer software industries. He holds a bachelor of science in business administration from Long Island University.