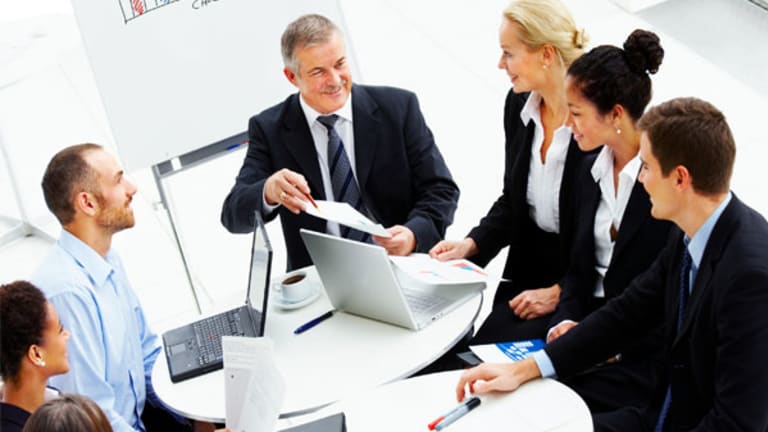 For Post-Merger Takeoff, a Logo Needs Lift
Too many companies ignore the effectiveness of existing logo elements when creating a new brand identity.
The following commentary comes from an independent investor or market observer as part of TheStreet's guest contributor program, which is separate from the company's news coverage.
By Ellen Sluder and Neil Wieloch, CoreBrand
NEW YORK (
) -- As the market reacts to the latest announcement of job cuts and cost cutting at
American Airlines
,
(AMR)
speculation of a takeover is heating up.
US Airways
(LCC)
, who had failed in previous attempts to acquire or merge with
United
(UAL) - Get United Airlines Holdings, Inc. Report
and
Delta
(DAL) - Get Delta Air Lines, Inc. Report
, has been named by many as an obvious suitor, as well as the private equity firm
TPG Capital
, in partnership with
British Airways
. Even
AMR's
CEO Tom Horton himself has been talking future industry consolidation -- with a newly reinvigorated American Airlines at the M&A helm.
Follow
TheStreet
on
and become a fan on
If a merger is where American Airlines lands, especially with a rival carrier such as US Airways or British Airways, there is an important aspect to think about beyond anti-trust or airport asset redundancies: brand identity.
Historically, the decision on how to merge two large companies' brand identities and logos seems to have been made haphazardly. Due diligence in an M&A scenario helps to vet each company's operational and financial strengths and vulnerabilities for optimal value and growth for the new enterprise. Yet for the most public of assets of the new entity -- its brand identity -- diligent valuation and strategy is usually overlooked.
As a result, new logos seem to result as if the negotiation was a Ping-Pong game between attorneys -- we'll take our symbol, with your colors, our type font and your name. Instead of signaling the new company is a force to be reckoned with -- a combined entity greater than its parts -- the identity ends up a hodgepodge.
Take, for example, the merger of United and Continental in 2010: The new United logo is simply the old Continental logo with a different word in front of the disco ball-like globe symbol. Only the actual letters themselves are from United -- the font, color, symbol and lockup are purely Continental. For someone glancing at the logo quickly, Continental would register in his or her mind.
United's description of the new logo doesn't betray much strategic thought process or market research behind the new logo choice. It states, "the globe symbolizes our combined worldwide network spanning six continents and serving more than 370 global destinations." (Really? A globe to symbolize worldwide reach?)
What we want to know is: How did these executives decide these were the elements that had the most brand value for the combined entity? How did they figure keeping the conservative serif font helped ensure maximized revenue? Did they build a model that helped predict the monochrome blue would translate into greater market share?
Developing, launching and maintaining a new brand identity can be costly. There are expenses associated with the initial design and the production of all new materials from stationery to signage. The implementation of these new materials -- especially across 370 global destinations, as in the United/Continental case -- can be a Herculean task. The airline re-painting costs alone are enormous. United/Continental's combined fleet is over 1,000. With an average of price tag of $150,000 to re-paint a commercial plane, you get a cost of $150 million. And that is just one small piece of a launch.
Companies wouldn't take on this challenge or expense unless there were important business drivers behind it, but rarely do they take the time to consider how to do it most effectively. For so many other business decisions, executives create models and financial forecasts to understand the best strategy for optimizing ROI. But this is seldom the case with brand identity.
A Methodical Approach
Similar to developing a powerful brand strategy, the path to developing a powerful logo redesign that recoups costs quickly and sustainably can best be delivered by understanding and addressing what is meaningful to your target audiences.
In the case of a merger, when it is most likely that elements of the existing logos will be evolved into the new identity, it is incredibly helpful to understand the particular value of each element of the logos. The combined company can maximize value and effort through the scientific measurement of the value of the various elements of the logos as tested among the enterprise's key constituents. These elements include: the images, the color scheme, the style, the words/letters used, the typeface and the overall composition. The value of each of these elements can be measured as a comparison between the logos for each company -- as well as related logos and newly designed alternatives.
Uncovering what has the most meaning, recognition and connection for your target audiences can result in a quicker ascent to positive brand identity value.
The example in this diagram represents how an optimal logo scenario is measured. In this scenario, the company needs an identity update. Although their current logo is meaningful in the marketplace, historical trending indicates it will no longer properly represent the firm and therefore decrease in value over time.
Testing the individual worth of specific elements of the legacy logo along with new logo concepts helps to maximize the value of the new logo upon launch. It is clear that if a company is able to predict that the combination of certain elements will allow them to launch into the market at point C, rather than point A, they will recoup their redesign costs more quickly.
Preserving and evolving specific parts of the logo helps retain familiarity with audiences and facilitates the transfer of goodwill from the old logo to the new one. By methodically dividing brand identities into their most meaningful components and scientifically measuring their relative value among key stakeholders, companies reduce the risks associated with simply relying on "gut feeling" or post-hoc concept testing when choosing a new logo direction.
If the business environment in which your company operates is changing and a logo change is an imperative part of your strategy, don't rely on anecdote alone to decide how to redesign your identity. Proper research and testing ensures your new logo will maintain the assets deemed most important to your audience, and that your bottom line will get the lift it needs more quickly and cost effectively.
Ellen Sluder is CoreBrand's Director of Business Development. She received her MBA from MIT Sloan School of Management and has a background in brand strategy and development from both agency and client-side perspectives. Prior to joining CoreBrand, she was Head of Marketing and Business Development for Fleet Aviation, a charter flight company headquartered in the New York City metro area.
Neil Wieloch, Ph.D., is a Research Director at CoreBrand where he leads custom quantitative and qualitative research projects that drive brand communications strategies for business growth. Neil's brand research expertise is built on a decade of advanced academic training, research, teaching and publishing in the rigors of qualitative and quantitative methodologies for the social and behavioral sciences; five years' strategic consulting experience; and six years' branding, marketing and advertising management experience.