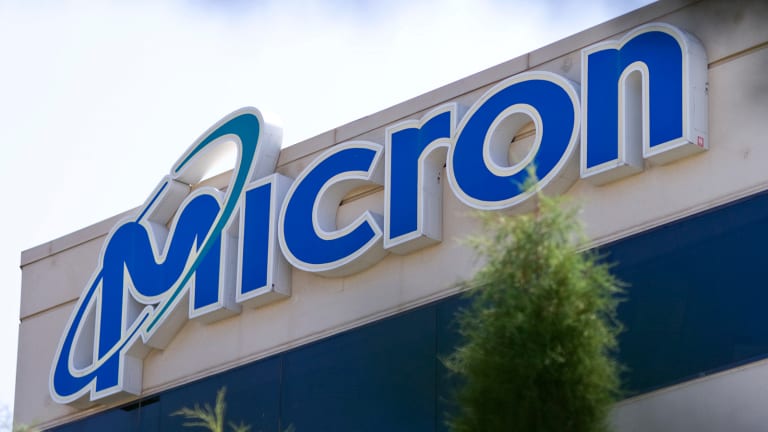 One Big Memory Market Looks Much Stronger Than the Other for Micron and Samsung
As the flash memory industry begins to see signs of price pressure, boom times continue for the DRAM industry.
As the flash memory industry begins to see signs of price pressure, boom times continue for the DRAM industry.
As Micron Technology  (MU) - Get Report and Samsung Electronics' (SSNLF) shares come under pressure on fears of memory price declines, it's worth remembering that the companies don't operate in one all-encompassing memory industry, but rather two with pretty different characteristics.
One of those industries -- DRAM -- now features just a few major players, and moderate growth in the number of bits consumed. If those players are able to keep supply under control via disciplined spending, it's possible that the industry could avoid seeing sharp downturns caused by excess supply. Or at least limit such downturns to recessions that have a big impact on demand.
The other industry -- NAND flash memory -- is seeing stronger demand growth. But it also has a larger number of players, some of whom are spending aggressively, and is set to see new entrants arrive. Expecting traditional cycles to disappear from this space is probably wishful thinking.
As what has been a superb 2017 for both the DRAM and NAND industries draws to a close, we're starting to see signs of NAND pricing coming under pressure. Not because demand has weakened -- orders from smartphone OEMs (boosted by the Apple (AAPL) - Get Report iPhone X, iPhone 8 and Galaxy Note 8 launches) have been solid, and the cannibalization of hard drives by solid-state drives (SSDs) in both the PC and enterprise/cloud storage markets continues apace. But because supply continues growing rapidly as we enter a seasonally weak period.
While downgrading Samsung in late October, Morgan Stanley noted NAND prices "have started to reverse" in the fourth quarter. Likewise, Taiwan's Digitimes (citing industry sources) reported on Dec. 8 NAND prices are "expected to trend downward in the first quarter of 2018 after peaking in the fourth quarter of 2017."
And on Nov. 20, memory pricing data provider DRAMeXchange forecast NAND prices would be only flat or up slightly in Q4. It also predicted the industry would see oversupply in the first half of 2018.
One culprit behind the supply growth: Production yields for high-density 3D NAND chips, which were weaker than expected for much of 2017, have begun improving. In addition, manufacturers have begun ramping production of 64-layer and 72-layer 3D NAND chips that have higher densities than older 32-layer and 48-layer chips.
It also doesn't help that Samsung, the world's biggest NAND maker, has spent heavily to ramp NAND output this year at a giant fab in Pyeongtaek, South Korea. Samsung's total 2017 chip capital spending budget is a whopping $26 billion, a big portion of that is believed to be going towards NAND production.
Going forward, Samsung, Micron, SK Hynix, Toshiba (TOSBF) (just buried the hatchet with JV partner Western Digital (WDC) - Get Report ) and Intel (INTC) - Get Report all plan to make large NAND investments, with Samsung, Toshiba and Hynix set to build new fabs. New Chinese players are also set to emerge, such as Tsinghua Unigroup-controlled XMC.
Needless to say, chip equipment makers with strong 3D NAND exposure, such as Lam Research (LRCX) - Get Report , KLA-Tencor (KLAC) - Get Report and Axcelis (ACLS) - Get Report , heartily approve of all this spending.
In September, Micron set a fiscal 2018 (ends in Aug. 2018) capex budget of $7.5 billion; that represents a 47% increase from fiscal 2017 capex of $5.1 billion. Notably, though NAND accounted for just 30% of Micron's August quarter sales, the company expects 35% to 45% of its fiscal 2018 capex to go towards NAND investments.
This column originally appeared on Real Money, our premium site for active traders. Click here to get great columns like this.
At that time, Micron also forecast NAND industry bit shipments would rise close to 50% in 2018. That's up sharply from the high-30s growth Micron forecast for 2017, as well as the high-20s growth Samsung would forecast for 2017 a couple months later. It's starting to look as if all that bit growth will spell a major change in the NAND industry's supply/demand balance next year, at least during the seasonally weaker first half of the year.
On the other hand, as major DRAM buyers such as Cisco (CSCO) - Get Report , HP (HPQ) - Get Report and Dell (DVMT) will vouch, there hasn't been a big change yet in the very favorable pricing environment the DRAM industry's big-3 -- Samsung, Micron and SK Hynix -- have been enjoying. In November, DRAMeXchange forecast DRAM prices, already up sharply since the fall of 2016, will rise by an average of 10% in Q4, with some verticals seeing stronger growth.
While PC DRAM demand has been muted, server and mobile demand has been stronger thanks to high-end phone launches, increases in the amount of DRAM included per phone and the voracious capex habits of cloud giants. Meanwhile, both Micron and Samsung have forecast DRAM bit supplies will rise only about 20% this year, and Micron has forecast similar growth for 2018. Though having picked up a bit lately, DRAM capex has largely been focused on upgrading existing production lines to more advanced manufacturing processes, rather than building new lines.
And for Micron, whose DRAM sales more than doubled annually in the August quarter to $4.05 billion, the DRAM market remains much more important than the NAND market. It accounts for nearly two-thirds of the company's revenue and -- given how strong industry pricing has been -- likely an even larger percentage of its gross profits.
There's still a bit of risk that higher DRAM capex could eventually weigh on prices. Or that one or more of the industry's big-3 could respond to a tougher NAND pricing environment by investing more in DRAM. But for now, conditions still look great, and the big-3 seem intent on keeping things that way.
Apple is a holding in Jim Cramer's Action Alerts PLUS Charitable Trust Portfolio. Want to be alerted before Cramer buys or sells AAPL? Learn more now.
More of What's Trending on TheStreet: