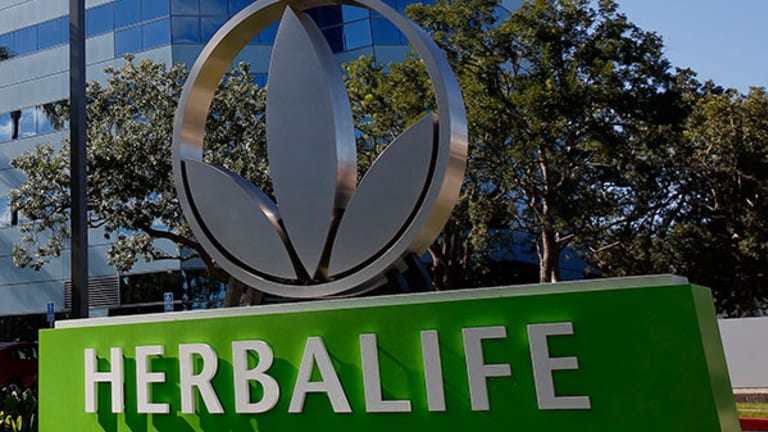 Publish date:
For Investors, Herbalife Looks Better Than Weight Watchers
Herbal Life represents a better investment opportunity than Weight Watchers.
Herbal Life represents a better investment opportunity than Weight Watchers.
It was a mixed week for weight loss stocks. Herbalife (HLF) - Get Report and Weight Watchers (WTW) - Get Report reported fourth-quarter 2015 earnings, with different results.
While Herbalife company beat expectations and was rewarded by Wall Street, Weight Watchers released results that sent investors running for the exits. One stock looks as if it might shape up to be a strong player in 2016. The other could turn out to be one of the year's most dangerous stocks.

Data by YCharts
After the markets closed Thursday, Herbalife released its results. Herbalife is a company that develops and sells nutritional products for weight loss, weigh management, and fitness, as well as personal care items. Its fourth-quarter results were strong.
Herbalife recorded earnings per share (EPS) of $1.19 on $1.1 billion in revenue. Although for the same period of the previous year the company posted EPS of $1.41 and $1.13 billion in revenue, the consensus had forecast just 94 cents in EPS on revenue of $1.06 billion for fourth-quarter 2015. Not considering headwinds caused by currency exchange rates, Herbalife's net sales grew by 9.7% in the quarter.
But the company wasn't finished with just soundly beating Wall Street's estimations. Herbalife also announced on its earnings call that it's nearing the end of a two-year Federal Trade Commission (FTC) probe.
Herbalife is famous -- or, some would say, infamous -- for its multi-level marketing operations. The company distributes its products in 95 countries through a network of about 3.2 million independent representatives.
In 2012, hedge fund manager Bill Ackman of Pershing Square Capital took a $1 billion short position in Herbalife stock and then denounced the company as toxic and running a "sophisticated pyramid scheme."
Fast-forward to March 2014, when the FTC launched its probe into the company's operations to determine if the claims made by Ackman and other Herbalife detractors are true. Now the company has announced that the scrutiny is almost finished. It expects results to range from the FTC filing a civil lawsuit to reaching a settlement, to even clearing the company of allegations.
This spate of optimistic news sent Herbalife surging more than 25% at one point late this week. By that time the stock was already improving. The share price is up more than 40% since last February, outperforming the S&P 500 over the same timeframe.
Michael O. Johnson, Herbalife's CEO, credits the company's stated emphasis on health as a key role in weight loss and management for the company's growth. "Across the globe, we see more and more health-conscious consumes looking to take their nutrition and health more seriously," he said. "We believe Herbalife is well positioned to meet these consumers' needs through our extensive product range and the personalized approach of our members.
On the flip side, Weight Watchers tanked Friday and looks like a bad bet for your money. The weight-loss system and products company had recently received a boon in the form of a 6.3 million-share stake purchased by Oprah Winfrey. But even Oprah hasn't been enough to keep the company from loss when Weight Watchers reported dismal results.
Whereas analysts had expected a profit for the fourth quarter, the company posted a loss of $11.3 million, or 18 cents per share. For the same period last year, Weight Watchers hauled in a profit of $4.4 million, or 8 cents per share.
Weight Watchers lost more than a quarter of its value overnight, opening at $11.24. That also represents 60% off its 52-week high of $28.05.
The Weight Watchers business depends on selling subscriptions to its weight loss systems. However, there are now desktop and mobile apps that offer the same kinds of tracking and nutritional analysis that members receive at meetings for free. Its model is outdated, simply put.
Things are looking up for Herbalife, and now might be a good opportunity to get into the stock. However, Weight Watchers needs major changes to its programs to keep pace with today's dieters. It's a stock worth skipping for the moment.
Herbalife looks like a great buy for investors right now, while Weight Watchers is one to avoid. Here's a list of 29 dangerous stocks that are terrible places for your money today. In fact, using a little-known financial "health test," the stocks on this list are a failure in every category! Click here now to make sure you don't make the mistake of owning one.
This article is commentary by an independent contributor. At the time of publication, the author held no positions in the stocks mentioned.