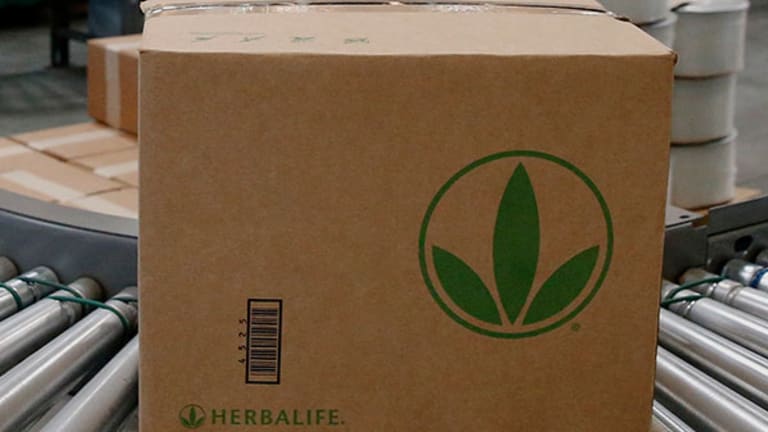 For Herbalife, Controversy Is Nothing New as Latest Investigation Unfolds
Herbalife is in hot water once again, amid reports federal agents have contacted several of its members. And a look at its trajectory shows Herbalife is no stranger to controversy.
Herbalife is in hot water once again, amid reports federal agents have contacted several of its members. And a look at its trajectory shows Herbalife is no stranger to controversy.
NEW YORK (TheStreet) -- Investigations into the business practices of Herbalife (HLF) - Get Report, the Cayman Islands-based maker of nutrition supplements, go back more than 30 years, making reports of yet another probe into the company's business activities seem like little more than typical news flow.
A report Sunday on CNBC alleged federal law enforcement agencies have contacted several Herbalife members regarding their business practices, marking another chapter into a company that activist investor Bill Ackman  of Pershing Square has targeted since 2012 when he announced he had taken an "enormous" short stake in the company.
But Herbalife has been around since 1980 when Mark Hughes started the company in in Los Angeles, motivated, in part he has said, by his mother's death from an accidental overdose of prescription diet pills. Hughes expanded Herbalife quickly, taking it to Canada, Australia and the United Kingdom by 1984. In 1985, it appeared in Inc. Magazine's list of fastest-growing private companies.
Issues Start to Surface
It didn't take long for Hughes, Herbalife and its practices to get into hot water.
Herbalife came onto the Food and Drug Administration's radar in 1982, when the FDA issued a notice of adverse findings on one of its products and alleged its tablets contained two herbs considered unsafe in food. It also criticized claims made in the 1982 Herbalife Career Book that said its herbs relieved various problems, including tumors, bad breath and bed-wetting. Herbalife made adjustments on both fronts.
In 1984, Herbalife filed a lawsuit against the FDA, charging the agency with "corrupt trial-by-publicity" against the company. But when the situation intensified in 1985, it quietly withdrew its suit.
In March of that year, the California attorney general, state Department of Health and district attorney of Santa Cruz County filed a civil suit against Herbalife. Their allegations: Herbalife was making false medical claims about some of its products and employing an illegal pyramid scheme to market them. Two U.S. congressional panels also launched inquiries into the company.
In May, Hughes testified before the Senate regarding the safety of Herbalife's products. Three thousand Herbalife supporters descended on Washington to rally at the hearings, during which Hughes acknowledged that he had only a ninth-grade education and admitted the company was trying to clean up its act.
In 1986, Herbalife and Mark Hughes agreed to pay $850,000 to settle charges made by the California Attorney General. That same year, Herbalife went public and began trading on the Nasdaq.
Expansion Accompanied by Examination
Moving forward, Herbalife enjoyed a few years of relatively smooth sailing. Throughout the 1990s, it grew operations in Europe, Latin America, Africa and Asia, and by 1999, it was operating in 46 countries and employing thousands of people worldwide. You can see Hughes and other Herbalife members live in action at a training session here.
Throughout the decade, scrutiny continued. Herbalife's "Wealth Building" program caught flack in 1992 for focusing more heavily on recruiting distributors than on building a base of customers for the company's products. In 1998, a Herbalife distributor was awarded $620,000 in damages after filing suit against the firm.
Mark Hughes announced plans in 1999 to buy the outstanding stock of Herbalife and take the company private once again. But in 2000, the executive was found dead -- the result of a drug and alcohol overdose.
Herbalife eventually did go private in 2002 after being acquired by private equity firms Whitney & Company and Gold Gate Capital for $685 million. In 2003, Michael Johnson joined the firm as CEO -- a position he maintains today. The company went public again in 2004, this time trading on the New York Stock Exchange.
Legal troubles have failed to disappear under Johnson's watch, ranging from class action lawsuits to allegations of products containing dangerous levels of lead. However, it has been Bill Ackman's enormous short campaign that has put Herbalife under the microscope and in the spotlight over the past couple of years.
Enter Ackman
In December 2012, Bill Ackman announced an "enormous" short position in Herbalife stock and gives three-hour presentation on the firm. The company's shares fell 10% by the afternoon. The move spurred a sort of war of the titans surrounding Herbalife that continues to unfold.
In early January of 2013, a regulatory filing indicated that Dan Loeb had taken an 8% stake in Herbalife. The investment turned out to be a quick one for the hedge fund manager, who decided to "take the money and run" after the stock surged just weeks later. The same month, David Einhorn told Greenlight Capital investors that he had profited from a short bet against Herbalife and closed out the position in 2012.
The biggest Herbalife battle came to a head on live television, when Bill Ackman and Carl Icahn squared off in an epic segment on CNBC. By mid-February, the picture of Icahn's vehement defense of Herbalife became clearer, as a regulatory filing revealed the billionaire had a nearly 13% stake in the company. Though he insisted his investment was the result of a belief in the firm's potential, he didn't deny Ackman being on the other end of it was a boost. "The fact that I don't like Ackman you can say is the strawberry on top of the ice cream," he said.
Chapters Unfold but No Clear Winner
In April 2013, KPMG resigned as Herbalife's auditor amid insider trading allegations and was replaced by PricewaterhouseCoopers. Despite increased rumblings that Herbalife was up to no good, including a letter from California congresswoman Linda Sanchez to the Federal Trade Commission urging an investigation, the stock continued to climb.
By July 30, 2013, Herbalife shares were up 100% for the year. In August, 13-F filings indicated that both Icahn and fellow billionaire George Soros continued to build their HLF stakes.
Ackman appeared to be retreating on the short by the fall of 2013, telling Pershing Square investors the firm had covered more than 40% of his position "in order to mitigate the risk of further market-to-market losses on Herbalife." But in November, he pledged to take Herbalife short to "to the end of the earth" after Robin Hood Investors Conference. Much to his disappointment, PwC finished its re-auditing of Herbalife financials the next month and made no material changes.
Things began to turn around for Ackman and his Herbalife maneuvers early last year. In March, the firm disclosed the FTC had started civil probe into its practices, and in April, reports emerged of an FBI investigation as well. In the meantime, Icahn landed more Herbalife board seats.
The plot thickened throughout the rest of the year. In September, the SEC charged Filip Szymik and Jordan Peixoto with insider trading in connection with Pershing Square's Herbalife short. Herbalife underperformed in earnings reports.
Bill Ackman kicked off 2015 explaining he believes he is doing "God's work" on Herbalife and likening it to Bernie Madoff in a CNBC interview. Days later, he reiterated his belief that the company's stock price will collapse.
In March, however, it became clear that Herbalife wasn't the only party under the microscope. News broke that the FBI and prosecutors with the Manhattan U.S. Attorney's office had interviewed and requested documentation from individuals affiliated with Bill Ackman. The billionaire appeared on CNBC the following morning and says he is "not trying to make money on short-term moves in Herbalife stock."
Mid-month, Herbalife won the dismissal of a pyramid scheme lawsuit brought about by shareholders at two pension funds. Ackman, however, remained undeterred and told Council of Institutional Investors that shutting down Herbalife is "one of the most important things" he can do. Last week, investigators began looking into a Pershing Square report on Herbalife's practices in China.
Which brings us to today. This latest development seems to be another mark in the win column for Bill Ackman. But if one thing's clear from Herbalife's trajectory, it is that the company has nine lives (and then some).
In a statement earlier today, Herbalife spokesman Julian Cacchioli said in an email: "We are cooperating with these requests for information, remain confident in the integrity of our business practices, and are hopeful Ackman's long-term campaign of distortion will be found to be illegal."
This article is commentary by an independent contributor. At the time of publication, the author held no positions in the stocks mentioned.