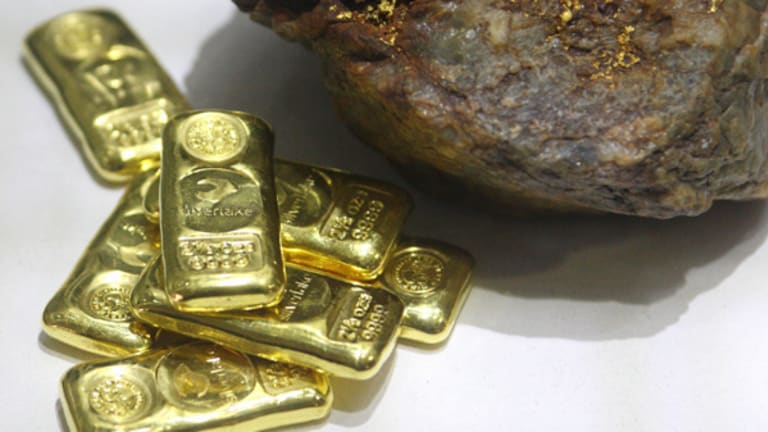 For Gold and Silver, Critical Support Holds
Another volatile week in a dangerous market. There is a time to be out of things and wait -- a time to play offense and a time to play defense.
NEW YORK (TheStreet) -- A quick note first: you can access my Daily Trade Ideas for free for a few more days using the password: cash
You can also get my real-time trade alerts at @iTraderz. Please do take advantage of this to learn a bit more about how I trade -- or, in this market, how I don't trade much.
Another volatile week for markets. Leading stocks are being battered. Most earnings numbers, even if good, are causing large selloffs, even after a large initial gap higher.
It remains a dangerous market, with not much for investors to do.
A lot of investors and traders don't understand that there is a time to be out of things and wait. There is a time to play offense and a time to play defense.
As for gold and silver, they may have found lows now by a thread, but a few more days is really needed before I can be sure. Let's check the precious metals charts.
Gold (GLD) gained 0.70% and held the 100-day moving average and $1,280 level very well on high volume, which is key. When something breaks major support and comes back to close the day back above that level on high volume, it is very positive.
Now we are near a breakout above the downtrend line, which would be a buy signal right at the $1,310 level.
Great stuff from gold just as things were looking dire. Had we broken just a bit lower I'd be singing a much different tune.
But even more important is how silver acted. So let's check it out.
Silver (SLV) rose 0.38% over the week and held crucial support.
Last time silver hit the $19 level, I talked about how it was a simple and very safe buy level using tight stops.
The same was true this time around -- although to be honest I wasn't so sure $19 would hold. But it did hold, and that's what matters.
As $19 was hit and silver bounced strongly, it was early in the day and the few stocks I had were not acting great. So while I did see silver bounce, I was more focused on selling the positions I had.
If we break above the downtrend line and the 21-day moving average at $19.85, then we should have a low in. That's a powerful buy signal.
We may need to build out a flat base here for a few weeks, so we may not rocket higher. But as a longer-term buy, silver is looking fantastic to me.
Just look at the explosion of volume as major support was hit. That solidifies the power of the $19 level.
It's very positive.
Next up: platinum and palladium charts.
Platinum (PPLT) gained 0.61% and held support at $1,400 on strong volume.
We have a powerful two-day bar combo that tells me the chances of Monday being a nice up day are quite high.
$1,430 is a buy level for platinum, and ideally gold and silver should be breaking out as well since they do lead.
Palladium (PALL) gained a nice 1.68% last week and looks great for higher prices Monday.
Last weekend I thought palladium was a nice looking short trade, since it had some catching up to do to the other metals. But it never came to be, as gold and silver held crucial support.
We have a nice two-bar combo. That tells me we are going higher right now, as we are closing on resistance at $810.
Palladium will be near highs at $850 in no time, from what I can see in this and the other metals charts.
What a change a week can make! That's what makes this trading game so exciting.
Please do check out the members section of my site and thank you for reading.
At the time of publication, the author held no positions in any of the stocks mentioned.
This article represents the opinion of a contributor and not necessarily that of TheStreet or its editorial staff.