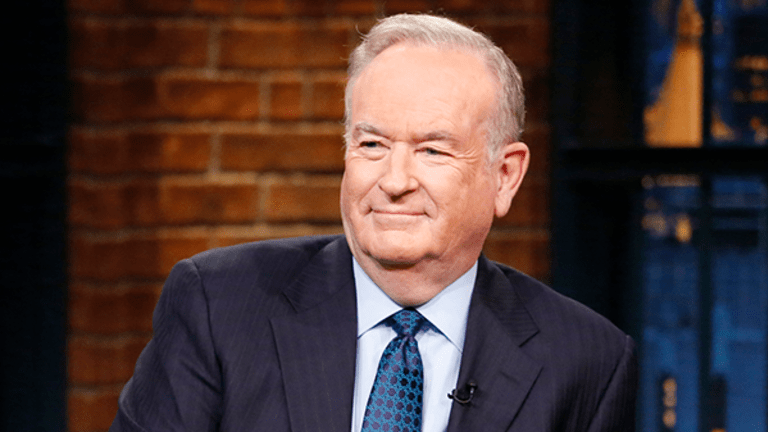 Publish date:
For Fox News, Bill O'Reilly's Ouster Comes at an Extremely Tricky Time
The network is sure to put on a brave face as it enters broadcasts without its top-rated host, but its dominance over cable TV news may never be the same.
The network is sure to put on a brave face as it enters broadcasts without its top-rated host, but its dominance over cable TV news may never be the same.
The future is unwritten, even for Fox News.
When anchor Megyn Kelly's star was shining brightly in early 2016, well before the network's co-founder, Roger Ailes, was dismissed amid sexual harassment allegations, 21st Century Fox (FOXA) - Get Report CEO James Murdoch said he was eager to sign her to a long-term contract.
After all, Fox News' audience skews older than those of its cable TV rivals. Securing a popular, telegenic woman for its prime-time lineup -- Kelly turned 46 in November -- seemed a sensible and timely idea. Fox News' ratings continue to eclipse those of Time Warner's (TWX) CNN and Comcast's (CMCSA) - Get Report MSNBC, but the Murdochs certainly know nothing lasts forever.
But nine months after Ailes was abruptly dismissed following a blistering lawsuit filed by former anchor Gretchen Carlson, Fox News' biggest star, Bill O'Reilly, similarly was forced out of the company, also amid multiple allegations of sexual harassment. Besides Fox declaring it will foster "a work environment built on the values of trust and respect," the Murdochs were forced to make changes to Fox News' lineup that look to be stopgap measures awaiting further tweaks.
The new schedule undoubtedly was made easier by the surprisingly impressive ratings for Tucker Carlson Tonight, the conservative's 9 p.m. Eastern show that had the good fortune of following O'Reilly, whose ratings hit record levels in the first quarter, a stunning feat considering that he had already anchored the highest-rated show on cable TV news for more than 16 years. 
But truth be told, Carlson did benefit from an O'Reilly lead-in. Additionally, he caught some wind from debuting in January during one of the most hyped-up periods in recent political history: the inauguration and first 100 days of a president who enthusiastically embraced Fox's conservative inward-looking nationalism as well as its penchant for vilifying liberal ideas and icons.
Carlson's show during the first quarter averaged 3.27 million viewers, easily outdistancing his predecessor, Megyn Kelly. By comparison, The O'Reilly Factor attracted an astounding average of 3.98 million viewers, with many shows exceeding 4 million viewers. It's hard to imagine that Tucker Carlson Tonight can sustain that viewership for Fox News' 8 p.m. hour.
It's quite possible that O'Reilly's departure could have a negative ripple effect on the network's ratings, which means less advertising and revenue.
In 2016, Fox News posted more than $1.67 billion in gross profit, a record for a network that routinely has generated more than $1 billion in annual profit. Fox's cable TV network group, of which Fox News is the largest piece, is expected to account for more than 72% of the company's profit for its current fiscal year, which ends in June, according to Douglas Arthur, media analyst at Huber Research Partners.
The O'Reilly Factor was the most profitable hour within Fox News, which has long been the most profitable part within 21st Century Fox as well as its previous parent, News Corp. (NWSA) - Get Report . During the first three months of 2017 -- the third of fiscal 2017 -- Fox News posted the highest ratings for any quarter in the history of 24-hour cable TV news.
Owners of Fox shares had been bracing for the anchor's possible departure ever since The New York Times on April 1 reported that O'Reilly and Fox News had paid $13 million since 2004 to a number of women in exchange for their agreement not to sue or talk publicly about their charges of sexual harassment. 
Shares fell 0.9% on Wednesday to $30.39, adding to a 6.2% loss since the Times report.
In one lawsuit from 2004, Fox News producer Andrea Mackris, then 33, described how O'Reilly told her to buy a vibrator and called her to describe sexual fantasies, at times sounding as if he was masturbating. The Times uncovered two other sexual harassment cases that were settled in the fall.
It's unlikely the new evening lineup that Fox News announced on Wednesday will look the same in a year. Carlson's new time slot will be followed by a souped-up version of Fox News' roundtable show, The Five, which moves to 9 p.m. from 5 p.m. 
Yet mashing together six talking heads seems like an expedient decision awaiting a longer-term solution. The Five's co-hosts -- Kimberly Guilfoyle, Dana Perino, Bob Beckel, Greg Gutfeld, Juan Williams and the new Jesse Watters -- may generate a lot of noise, but it will be interesting to see whether they sustain Fox News' ratings. Sean Hannity's 10 p.m. show could suffer.
There's even some talk that Fox News won't extend its new 7 p.m. show, The Story with Martha MacCallum, beyond the six-month trial its host received when the network was also forced to make lineup changes in the wake of Kelly's January defection to Comcast'sNBC News. MacCallum has been hosting The First 100 Days in the same time slot.
To be sure, as colleague Ken Doctor argued for TheStreet, the Murdochs have navigated crises before, and the Fox News brand is unlikely to suffer much in the eyes of its viewers despite two very high-profile sexual harassment scandals. More importantly, the cable TV bundle, while fraying slightly, remains a formidable business. While younger viewers are less apt to subscribe to cable TV, it remains a staple of medium-age and older households.
Yet the fact remains that the median age of Fox News' audience is around 68, according to Nielsen Media Research data published last year. That means that more than half of its audience was older than 68. CNN's median viewer was 59. Arguably, both networks need to work on reaching a younger audience.
Younger people -- liberals and conservatives -- are getting their news and entertainment from a wider and wider assortment of websites and apps and streaming platforms. Even Fox News could be hurt by the general fragmentation of the media landscape, to use a wrought bit of industry jargon.
Unquestionably, Fox News under Ailes and O'Reilly created a unique TV product that spoke to those who felt politically alienated by progressive values and changes in social mores that began in earnest during the 1960s. But Fox also benefited from being the only game in town.
Going forward, Fox News may have more competition for conservative viewers. Newsmax owner Chris Ruddy, who recently launched a conservative cable TV network, said this week that he'd certainly be interested in speaking with O'Reilly. Same goes for One America News Network, another right-wing network, which recently hired former Trump campaign manager Corey Lewandowski to be a commentator.
We might even hear more on a national scale from Sinclair Broadcasting (SGBI) , which produces news segments from its headquarters north of Baltimore that it distributes to its 173 local TV stations across the country, albeit mostly in smaller markets. Yet like Fox News, Sinclair has never tried to hide its conservative politics.
The full effect of Bill O'Reilly's departure from Fox News amid the multiple allegations of sexual harassment won't be felt for a while. It's reasonable to believe that the roughly 50 advertisers who withdrew their advertisements from The O'Reilly Factor in the wake of the Times report will return to the 8 p.m. hour.
On Thursday, as Fox News officially entered a new chapter in its influential history, its parent's shares were up 1.2% to $30.75 in morning trading.
Comcast is a holding in Jim Cramer'sAction Alerts PLUS Charitable Trust Portfolio. Want to be alerted before Cramer and the AAP team buy or sell CMCSA? Learn more now.