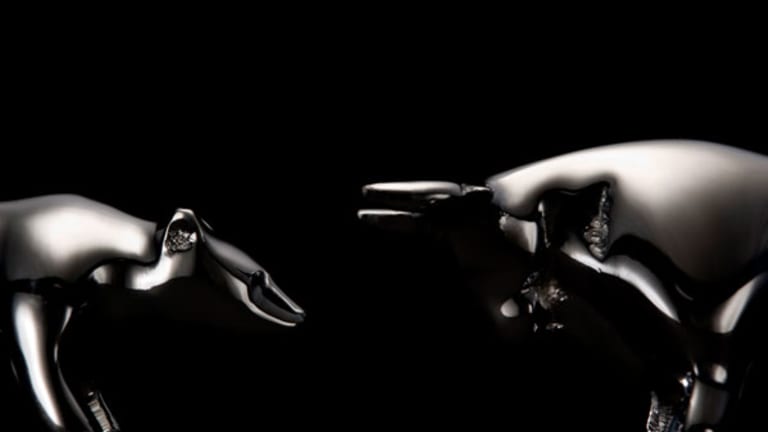 For Crying Out Loud, Another Wall Street Woman Falls
When a Wall Street woman's career blows up, it stirs up all the old stereotypes. The reported tearful exit of Ina Drew at JPMorgan didn't help, either.
NEW YORK (TheStreet) -- So she was tearful. Do we care?
The chief investment officer of
JPMorgan Chase
(JPM) - Get JPMorgan Chase & Co. Report
, who resigned Monday in the wake of the bank's announcement of an embarrassing $2-billion-plus loss on her watch, is but the latest high-ranking woman to depart a business famous for its gender discrimination.
Ina Drew, who reported directly to JPMorgan CEO Jamie Dimon, joins a barely visible group of big-shot women who got fired or pushed out of their jobs after blunders or corporate restructurings.
There isn't a lot of argument that she should have lost her job, having overseen a trading group that made a really bad bet in London that will long have reverberations in Washington. But it is a reminder that powerful women and Wall Street don't mix well.
Remember Zoe Cruz, fired from
Morgan Stanley
(MS) - Get Morgan Stanley Report
in 2007? Or Erin Callan, who lost her chief financial officer job at
Lehman Brothers
in 2008? How about Sallie Krawcheck, whose job disappeared after
Bank of America
(BAC) - Get Bank of America Corp Report
bought
Merrill Lynch
?
Men get booted out of Wall Street jobs all the time, of course. But there are a lot more of them, so there's nobody losing sleep over a dearth of guys at the top.
And when a woman's career blows up, it stirs up all the old stereotypes. "Men's failures tend to be attributed to bad luck," says Joan C. Williams, distinguished professor of law at the University of California Hastings College of Law in San Francisco. "With women, people start saying "I always knew she really didn't have it."
It also stirs up issues like women and tears.
Drew cried -- a bunch of times, according to the
New York Times
. "Ms. Drew had tearfully offered to resign multiple times since the scale of the loss became apparent in late April, but Dimon had held off until now on accepting it," the paper wrote on May 13, citing people familiar with the situation.
In another Times story referring to her resignation on May 14, Drew again was described as having "tearfully resigned" that day. Kristin Lemkau, a spokeswoman for JPMorgan, said she had no comment on the depictions of executive emotion.
There is much to say about what happens to women with the gumption to even try to make it in the often gender-hostile financial industry, no less manage to get that close to the top. I'll give Drew's boss, public relations maestro Dimon, a lot of credit for recognizing her talent at all, given Wall Street's more typical course of action with the best and brightest women. We'll leave for another day the discussion of whether Dimon himself should be suffering some real consequences. Like clawbacks. Or loss of one or both of his titles.
In the meantime, what about that crying thing?
Let's begin with some basics about Drew. Even after the stuff hit the fan and her name was in some ugly headlines, there were people on Wall Street who were willing to tell reporters, on the record, that Drew was the real deal: smart, solid, respected. The bad news, though, is that she was clearly in charge when big mistakes were made, so it's right that she get the axe. Dimon called those mistakes "egregious," and "sloppy" and "stupid." I suppose we will never know how it all would have gone down if a woman had been CEO and a man had been chief investment officer in charge of the ill-fated trading unit.
I must say I stopped dead in my tracks when I first read that "tearfully" reference to a high-level Wall Street comedown. The obvious questions came to mind. Would we talk about it if a man got that emotional in a high-pressure resignation scenario? Are men as inclined as women to cry when they're under the gun?
Powerful men have cried - or been accused of crying - and lived to regret it. Senator Edmund Muskie of Maine was the Democratic front-runner in the 1972 New Hampshire primary when the Washington Post described him as having had "tears streaming down his face." Muskie, who died in 1996, said that what passed for tears were really melting snowflakes on a cold New Hampshire day. Whatever the facts, it helped end his campaign.
These days, though, you can actually be a guy who cries and still rise to become Speaker of the House. "John Boehner cried and it didn't have the same effect as it did with Muskie," says Williams. "It just shows you that masculinity has shifted in important ways in recent decades."
Crying in high-stakes situations, though, is risky business. It can help a woman who is perceived to have a hard edge, as it did Hilary Clinton when, in a moment of campaign exhaustion before the 2008 New Hampshire primary, she began to weep. Clinton wound up winning New Hampshire amid speculation that she'd won over voters by revealing her softer side.
For a woman who is still trying to prove she has what it takes, though, "crying is the kiss of death," Williams says.
And what if you already have what it takes? Williams and her daughter have recently interviewed 55 prominent women for an advice book to help women navigate gender biases at work, and asked all of them whether they'd ever cried at the office. Three said they had, and that they'd handled it by acknowledging to the people present that they were angry, that they were crying, and that that they were going to continue their conversation nonetheless. The rest said they never had, and that it would be damaging to their careers. "An easy bit of advice about crying in the office is 'Don't do it,'" says Williams.
Weepers sometimes do it on purpose, says Denise Voigt Crawford, a long-time securities regulator who retired last year after 17 years as the Texas securities commissioner. "Both female and male fraudsters cry," but it's usually to get regulators, judges or juries to go light on them, Voigt said. "Very rarely do they do it out of genuine remorse because they are usually incapable of experiencing remorse."
Men may be crying a little bit more, and women a little bit less, on the job. But one thing hasn't changed. Give women-bashers some red meat, and they're off and running with the same old stuff. A reader from Boston posted a note at the bottom of one of those
New York Times
stories about Drew, expressing his, or her, fascination with "how often it turns out to be a woman" when there is egg on the face of an executive.
Another reader, this one from Delray Beach, Florida, offered up a real gem: "Since Eden, when trouble hits, it's the woman's fault."
And then there was the predictable boilerplate that it is all the fault of affirmative action, which is a stretch for anyone who has looked at Drew's qualifications. "Too often women who are not qualified are promoted to help fill quotas and to make things "look good," the reader, from New Fairfield, Ct., wrote. "Here is the consequence."
I'd beg to differ, of course. But I will offer up my own prediction of a consequence. Drew, the executive who made big mistakes, resigned and cried, was the rare top Wall Street woman known for helping female coworkers get ahead. So we will have less of that now. And there wasn't much of it to begin with. It's enough to make a girl weep.
Susan Antilla is a freelance writer and columnist at Bloomberg View.