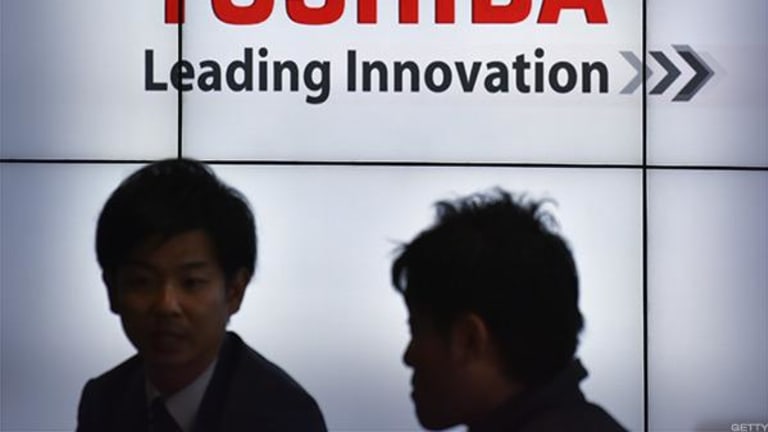 For Both Apple and Broadcom, Toshiba's Flash Memory Unit Brings Rewards and Risks
Apple could lower its memory costs by acquiring Toshiba's flash business, and Broadcom could add to its mobile and data center footprints. But a deal would also feature some challenges.
This column originally appeared on March 31 on Real Money, our premium site for active traders. Click here to get great columns like this.
Though it's hardly the first sale of a big tech asset to be accompanied by some eyebrow-raising rumors about potential suitors, financially-troubled Toshiba's attempt to unload its valuable NAND flash memory unit is pretty exceptional in terms of the diversity of the rumored suitors thrown around. Memory rivals stand side-by-side with tech giants, private equity firms and chipmakers operating in complementary fields.
Apple (AAPL) - Get Free Reportand Broadcom (AVGO) - Get Free Report, two companies mentioned in the most recent Toshiba rumors, certainly fit into the "eyebrow-raising" category. For each, there's some clear strategic value in owning a company estimated to control about 20% of the global NAND market. But there are potential pitfalls as well.
Apple is a holding in Jim Cramer's Action Alerts PLUS Charitable Trust Portfolio. Want to be alerted before Cramer buys or sells AAPL? Learn more now.
On Thursday, Japan's Nikkei reported acquisition-hungry Broadcom had teamed with private equity firm Silver Lake to offer $17.9 billion for Toshiba's flash unit, a figure moderately higher than the ones thrown around in many sale estimates. Soon afterwards, fellow Japanese publication Yomiuri Shimbun reported that Apple is also interested in the business, albeit without stating an offer had been made.
Apple had already been mentioned in passing in a prior Toshiba report. Western Digital (WDC) - Get Free Report, whose SanDisk unit runs a large flash-manufacturing JV with Toshiba, has also been mentioned in rumors over the last two months. Other names thrown around include DRAM/NAND makers Micron (MU) - Get Free Reportand SK Hynix, P-E firm Bain Capital and contract manufacturer Foxconn and foundry giant Taiwan Semiconductor (TSM) - Get Free Report.
One note of caution here: In high-profile asset sales, sellers and/or the bankers working for them might exaggerate a party's interest in the asset via media "leaks", in hopes of getting other suitors to up their bids. Whether or not there's exaggeration in this case, it's worth keeping in mind that both of the latest sale reports come from Toshiba's home country.
At the same time, it does look as if national security fears give U.S. bidders an edge over the likes of Hynix, Foxconn and TSMC. In line with a prior Reuters report, the Nikkei says Japanese regulators would "apparently" prefer that Toshiba sell its flash unit to an American buyer, assuming it's sold to a foreign party.
For Apple, a purchase would allow it to source chips that it spends many billions of dollars on each year for use within iPhones, iPads and Macs at cost, and also guarantee stable supplies for them. Apple's voracious NAND appetite in the months just before and after a new iPhone launch has often led to NAND shortages. Last year, shortages worsened -- and Apple's memory spending sharply rose -- thanks to the fact iPhone storage capacities were doubled across price tiers.
With the current contract price for a 16GB (128Gb) flash chip around $4.75, Apple might be paying close to $35 for the flash that goes into a 128GB iPhone or iPad even if one assumes it gets a discount relative to standard contract prices. The company sold 215 million iPhones and 43 million iPads last year. Lowering flash expenses by, say, $8 to $10 per device would clearly go a long way.
Moreover, Apple could finance a Toshiba deal with a small fraction of the $230 billion in offshore cash it had at the end of December. The past six months have already seen Qualcomm and Intel announce $10 billion-plus deals financed in large part via offshore cash.
In Broadcom's case, acquiring Toshiba's flash unit would further extend the company's efforts to become an indispensable supplier of chips and hardware to server/storage OEMs and cloud giants. Among other things, Broadcom's data center lineup includes Ethernet transceivers and switching chips, optical components, and networking and storage adapter cards and controllers. And thanks to its pending $5.9 billion acquisition of Brocade Communications (BRCD) , it will soon be a major storage switch provider.
A Toshiba deal would position Broadcom to add solid-state drives (SSDs) to its lineup at a time when SSDs are rapidly taking data center share from hard drives, and also steadily making headway in the PC market. And in the smartphone/tablet space, where Broadcom is a major supplier of RF and Wi-Fi/Bluetooth connectivity chips, it could cross-sell NAND flash to major OEMs while offering discounts to those that buy multiple Broadcom products.
Moreover, considering the success it has had at managing several large acquisitions, including the massive Avago-Broadcom deal, it's hard to doubt Broadcom's ability to reap cost synergies from a purchase and improve Toshiba's margin profile in a competitive NAND market.
On the other hand, even with Silver Lake footing part of the bill, a purchase would add to a Broadcom net debt balance that stood at $10.5 billion as of January, and is about to get larger due to the Brocade deal. It would also significantly increase the capital spending needs of a company that spent only $723 million on capex during its last fiscal year.
Apple, meanwhile, would have to deal with the thorny question of what would happen to Toshiba's flash sales to companies not named Apple. Many of these firms are Apple rivals and could be wary of buying from the company, and even if they aren't, Apple hasn't historically been keen on selling components to third parties. The company's massive flash usage could ultimately make this moot, but to make a Toshiba deal pay off, it would certainly face some pressure to offset lost third-party flash demand with its own.
And for both Apple and Broadcom, a pending surge in global NAND production capacity, stemming from large investments in fabs that can produce cheap/dense 3D NAND flash, is a pricing/margin risk. And though NAND is seen as a commodity, there's also a measure of technology risk for both companies, given the investments Samsung, Intel and Micron have made to develop flash chips differentiated in terms of performance and/or price.
Overall, a Toshiba deal would be much easier for Apple to digest than Broadcom, and would likely please investors who have been waiting for the company to put some of its offshore cash to good use rather than just wait for a tax holiday. At the same time, a deal would be more in line with Broadcom's M&A history than Apple's.
Toshiba reportedly hopes to decide on a winning bidder prior to a late-June shareholder meeting. Given their incentives for bidding, odds are good that Apple and Broadcom's names will appear again in the rumor mill before then.