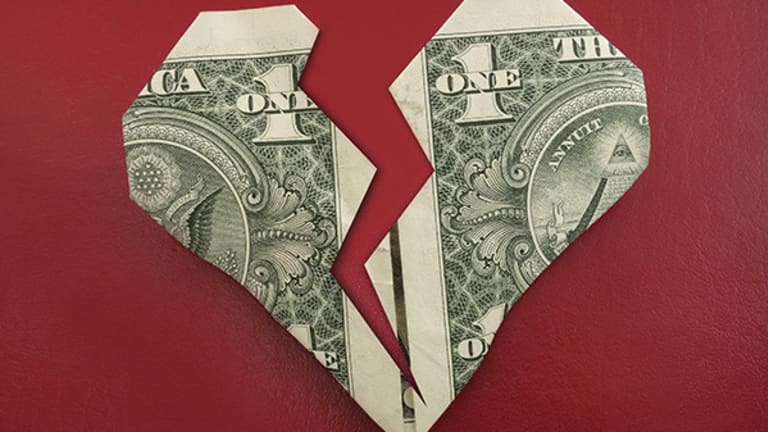 For Big Love, Make Sure Your Credit Scores Match
Big differences in credit score means big relationship problems ahead. Simon Constable explains.
Ugh! The dating scene just got worse.
Now you have another annoying item to add to the already enormous list of things you should look for in your potential mate: Their credit scores.
The two key takeaways:

Big differences in scores mean big problems for the relationship.
Ideally, you should both have high credit scores.
"Initial score differentials are strongly predictive of the stability of the relationship," and have "a stronger role" than the high score part of the equation, according to a recent working paper titled "Credit Scores and Committed Relationships," by Jane Dokko, Geng Li, and Jessica Hayes of the Brookings Institution, the Federal Reserve Board, and the University of California Los Angeles, respectively.
But the report also says: "Couples with higher initial credit scores are less likely to separate." 
So for an optimal love outcome, you should both have as high a score as possible.
The researchers discovered this by collecting data from The Federal Reserve Bank of New York Consumer Credit Panel / Equifax covering the 15-and-a-half years through the second quarter of 2014. Included in the data was a proprietary Equifax "risk score" which is said to "predict the likelihood of severe delinquency over the next 24 months," the report states.
The measure is different from the more commonly known FICO score, which is used by major financial organizations such as JP Morgan Chase (JPM) - Get JP Morgan Chase & Co. Report and Citigroup (C) - Get Citigroup Inc. Report when making loans or issuing credit cards.
The Equifax data gave information on the living situation of the individuals which allowed the researchers to figure out who was in a committed relationship. 
"What makes lasting relationships is a greater number of shared core values and shared areas of intimacy," says Natalie Moore, author of "It's a Match! The Guide to Finding Lasting Love," and a founding fellow of Harvard's Institute of Coaching. "People with the same core values tend to do better in their marriage."
Moore says people with low credit scores, which were not caused by losing a job, are more likely to be irresponsible than those with higher scores.
Among core values for most people is fiscal responsibility, or living within their means: "Families who charge everything to credit cards and live on the edge have very different values," says Moore.
Before people commit to a relationship, she says, they should be able to talk about what she calls "key areas of intimacy," including finances.
The reason that credit scores, and the similarity of them, matter so much is because they "reveal information about one's underlying trustworthiness," the report says. "Differentials in credit scores may also reflect mismatch in couples' trustworthiness." In other words, when you share this similar trait with your mate ,the relationship will likely last longer, other things being equal.
If after all this, you still want to date, a word of caution. Don't expect your lousy credit to be much improved by a having a prudent partner, or vice versa. "Those who have more limited access to credit as a single person do not appear to be able to improve their access through forming a spousal relationship," the report says.
This article is commentary by an independent contributor. At the time of publication, the author held no positions in the stocks mentioned.