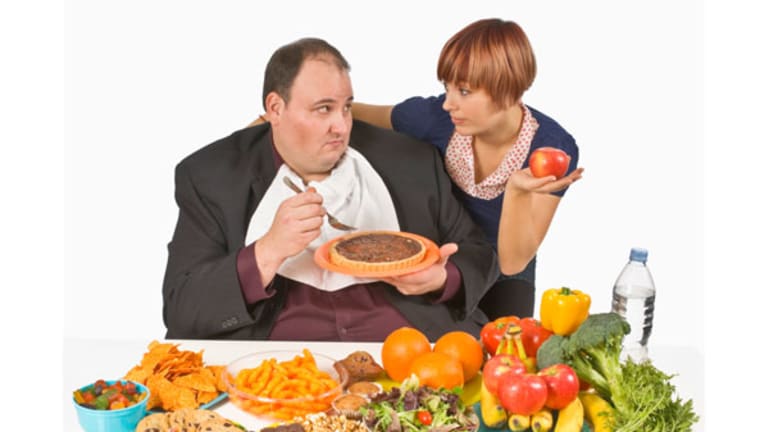 NEW YORK (
) -- Companies in the food sector ranging from the planters
Monsanto
(MON)
, to the protectors
DuPont
(DD) - Get DuPont de Nemours, Inc. Report
, to the producers
Kellogg
(K) - Get Kellogg Company (K) Report
, have all increased efforts to influence food labeling legislation, both at the federal and state levels.
While it may seem harmless to mandate that there be accurate and full disclosure, the potential legal liability from such rules and regulations is staggering. Already companies in the sector such as
Campbell's
(CMP) - Get Compass Minerals International, Inc. Report
and
Unilever
(UNLV)
have suffered from lawsuits, raising the specter of a massive legal offensive rivaling that endured by the tobacco industry for decades at a cost in the hundreds of billions, with no end in sight.
Over 100 lawsuits have already been filed in the past two years challenging the claims of food companies for products being labeled as "natural." Defendants have included Kellogg's, Unilever, Campbell's, Ben & Jerry's, and others. Some lawsuits have ended up in multi-million-dollar settlements, much like those filed against the tobacco industry. Also eerie is that those filed by the tort bar seeking class-action status for those consumers who purchased the products.
At present, Campbell's is being sued in Florida for misrepresenting soup as being natural when it had used genetically modified ingredients. The lawsuit alleges that Campbell knowingly used genetically modified seeds, yet still labeled the ingredients as "natural."
Campbell's attempted to have the lawsuit thrown out, but U.S. District Court Judge William P. Dimitrouleas refused, denying that jurisdiction rested with the Food and Drug Administration or that the United States Department of Agriculture even knew that the soup contained genetically modified ingredients.
A major problem here is that there is no clear, precise legal definition of "natural" for food products.
Campbell's settled a suit for $1.05 million in September 2011 filled by four women due to claims that a brand of tomato soup was "low sodium." The plaintiffs sued for there being the same amount of sodium as in the regular tomato soup from Campbell's. A class-action lawsuit was also settled for $35 million-plus by Campbell's in 2003 for inflating its sales record.
Numbers like those attract other lawsuits, needless to say.
"There's a boatload of litigation and that is going to continue until companies stop conning people,'' stated Stephen Gardner, litigation director at Center for Science in the Public Interest. Lori Leskin, with Kayle Scholer and co-head of the American Bar Association's Products Liability Committee, noted that, "Companies are tending to pull back from the natural label because it isn't worth it right now.''
What also is "worth it" for plaintiffs attorneys to file lawsuits is the size of the market.
Over $40 billion annually is sold in "natural" foods in the United States. A recent survey by market research firm Mintel found that just over of Americans look for "all natural" when choosing food to buy. That is a huge pool of potential litigants for a class-action lawsuit.
Making it even more alarming is the example of the tobacco industry.
In 1998, the Tobacco Master Settlement Agreement was reached between the four largest tobacco companies and the attorney generals of 46 states. Among other conditions, the firms agreed to pay a minimum of $206 billion over the first quarter-century of the agreement for medical and other costs related to smoking.
The lawsuits and the losses still continue for the tobacco industry: In September, a federal arbitration panel ordered the tobacco companies that were party to the Tobacco Master Settlement Agreement to pay New York $92 million. Eric Schneiderman, the Attorney General of New York, declared the ruling was, "A huge victory for all New Yorkers, and I applaud the panel for denying Big Tobacco's efforts to avoid responsibility for illnesses caused by cigarettes -- and paid for by taxpayers."
Increases in the size and scope of laws always result in more companies being sued.
That will certainly be the case if food labeling requirements are heightened. At present, there is no shortage of lawsuits being filed for the claims of "natural." That number will rise with greater disclosure requirements for the food sector, potentially rivaling the industry for total costs.
Jonathan Yates does not have a position in any of the stocks mentioned in this article.This article is commentary by an independent contributor, separate from TheStreet's regular news coverage.
Jonathan Yates is a financial writer who has had thousands of articles appear in periodicals and Web sites such as TheStreet, Newsweek, The Washington Post and many others. He has degrees from Harvard University, Georgetown University Law Center and The Johns Hopkins University.