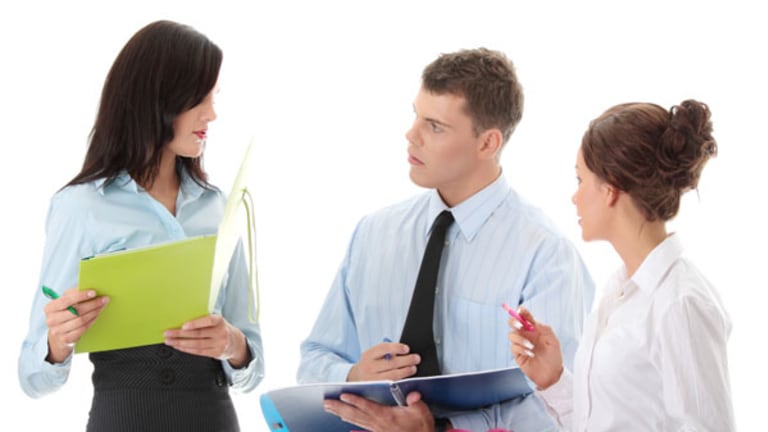 Following the Right Stock Market Signals
Here are the signals you need to monitor for a shift in momentum in the S&P 500.
The following commentary comes from an independent investor or market observer as part of TheStreet's guest contributor program, which is separate from the company's news coverage.
NEW YORK (
) -- It's a simple fact that when global markets that are not aligned across trend and momentum reads, the chances for sustained moves are reduced.
Any individual market can make a break higher or lower from the overall consensus for a short period of time, but any long-term moves that gather momentum and increasing participation generally come from times when global risk tolerance is aligned.
Trends are historically in play 15% of any year; 85% of market moves are intraday or swing. Therefore market reviews and analyst opinion should include the two-sided common sense reality.
Recent moves higher in global risk markets are starting to look overextended and vulnerable. These are undoubtedly unique times, and daily changes in momentum and sentiment are the norm, however equity indices seem weak when compared to what is happening in interest rate and bullion markets.
Medium-term overbought reads along with fundamental market internals indicate that it could be hard for the
S&P 500
to move easily past 1325 resistance and that 1350 would be a roadblock. The 1295 13-year swing point area looks as though it will remain pivotal in 2012. Traders are seeing a similar situation as January 2011, when 1350 was the top and 1240 was the bottom of the spring trading range, with choppy and overlapping trade in between. If that same pattern of trade follows through, an elevator ride lower will be a constant threat this year.
Absolutely nothing is signaling that 2012 will be any different from last year, except that the financial ponzi scheme of money printing and debt ignorance is now getting in the faces of those who previously ignored it.
There are no good guys or knights in shining armor in the major central banks; the brush has tainted most with broad stripes, and there is no easy way to back out of decade-long fiscal decisions that in hindsight should not have been made.
No More
It is little wonder that equity indices remain flat in net value over the last 13 years, and little wonder that retail investors have said "no more" and pulled record amounts of money from the equity trading arena.
Average Joe has become educated to the fiddling that goes on and now has access and resources to make educated decisions on what was until recently shrouded in mystery.
Even the Federal Open Market Committee cannot rally Average Joe to get invested, and why should the general public fund more shenanigans in equities when in reality the "economy" is now gauged on how well the S&P 500 or Russell 2000 stock indices are doing?
If knockout
Apple
(AAPL) - Get Report
earnings numbers could not rally the main indices (equity markets were lower directly after the AAPL earnings numbers), and talk of more artificial stimulation from the FOMC could not generate a move higher that lasted for more than a day, the warnings signs are clearly posted. The path of least resistance looks to be lower in global equities, despite recent knee-jerk moves higher that have added 5% on average to most indices' values.
Equity fund managers may be looking to sell now, bank the 5%, which would eclipse the 2011 S&P 500 return, (and also beat the 13-year return), and take the rest of the year off.
After a commitment by the
Federal Reserve
to follow a zero interest rate policy for three more years S&P 500 values responded by closing flat for the week, which suggests investors had priced in extended easing and further market manipulation from the FOMC.
Interest Rate Triggers
The real kicker from recent price action is that 10-year Treasury note values are back to test resistance around 132.00, which further indicates that equity valuations could be vulnerable to reversal.
It is rare to see Treasury notes testing resistance without stock indices moving toward support. Risk tolerance generally equates to long-equity Indices, while risk aversion equates to long-Treasury notes.
Tenured traders tend to look at interest rate and interbank liquidity analysis for daily gauges on risk tolerance, rather than initially looking at equity values. There are far fewer moving parts to a ZN (Treasury) futures contract than there are to an ES (S&P 500) futures contract, and in reality the interest rate analysis has over time been far more reliable a read on sentiment.
After taking into account technical alignment, momentum and participation levels, and fundamental triggers, we think a move higher in S&P 500 trade will require a massive breaking news headline that sweeps all before it.
Not to say that could not happen, but without a momentous move soon it would seem that the signals building for a move lower to test 1295 are growing stronger. Whatever the outcome, and however it is instigated, traders need to be agnostic to direction and trust the triggers that have been built over the last thirty years.
Signals
In the meantime the triggers will come from S&P 500 (ES) failing again to break and hold 1325 resistance, the Treasury note (ZN) breaking and holding 132.00 resistance, and EUR/USD failing again at 1.3250 resistance. If that scenario happens on a day of earnings disappointment, the moves could easily draw in a 5% response in any of the above markets.
No jumping the gun, no analyst expectancy, no egotistical guesswork; this all comes down to preset triggers confirming that market momentum has changed and that it is time to react. Right now, the long side of equity indices trading is in play -- not for new positions, but for the management of existing -- which is something that will be respected.
TheLFB is great for all skill levels. Receive market support, and get TheLFB trader advantage. Sign up today!
Marco Hague is one of the founders and principals of The London Forex Broadsheet (commonly known as TheLFB), a global forex trader portal with headquarters in the U.S. Hague began his career with the Bank of England dealing with foreign exchange control, and he has been trading for the last three decades. He has been involved with institutional risk asset ratio analysis and the implementation and maintenance of institutional trade desks globally.