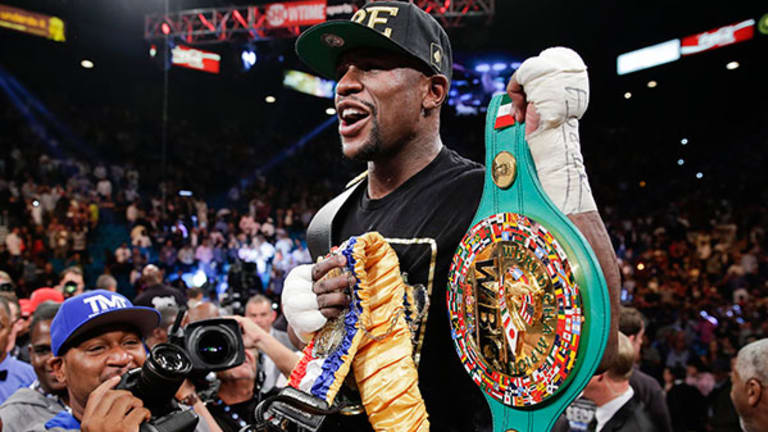 Floyd Mayweather Can Make You Money Every Time He Wins or Loses
A lot of people have been betting that Floyd Mayweather is going to win again on his next fight. There is a way to win money every time he fights.
The list of the Most Powerful Celebrities was published again by Forbes and Her Majesty Oprah Winfrey was toppled from the throne. Oprah Winfrey dropped all the way down to fourth place though with annual earnings of $82 million. Very few celebrities in the world make more money than Oprah.
Floyd Mayweather Jr. is only 37 years old and he is one of the very few celebrities in the world with higher annual earnings than Oprah. Floyd made $105 million last year. He's never lost a fight in his entire career and he has won 26 of his 46 fights by KO.
A lot of people in the world invest their hard earned cash in Floyd Mayweather and bet that he will win on his next fight. His next fight is scheduled for September 13 against Marcos Maidana from Argentina at the MGM Grand Garden Arena, according to ESPN, a subsidiary of Disney. (DIS) - Get Free Report
Just because Mayweather has won 46 times doesn't mean he'll win again, it just means there is a high probability he will win again. I'll let writer and executive producer Jason Smilovic explain this concept of sure things in more detail here.
In the financial industry, we have a technical term for this: Past performance isn't a guarantee of future returns.
If you have been investing your money with him for a while, then your confidence in Mayweather has grown over the years, and it ' likely that you started your first bet with only $1 and you won and then you bet on his next fight with $2, and you won again, and then you bet on his next fight $5, and you won once again. That's exactly how you're going to lose your ranch the day he loses for the very first time.
The entire economy of Macau runs on this very basic human nature: If it ain't broke, don't fix it or if you are winning, don't bet on the other boxer. Of course, nothing could be further from the truth and that is exactly why the shareholders of the 33 casinos in Macau get wealthier every year and the gamblers get poorer every year.
I don't know exactly when Floyd Mayweather Jr. is going to lose, or if he's going to retire with a perfect record. But I can tell you how to make money with him if he wins and also how to make money if he loses.
In other words, you win if he wins and you win if he loses. We can't buy shares in his private company Mayweather Promotions.
I can only hope that one day in the near future Floyd Mayweather Junior will decide to share 10% of his $170 million estimated fortune with the rest of us by filing an initial public offering with the stock symbol GLOVE.
Until that day comes, you can only buy shares in MGM Resorts International (MGM) - Get Free Report, the third largest casino & gaming company in the world by sales after Las Vegas Sands (LVS) - Get Free Report with annual sales of $13.8 billion and SJM Holdings with annual sales of $11.3 billion.
Sales have been growing steadily from $7.8 billion in 2011 to $9.1 billion in 2012 to $9.8 billion in 2013.
Unfortunately, the construction business is very volatile and you cannot really predict the costs of the materials you are going to need to build your casino which usually takes several years to build and you also need to pay interest to the banks for a few years when you are building and your sales at that building are exactly zero.
In 2012, the company lost $1.7 billion. In 2013 the company lost $156 million. There have been some advances in finance in recent years and you can now buy futures for some of the construction materials that you need for your casino, but we cannot lock down the construction costs for the entire duration of the construction of the building yet. The first financial engineer that can invent and patent a new way to mitigate these financial risks will eventually become a millionaire.
Until that day comes, stay away from this company. There are safer ways to make money in the stock markets.
I like Las Vegas Sands. However, the rest of the world also feels the same way and that means the stock price has gone up way too much.
I am not going to pay $60 billion for this company.
Showtime, a subsidiary of CBS (CBS) - Get Free Report, broadcasts all the Floyd Mayweather Junior fights.
CBS is currently the seventh most profitable broadcasting & cable company in the world with annual profits of $1.9 billion and with Comcast (CMCSA) - Get Free Report, (CMCSK) acquiring Time Warner Cable (TWC) , AT&T (T) - Get Free Report acquiring DirecTV (DTV) and 21st Century Fox (FOX) - Get Free Report, (FOXA) - Get Free Report acquiring Time Warner (TWX) it seems like CBS is going to catapult itself all the way up the sixth place and that can mean only two things:
CBS increases annual profits from $1.9 billion to $2.5 billion, which is what Viacom (VIA) - Get Free Report currently makes with the acquisition of another broadcasting & cable company that turns a profit of at least $600 million like Cablevision Systems Corporation (CVC) and survives as an independent company.
Time Warner increases annual profits from $3.6 billion to $6.6 billion, which is what The Walt Disney Company (DIS) - Get Free Report currently makes with the acquisition of other two broadcasting & cable companies that turn a combined profit of at least $3 billion like CBS and Discovery Communications (DISCA) - Get Free Report, (DISCB) - Get Free Report, (DISCK) - Get Free Report and all your CBS shares are exchanged for Time Warner shares.
If you are CBS CEO Leslie Moonves, it's eat or be eaten time.
There is no Showtime in Mexico and AT&T is possibly going to recover its $67.1 billion investment in DirecTV expanding SHO2, Showcase, The Movie Channel, Flix and Smithsonian Networks to countries like Argentina, Chile, Ecuador, Venezuela, Dominican Republic, Brazil, Costa Rica, El Salvador, Guatemala, Honduras, Nicaragua and Panama.
At the time of publication the author had no position in any of the stocks mentioned.