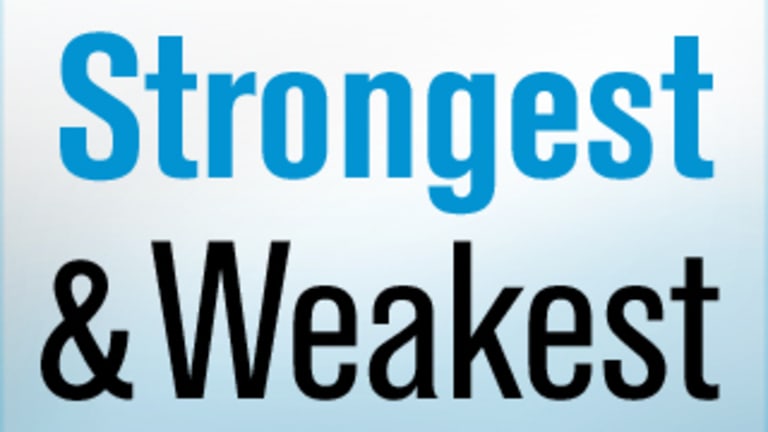 Florida's Weakest Banks Vanish
The pace of Florida community bank failures has picked up during the third quarter.
JUPITER, Fla. (
) -- The pace of Florida bank failures has picked up during the third quarter, as weaker players are shaken out, and eight of the ten largest banks and thrifts in the state were profitable during the second quarter.
While several of the large Florida banks have been posting strong earnings, the picture remains bleak for many community banks. Economic activity has yet to perk up, although there's always hope, since many of the economic factors leading to a great migration from northern states during the real estate boom -- including the absence of a state income tax, lower property taxes, lower property prices, and a lower cost of living in general -- are still present.
Seacoast Banking Corp.
(SBCF) - Get Free Report
CEO Dennis Hudson recently said that there were signs that the
real estate market was stabilizing in South Florida
.
Meanwhile, the weakest banks in the state are continuing to be swallowed up by stronger rivals.
According to data provided by SNL Financial, 18 of Florida's 236 banks and thrifts were
per ordinary regulatory guidelines as of June 30 and were included on
TheStreet's
second-quarter
, excluding
The First National Bank of Florida
, which failed on Sept. 9.
Florida was second only to
, which had 32 institutions included on
TheStreet's
second-quarter Bank Watch List.
Florida has seen 11 banks fail so far this year, second only to Georgia with 19 bank closures, but still behind last year's pace, when Florida led all states with 29 bank and thrift failures.
The Watch List is based solely on capital ratios, so we take a different approach on our quarterly coverage of banks in key states, by looking at overall credit quality to identify troubled institutions.
Florida Banks with Weakest Asset Quality
The following list includes all banks in the state with nonperforming assets comprising more than 15% of total assets as of June 30:
Nonperforming assets (NPA) include nonaccrual loans, loans past due 90 days or more and repossessed assets. Government-guaranteed loan balances are excluded. The ratio of net charge-offs to average loans is annualized. The total risk-based capital ratios needs to be at least 8% for most institutions to be considered adequately capitalized by regulators, and 10% for most to be considered well-capitalized.
Most of the undercapitalized banks on the above list are operating under regulatory orders to achieve and maintain total risk-based capital ratios higher than 10%.
The list also includes financial strength ratings provided by
Weiss Ratings
. Weiss Ratings uses a very conservative ratings model, placing the greatest weight on capital strength, credit quality and earnings stability to assign ratings ranging from A-plus (Excellent) to E-minus (Very Weak).
The largest Florida institution with NPA exceeding 15% as of June 30 was
Vision Bank of Panama City
, which is a subsidiary of
Park National Corp.
(PRK) - Get Free Report
of Newark, Ohio. Vision Bank's NPA ratio was 16.58% as of June 30, improving from 23.37% the previous quarter. The bank's total risk-based capital ratio was a very strong 22.347%. The holding company has been profitable for the past 12 quarters, reporting second-quarter earnings to common shareholders of $18.9 million, or $1.22 a share, with an ROA of 1.11%, according to SNL Financial. Park National Corp. owes $100 million in government bailout funds received in December 2008, through the Troubled Assets Relief Program, or TARP.
The Florida bank with the highest concentration in nonperforming assets as of June 30 was
Southern Commerce Bank, NA
of Tampa, with NPA of 30.72%. The bank is operating under a May 2010 consent order with the Office of the Comptroller of the Currency, and as of June 30 was in compliance with the order's higher capital requirements, with a total risk-based capital ratio of 26.85%, while the agreement called for the bank to achieve and maintain a total risk-based capital ratio of 11%.
Florida's Largest Banks
Here are the 10 largest Florida banks, along with key metrics as of March 31:
Out-of-state players dominate deposit gathering in Florida. Based on the most recent deposit market share data provided by the
Federal Deposit Insurance Corp.
,
Bank of America NA
(the main banking subsidiary of
Bank of America
(BAC) - Get Free Report
) was the market share leader with 18.3% of deposits in the Sunshine State as of June 30, 2010.
Wells Fargo Bank NA
(the main subsidiary of
Wells Fargo
(WFC) - Get Free Report
) had a 16.1% deposit market share in Florida, and
SunTrust Bank
(held by
SunTrust Banks
(STI) - Get Free Report
) was third, with a 10.1% market share.
The largest bank chartered in Florida is
Northern Trust, NA
, which is a subsidiary of
Northern Trust Corp.
(NTRS) - Get Free Report
of Chicago. The Florida subsidiary earned $33.4 million during the second quarter, for a return on average assets of 1.04%, improving from earnings of $28.5 million and ROA of 0.91% during the first quarter.
The second-largest Florida institution is
EverBank
of Jacksonville, which had $12.5 billion in total assets as of June 30. The institution's holding company EverBank Financial filed for a $200 million initial public offering in October, but the IPO hasn't taken place yet. Everbank and the holding company on April 13 entered into two consent orders with the
Office of Thrift Supervision
, agreeing to improve its foreclosure practices. The thrift services a total of $58 billion in residential mortgage loans, according to the OTS.
The third-largest bank in the state is
BankUnited
, which is held by
BankUnited, Inc.
(BKU) - Get Free Report
. The "new" BankUnited which was formed by an investor group led by John Kanas to acquire the old
from the
FDIC
after the thrift failed in May 2009.
The investor group took the thrift public in January. The holding company on Thursday announced an agreement to acquire
of New York for roughly $71 million in cash and stock.
BankUnited continued to post strong earnings, with second-quarter net income of $49.7 million, for an ROA of 1.85%, as a loss-sharing agreement with the FDIC made up for any drag on earnings from problem assets inherited from the old BankUnited. The thrift remained very strongly capitalized and primed for further acquisitions, with a total risk-based capital ratio of 41.50% as of June 30.
The fourth-largest Florida institution is
Raymond James Bank, FSB
which is a subsidiary of
Raymond James Financial
(RJF) - Get Free Report
. The thrift posted strong earnings of $26.7 million for the second quarter, for an ROA of 1.38%.
Capital Bank, NA
of Miami jumped up to become the sixth-largest institution headquartered in Florida, with $4.5 billion in total assets as of June 30. The bank was chartered on July 16, 2010, as NAFH National Bank, held by North American Financial Holdings, which was organized by a group of investors led by R. Eugene (Gene) Taylor, a former vice chairman of
Bank of America
(BAC) - Get Free Report
. The new bank immediately acquired
two failed banks in Florida and one in South Carolina
, from the FDIC.
After acquiring Capital Bank of Raleigh, N.C. on June 30, NAFH changed its name to Capital Bank, NA.
Florida Community Bank, NA
of Miami was the tenth-largest institution in the state as of June 30, with $3.1 billion in total assets. The bank began operations in January 2010, after its parent, Bond Street Partners, had been granted a "shelf charter" by the OCC, to allow the investor group to purchase failed banks. The bank was originally named Premier American Bank, NA, when it
purchased the failed Premier American Bank
from the FDIC on January 22, 2010.
The bank went on to acquire seven more failed Florida banks, and after its most recent acquisition of the failed
of Port Saint Lucie, Premier American Bank NA was renamed Florida Community Bank.
Strongest Florida Banks and Thrifts
Based on fourth-quarter financial reports, only six Florida institutions were rated B (good) or above by Weiss Ratings:
Florida Bank Failures
There have been 11 bank failures in Florida so far this year, with the pace picking up recently, as there have been five bank closures in the state during the third quarter. Georgia leads all states with 19 failures in 2011. There have been seven failures in
so far this year.
There have been 73 bank failures across the nation so far during 2011, following 157 during 2010.
All bank and thrift closures since the beginning of 2008 are detailed in
TheStreet's
interactive bank failure map:
The bank failure map is color-coded, with the states having the greatest number of failures highlighted in dark gray, and states with no failures in light green. By moving your mouse over a state you can see its combined 2008-2011 totals. Then click the state to open a detailed map pinpointing the locations and providing additional information for each bank failure.
RELATED STORIES:
Illinois Banks See Earnings Drag >>
--Written by Philip van Doorn in Jupiter, Fla.
>To contact the writer of this article, click here:
.
>To follow the writer on Twitter, go to
http://twitter.com/PhilipvanDoorn
.
>To submit a news tip, send an email to:
.\
Philip W. van Doorn is a member of TheStreet's banking and finance team, commenting on industry and regulatory trends. He previously served as the senior analyst for TheStreet.com Ratings, responsible for assigning financial strength ratings to banks and savings and loan institutions. Mr. van Doorn previously served as a loan operations officer at Riverside National Bank in Fort Pierce, Fla., and as a credit analyst at the Federal Home Loan Bank of New York, where he monitored banks in New York, New Jersey and Puerto Rico. Mr. van Doorn has additional experience in the mutual fund and computer software industries. He holds a bachelor of science in business administration from Long Island University.