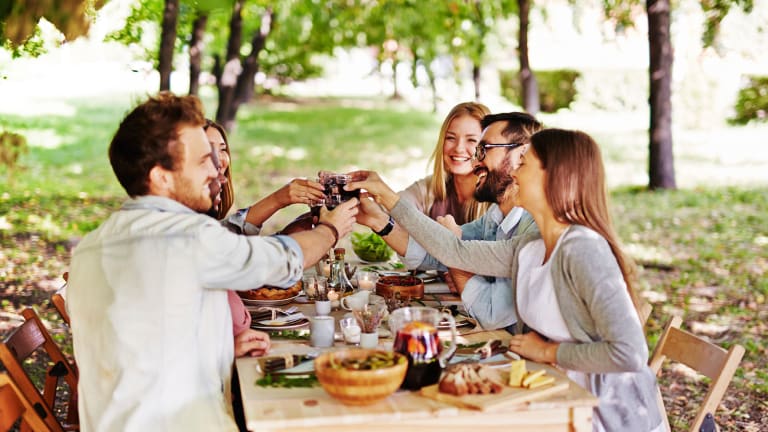 Flashback Friday: Tesla Takes a Hit
Here's what you missed on TheStreet.
Happy Friyay.
Alright, let's make this quick. TheStreet understands that it's Friday, which means rest and relaxation. Well, hopefully. Not if you're TheStreet's Brian Sozzi, apparently. In Sozzi's Morning Jolt video this morning, he admitted to working 135 hours a week. Take that, Elon.
Elon Musk Needs to Take a Break
And Sozzi thinks he has the solution.
Musk needs help in the C-suite and he needs it immediately, both for his health and the health of shareholders. Musk interestingly said that Tesla approached Facebook (FB) Chief Operating Officer Sheryl Sandberg a few years ago with no luck, said Sozzi.
Are you ready for the weekend? Well, don't take a break. Sozzi wants investors to examine their portfolios.
Plan today, or risk having your portfolio shredded before Christmas. While second-quarter earnings season was stellar by most measures, the world's biggest companies didn't exactly hide their concerns on second-half business trends.
So put down that Frose and re-examine that portfolio.
No Crypto Doesn't Mean No Go
At least that's what Nvidia (NVDA) - Get Report analysts are saying after the company announced earnings on Thursday night.
There's still a bull case for Real Money's stock of the day.
RealMoney's Kevin Curran reported on the chip manufacturer and what analysts are saying.
The drag on shares was driven, in part, by lower than expected revenue on cryptocurrency mining units, which missed analyst's already lowered estimates by 94%.
"We had expected some stresses as the cryptocurrency shortages eased, but they were slightly more severe than we had expected," Morgan Stanley analyst Joseph Moore wrote in a note this morning.
Needham and Co. analyst Rajvindra Gill explained further that the downturn is due to the company's specific connection with the cryptocurrency Ethereum.
"NVDA is tied to Ethereum where the prices have plummeted 62% year over year," he explained. "NVDA had anticipated cryptocurrency-specific products declining to $100 million, while actual crypto-specific product revenue was $18 million."
General Electric Is Still Not Worth it
Contributor Stephen Guilfoyle compares General Electric (GE) - Get Report to flounder and fluke...and, while I'm not a fish-eater, I don't think I'd want to be compared to either of those creatures. 
Guilfoyle said, "the stock though... (shaking my head). The stock's performance would look at the term "flat" as a serious positive. I am long General Electric. I hate being long General Electric. Bottom fishing is not the sport that it's made out to be. Even at these current prices—the stock closed at $12.30 on Thursday, after trading as low as 11.94 (a nine-year low!) on Wednesday—I am not likely to add to this position."
When you were a kid, there's chance that your mom bought you and your sister some lemons, and maybe some napkins. You guys used her sugar. You sold the lemonade out on the sidewalk for 5 cents a glass. A few neighbors stopped by. You and your sister evenly split revenue of maybe 50 cents. The whole thing probably cost your Mom a few bucks. Nice trade.
That's what GE is doing with its power conversion unit. Last week, it was reported that Flannery might be looking to sell that unit, perhaps for as much as $3.2 billion. Firms such as Caterpillar (CAT - Get Report) are mentioned as potential buyers. Immelt spent twice that much to purchase the unit himself back in 2011. Two days earlier, the firm announced that it was selling the energy debt financing business to Starwood Property Trust (STWD - Get Report) .
If you can isolate this stock from the rest of your book, and not worry about it, then fine. If you are flat, look somewhere else for fun. My advice is that if you have the time and the energy to babysit this thing, you can probably pull this off. Know what you are getting into, though. There is no easy money to be made in this seemingly cheap name.
Alright, now you can either restack your portfolio or enjoy the weekend. The choice is yours.