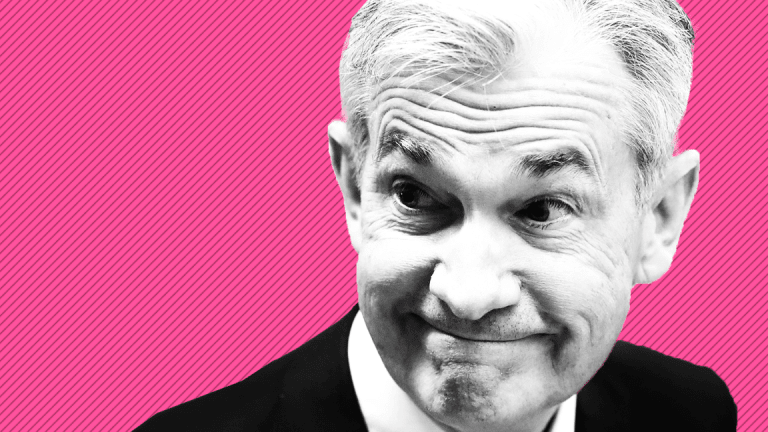 Flashback Friday: Powell Came to Play
Here's what you're missing on TheStreet.
Happy Friday!
Alright, let's recap quickly, so you can enjoy your weekend. 
Here's what you need to know from TheStreet today.
PayPal's Got a Monster Up its Sleeve
Say what?
TheStreet's Brian Sozzi says Venmo might be a billion dollar business for PayPal (PYPL) - Get Report . And, as usual, he's got the sources to back up the claim.
A new survey of 1,500 internet users by RW Baird's tech analyst Colin Sebastian shows Venmo is one of the most dominant payment platforms.
"Among the 40% of respondents using digital wallets, Venmo adoption was on par with Apple Pay, although this likely includes affirmative responses for P2P transactions. Nonetheless, we view this strong showing as a positive leading indicator of longerterm Venmo monetization," Sebastian says.
Sebastian sees the momentum behind Venmo helping to bring in the big bucks for PayPal over time.
Whew. 
Funny that, I did just get a Venmo request from a friend. Maybe Sozzi and Sebastian aren't that far off. 
How's Retail Looking?
TheStreet's founder Jim Cramer penned a piece for TheStreet's sister site, RealMoney. He's not sounding overly bullish on the retail sector.
I mean, what can you expect when the headline is, What Happens When Retail's Share Donors Whither Away?
"J.C. Penney, a once all great and powerful retailer, only has $12 billion left. Notably there are 574 Sephoras in Penney's. Now any sort of closings are most likely good for Bluemercury of Macy's (M) and Ulta (ULTA) . But it is still too early to make a difference," Cramer wrote. 
'Jay' Powell Sounds Doveish
TheStreet's Bradley Keoun kept a hawk-eye on the Fed chair's speech from Jackson Hole, Wyo. on Friday, Aug. 24, but Jay Powell, who's previously sounded pretty hawkish, sounded more doveish this time. 
The Federal Reserve's monetary-policy officials believe a "gradual process" of rate increases "remains appropriate" as the U.S. economy heats up and the labor market tightens, Chairman Jerome Powell said Friday.
"Most people who want jobs can find them," Powell said Friday in prepared remarks for a speech at the Federal Reserve Bank of Kansas City's annual economic symposium in Jackson Hole, Wyoming. "With solid household and business confidence, healthy levels of job creation, rising incomes, and fiscal stimulus arriving, there is good reason to expect that this strong performance will continue."
Powell's speech comes just days after the release of minutes from the Fed's monetary-policy meeting earlier this month, where officials voted to keep rates steady while planning further "gradual" hikes to prevent a surge in inflation.
The Federal Open Market Committee, which Powell heads, voted at the meeting in Washington on July 31 and Aug. 1 to hold borrowing costs steady in a range of 1.75% to 2%. The central bank has been raising rates since late 2015, after holding rates near zero for years in the aftermath of the 2008 financial crisis. Two more interest rate increases are expected by the end of the year.
That's a wrap for this week.