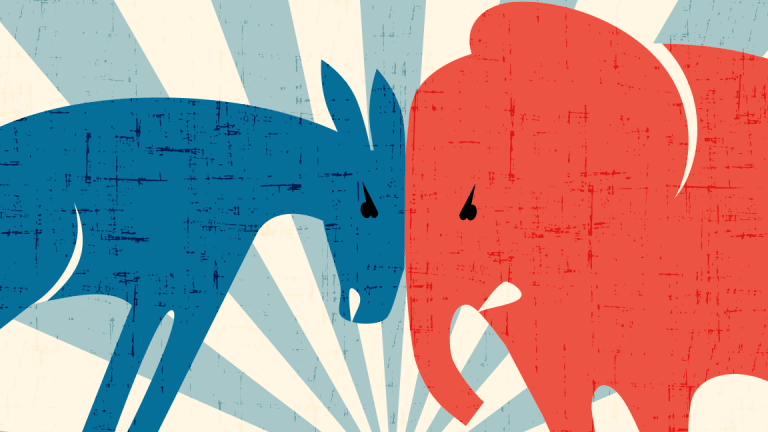 Flashback Friday in Politics: Trade Wars, Manafort, Immigration Dominate Minds
Before you get ready to kick off the weekend, catch up on the top political stories.
Before you get ready to kick off the weekend, catch up on the top political stories.
Welcome to a weekend of tariff talk.
Before you get ready to go out—or stay in—let's review the top political stories from today. 
Trump Wasn't Kidding
Trump announced on Friday, June 15, that he was slapping $50 billion worth of tariffs on Chinese imports. China quickly retaliated. 
In case you're worried about a trade war, Brian Sozzi, executive editor of TheStreet, talked to top executives about what a trade war could mean. 
"Minneapolis Fed chief Neel Kashkari paints a brutal outlook if the U.S. were to get into a trade war," said Sozzi.
The U.S. tariffs will be enacted on July 6. 
"The move is aimed at cracking down on Beijing's policies that the White House says force foreign companies to hand over valuable technology and data in order to operate in the Chinese market," reported Politico.
This could be the start of a trade war with China. China and the U.S. had sat down previously for trade negotiations. At the time, the two countries failed to compromise.
"The delegation held frank discussions with Chinese officials on rebalancing the United States-China bilateral economic relationship, improving China's protection of intellectual property, and identifying policies that unfairly enforce technology transfers," said U.S. officials.
This is just how you wanted to start the weekend, right? 
Trump Slashes DACA Dreams
In typical fashion, Trump shocked the Republicans on—wait for it—a Fox and Friends interview. 
The President said that he "certainly wouldn't sign the more moderate one" when asked about the two immigration bills that the House is set to vote on next week.
The bill that he's referring to is a GOP one that was written by moderate and conservative Republicans in an effort to shield Dreamers, who are part of the Deferred Action for Childhood Arrivals, which Trump ended last year. 
Politico reported that Paul Ryan and other GOP members had described Trump as "excited" for the bill, but we guess that's not the case. 
Democrats were cynical about the bill and believed that it was destined to fail. 
Manafort Faces Detention—But Not the School Kind
"This is not middle school. I can't take away his cellphone," said Judge Amy Berman Jackson, a federal judge, about Paul Manafort on Friday. 
The judge said that she had no choice but to jail Manafort after evidence of witness tampering was revealed by Robert Mueller's team. 
"You have abused the trust placed in you six months ago," the judge addressed Manafort. 
President Trump apparently felt bad for Manafort and said at an impromptu news conference on Friday, Mueller's team "went back 12 years to get things that he did 12 years ago." Trump made the remarks to a pool of journalists shortly before the judge ordered Manafort to be jailed. 
Manafort has pleaded not guilty to the charges brought against him by Mueller's team. The special counsel has charged Manafort with a 12-count indictment. The charges include conspiracy against the United States and money laundering.
It's a bad day for Manafort.