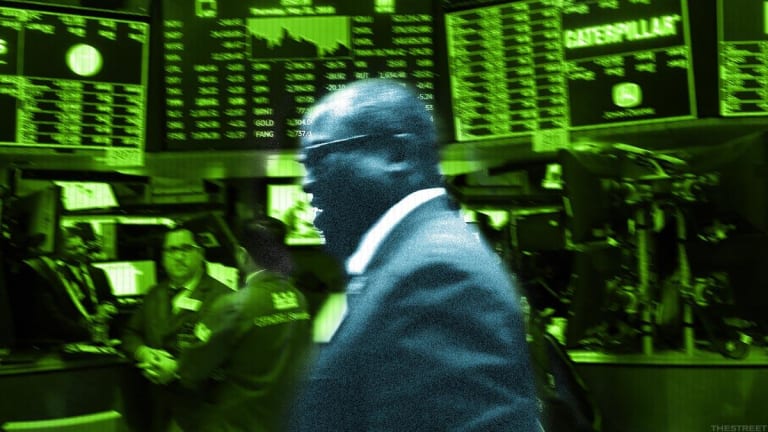 Flashback Friday: Bank Stocks Stay Hot and Tesla Stays Relevant
Here's what you missed on Friday.
Stop! Wait a minute.
Before you start celebrating the weekend, let's go over the top stories in the market.
JPMorgan
JPMorgan released its earnings Friday, July 13, and the bank successfully beat. 
TheStreet's Brian Sozzi reported that it's the best bank stock to own. Earnings beat by 7 cents and divisional performance was strong. That could awaken JPMorgan's stock, which is down 1% this year, lagging the Dow Jones Industrial Average undefined , the S&P 500 undefined and the rest of the financials. More analysis on the stock here.
"JPMorgan is most representative of the value inherent in the universal banking model," wrote Credit Suisse analysts. "Look to JPMorgan for best-in-class execution, sustainable organic revenue growth and market share gains (leveraging the benefits of its complete, scaled and well-integrated product set), a willingness to drive down unit operating costs (capacity for investment to drive incremental growth; a virtuous circle) and an ability to optimize capital; this should sustain better-than-average earnings growth and returns on equity."
TheStreet's Bradley Keoun reported that net income rose 18% to $8.32 billion, the New York-based bank said Friday in a statement. Earnings per share were $2.29, beating the average analyst estimate of $2.22 in a FactSet survey.
The tax windfall came as JPMorgan benefited from fatter lending margins, with the Federal Reserve's recent interest-rate increases boosting collections on loans and bonds, while the bank held rates paid to depositors on savings accounts close to zero.
"We see good global economic growth, particularly in the U.S., where consumer and business sentiment is high," CEO Jamie Dimon said in the statement.
"We love JPM, its got a fortress balance sheet, best in class return on tangible common equity at 17%, a solid CET1 ratio that provides plenty of room for capital return and on top of all that, it has the highest dividend yield in the group at roughly 3%!" said Zev Fima, an analyst with Jim Cramer's Action Alerts PLUS member club. "Bottom line, we've heard from three of the four big banks so far and outside of liking Citigroup because it's just way too cheap based on its price-to-tangible book value, JPM is clearly the one to buy."
Citibank
Citigroup Inc. (C - Get Report) shares fell Friday due to concerns about slowing revenue growth in its North American credit-card business, even as the U.S. bank reported a jump in second-quarter profit thanks to the expected windfall from President Donald Trump's tax cuts.
Net income rose 16% from a year earlier to $4.49 billion, the New York-based bank said Friday in a statement. Earnings per share were $1.63, beating the average analyst estimate of $1.56 in a FactSet survey.
"I can understand why on its surface Citi's earnings did not inspire fresh buying, however I think investors are missing the value of what is underneath. The underlying trends are healthy, and the market is failing to recognize how powerful the company's $18.7 billion share buyback program will be. Now that we are post CCAR [Comprehensive Capital Analysis and Review], I think Citi is poised to have a strong second half of the year," said Jeff Marks, senior portfolio analyst with Jim Cramer's Action Alerts PLUS member club.
Investors and analysts focused on troubling trends in the credit-card business, where revenue of $4.76 billion was flat compared with a year earlier, and down 4% from the first quarter. At the same time, interest income from Citi-branded credit cards in North America slipped to 8.28% of average loans, from 8.4% in the first quarter and 8.61% a year earlier. And losses on the credit-card loans jumped by 8%.
The stock closed down 2.2%, but it was slightly up in post-market trading. Maybe things are starting to look up.
Tesla
At this point, I'm surprised if Tesla Inc. (TSLA) isn't on the list. 
The car manufacturer continues its streak and Friday was all about the delivery estimates. Or was it about hitting that sweet $35,000 Model 3? Either way, TheStreet's contributors, Jonas Elmerraji and Bret Kenwell have some great reads about everyone's favorite (or least favorite) car company. 
Elmerraji dives into the delivery estimates. He reports that Tesla's timeframe shift comes as the company eclipsed 5,000 Model 3 vehicles produced in a single week for the first time at the end of the second quarter, with guidance to increase production to 6,000 Model 3s per week by late August.
The speedier delivery timelines also come as Tesla backs off its "anti selling" policy for the Model 3, after confirming that the federal electric vehicle tax credit phase-out officially won't begin until the first day of 2019.
The Tesla Model 3 teardown that was leaked back in May indicated that all-in production costs of the Model 3 were likely to be around $28,000 at Tesla's eventual planned production rate. Given the relatively trivial added costs of the Performance trim level over the standard long-range battery all-wheel drive model, it's likely that Tesla is staring down some attractive profit margins on the Performance trim Model 3, even at current production rates.
The Model 3 Performance currently starts at $64,000, and climbs to $78,500 if fully optioned out.
Is that 35,000 Model 3 in your future? Kenwell takes a look.
Over the last few days, Tesla changed its website and implemented a new ordering system rather than simply taking reservations. That's a positive step, as new customers can simply go to Tesla's site and place an order. Depending on what model they order and what features they want, the cars can be ready for delivery within four to six weeks. That's actually pretty impressive and shows how streamlined the factory has become.
It's not clear what this means. It's obviously not an admission that the $35,000 price tag is off the table. But it's sort of like leaving a family event without saying goodbye. It just feels weird.
Why would Tesla go through the effort to remove all references to the base Model 3 costing $35,000? Granted, the version isn't even being produced yet, but nor was it when the original message was up and running.
With the base Model 3 scheduled for production in the first quarter of 2019, a vast majority of these cars will likely miss the full federal tax reduction.
If Tesla is able to produce the base Model 3 for $35,000, the federal tax credit may not play much of a role in its demand. After all, $35,000 is rather reasonable for a vehicle to begin with, let alone one that boasts the Model 3's features. Although getting down to that price point could be a challenge.
But, hey, don't take my word for it. Read these stories yourself and have a happy weekend.
Citigroup and JPMorgan are holdings in Jim Cramer's Action Alerts PLUS member club. Want to be alerted before Jim Cramer buys or sells the stocks? Learn more now.