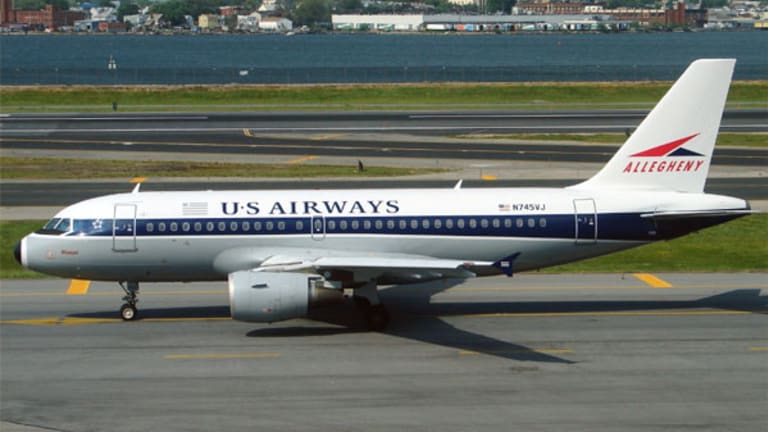 Five Top Moments in the History of US Airways
American Airlines is gradually removing the remaining traces of US Airways so it's a good time to look back on the airline's 76-year history.
American Airlines is gradually removing the remaining traces of US Airways so it's a good time to look back on the airline's 76-year history.
NEW YORK (TheStreet) -- US Airways is fading gradually away.
The merger with American (AAL) - Get Report closed in December 2013. Merger integration has been underway since then. It takes time to merge two airlines with 113,000 employees, nearly 1,000 aircraft and almost 7,000 daily departures. It took two years to merge USAir and Piedmont which, in retrospect, were small airlines.
A key step in the American/US Airways merger will take place Oct. 16, when the final flight is scheduled to depart San Francisco at 9:55 p.m. PDT Flight 434 is scheduled to arrive in Philadelphia at 6:18 a.m. EDT on Oct. 17.
After that, no more flights will have US Airways flight numbers. And theoretically, no airports will have US Airways signage or US Airways kiosks.
However, planes with US Airways colors will fly into 2016 and the full integration of work groups may not be completed until after that.
Still, it is probably a good time to look back at the top five events in the history of the airline that has flown as All American Aviation, Allegheny, USAir and US Airways.
These are positive events, although the benefit may not have seemed entirely clear at the time. The merger with American is not included. In one sense, it assured the airline's future. But at the same time, it ended the airline's life.
Here are the five, in chronological order.
Merger with Piedmont Airlines -- 1987
Since it began in the 1920s, U.S. commercial aviation has been a consolidation business. For US Airways, the principal consolidator was Ed Colodny, who headed the airline from 1975 to 1991 and presided over four mergers.
By far the most important was the 1987 merger with Piedmont Airlines, which brought in Charlotte, N.C., which became the airline's largest hub and was certainly was not the expected outcome.
For years, the merger was viewed as enabling an extreme case of culture clash between dominant Pittsburgh and intrusive Charlotte.
In a 2004 interview with The Charlotte Observer, Teddi Xidas, then the leader of the Pittsburgh chapter of the Association of Flight Attendants, defined the differences between the two cities.
"We come from labor, steel mills, blue-collar workers," she said. "The culture is different than in Charlotte. They are like little daffodils. They wear their hair in a bow and say, 'I just hate that for you.' Charlotte is very delicate -- gentle, soft souls. Pittsburgh is rough and tough. We're rough around the edges."
From Charlotte's point of view, USAir was overly focused on Pittsburgh. As Jerry Orr, long-time director of Charlotte Douglas International Airport, once declared: "They thought the sun rose and set in Pittsburgh.
"We were on a good track with Piedmont here," Orr said in a 2007 interview. "They were making money and growing rapidly, and we planned ahead and grew with them." In another interview, he declared, "When you buy somebody, you ought to save the good parts and throw away the bad parts, but USAir did the opposite."
Nevertheless, over time Charlotte emerged from the shadows. Its advantages were low costs, thanks to Orr's management, and its status as one of only two major hubs in the Southeast. Pittsburgh, by contrast, suffered from its location in an over-hubbed area with competitors in Chicago, Cincinnati, Cleveland, and Detroit. As the industry contracted, they could not all survive.
In the late 1980s, Pittsburgh underwent a $900 million expansion that produced a beautiful airport, but also created a more costly place to operate. Orr just tried to keep costs down. "We understood deregulation," he said. Eventually, US Airways cut Pittsburgh flying by 90% while growing in Charlotte.
In an interview for American Airlines, US Airways and the Creation of the World's Largest Airline, which I wrote with Dan Reed, Colodny said the merger was not so bad, despite the challenge of merging two successful airlines.
"There was a very proud group of employees and managers at Piedmont," he said. "They had built a wonderful airline and they weren't anxious to lose their identity. As with many things, there was emotional resistance, and they thought US Air people were imposing USAir operating policies on their systems.
"But it did come together," he said. "When we merged with Piedmont we doubled the size of the airline and Charlotte became a wonderful hub." 
Deal with British Airways -- 1993
When Colodny stepped down in 1991, he chose Seth Schofield to succeed him. Schofield inherited a carrier that was beginning to show signs of strain, not only financially but also because it suffered five crashes between 1989 and 1994.
It is little remembered today, but in January 1993 Schofield made a deal with British Airways that brought a badly needed cash infusion of $300 million.
The deal was widely criticized, primarily by competitors who objected to giving British Airways access to U.S. markets without making reciprocal access to British markets available to U.S. carriers.
But it was in the early 1990s that the airline's basic structural problem -- its dependence on high fares in East Coast markets -- began to become a severe disadvantage, given the start of the incursion of low-fare carriers, led by Southwest.
So the investment was essential to USAir, which was about $2 billion in debt was continuing to lose money and was beginning to face bankruptcy chatter. In 1991, two airlines - Eastern and Pan Am - had shut down in bankruptcy, so the suggestion was frightening. Schofield's was credited with preventing a bankruptcy. A decade later, that was revised to delaying bankruptcy.
In its 1993 deal, British Airways received a 20% stake in USAir as well as a lopsided code-share agreement in which it received much of the revenue from USAir flights to London. Over the next year British Airways increased its investment to $400 million for a 24% stake, but in the face of continuing USAir losses it dropped plans to invest an addition $450 million over five years for a 44% stake.
USAir continued to lose money through 1994, which became the sixth straight losing year. But it returned to profitability in 1995, when Schofield resigned and Stephen Wolf was hired.
"I had indicated to the board that I wanted to retire at 55," Schofield said, in an interview for American Airlines, US Airways and the Creation of the World's Largest Airline. "I had other things I wanted to do, something different. I had been head of operations from the mid-1970s through when I retired, and it was 24 hours a day, and that takes a toll on you. So they formed a search committee at my request, and the search committee looked at a number of candidates, and it was felt that Stephen Wolf was an individual with experience, who was well thought of."
Major Order for Airbus Aircraft -- 1997
Stephen Wolf's list of accomplishments at US Airways is long, although it does not include a task he was expected to complete: a merger.
USAir under Colodny and Schofield was an old-style, paternalistic airline with generally high salaries, an overly diverse fleet and a regional focus.
Wolf was a change agent. He cut duplication. He arrived at an airline with maintenance facilities in Charlotte, Greensboro and Winston-Salem, and with reservations centers all over the country, including one in Utica, N.Y., a holdover from the Mohawk merger. He built Philadelphia into a major trans-Atlantic hub. He changed the name, reasoning that "USAir" sounded like the name of a regional airline, while "US Airways" sounded like an airline with world class standing.
But probably the most important thing Wolf did was to order up to 400 narrow-body Airbus jets. That order modernized the fleet and eventually made US Airways the largest Airbus operator in the world, a distinction it retained after the 2005 merger with America West, which had 94 Airbus aircraft in its own fleet.
The order was placed on Dec. 4, 1997, in Toulouse, after pilots had agreed Oct. 31 to accept a five-year contract. Wolf had promised to order aircraft and grow the airline if pilots signed.
While Wolf clearly succeeded in fixing US Airways, enough to draw United into a merger, the deal collapsed in July 2001. Two months later came the Sept. 11 attacks, which were followed by US Airways bankruptcies in 2002 and 2004, which was followed by the 2005 merger with America West, which was followed by the 2013 merger with American.
Merger with America West Airlines -- 2005
The merger between US Airways and America West was announced on May 19, 2005.
A few days later, Doug Parker came to Crystal City and spoke to employees at a hotel near US Airways headquarters (where I was employed at the time). He was greeted as a hero.
US Airways' corporation communications team had prepared a video recounting the airline's historic past, mentioning all of the predecessor airlines. Parker seemed transformed by what he saw, He embraced the US Airways past and soon began a practice of painting Airbus jets in the colors of four predecessors: Allegheny, America West, Piedmont and PSA.
It is difficult to overstate the euphoria that accompanied US Airways' emergence and the feeling that the carrier was making a new start while retaining its proud history.
On Sept. 27, 2005, the day US Airways and America West completed their merger, Charlotte employees paraded through the airport with a cavalcade of baggage carts. In one of them sat station manager Terri Pope, dressed as Queen Charlotte, the wife of King George III and the inspiration for the city's name.
Parker's stature had to come down a bit from its exalted level, as the airline industry was diminished by soaring fuel costs and as US Airways' pilot groups battled over seniority integration. But taking advantage of the lower costs achieved in bankruptcy, largely derived from lower employee compensation, the America West management team was able to outperform peers and to put itself in a position to win Wall Street and creditor approval to take over American in a contested bankruptcy.
Collapse of Delta Merger Effort -- 2007
No sooner did the America West management team win US Airways than it set its sights on a bigger target.
In November 2006, just 14 months after the first merger closed, US Airways unveiled an unsolicited $8 billion effort to merge with Delta (DAL) - Get Report , which at the time was reorganizing in bankruptcy court. (The bid was later increased to about $10 billion).
Delta had no interest and fought the merger. Its Washington-savvy CEO, Jerry Grinstein, and its powerful pilot leader, Lee Moak, easily outmaneuvered the young America West team. At a January 2007 hearing of the Senate Commerce Committee subcommittee on aviation issues, uniformed Delta pilots packed the audience, with many wearing "Keep Delta My Delta" pins.
Republican senators, led by Mississippi Sen. Trent Lott, characterized the effort as an assault on the South, while Democratic senators including Missouri's Claire McCaskill characterized it as an assault on labor. So Parker managed to lose the support of both parties. While Congress has no role in determining whether airline mergers will be approved, the hearing provided an accurate indication of the country's mood regarding the effort.
On Jan. 31, Delta's creditors rejected the offer and US Airways quickly withdrew it.
A merger would have put the Atlanta and Charlotte hubs, the only two hubs serving a region of 80 million people, in the hands of a single carrier. Given that the Atlanta hub is three times the size of the Charlotte hub, in terms of passengers served, Charlotte would have become far less important. Not to say it would have immediately shrunk dramatically, but it would have been less likely to get new flights and more likely to lose existing flights in any sort of downturn.
The downgrade would have been disastrous for Charlotte, a city which over the years has grown as companies have moved there due to the air service, and for the US Airways infrastructure, because Charlotte had grown to become the heart of the airline.
The American merger made Charlotte the second biggest hub, in terms of daily departures, for the world's biggest airline -- a sustainable and solid platform for a region's growth.
This article is commentary by an independent contributor. At the time of publication, the author held no positions in the stocks mentioned.