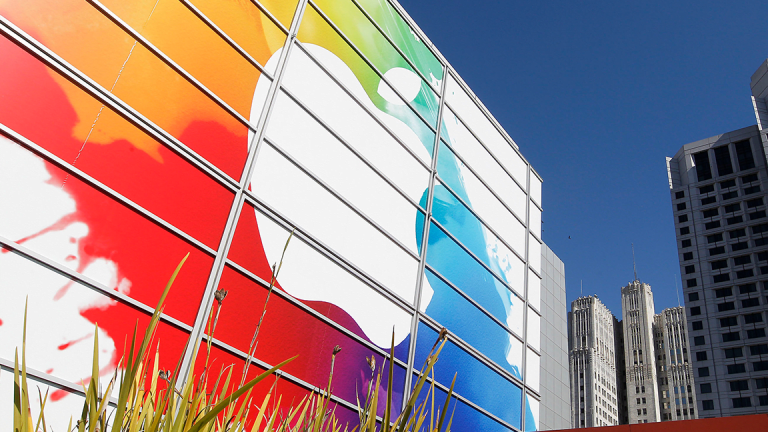 These 5 Tech Giants Still Aren't That Expensive
Though many big-name tech companies have seen healthy run-ups, Apple, Alphabet, Alibaba and others still carry reasonable valuations.
Though many big-name tech companies have seen healthy run-ups, Apple, Alphabet, Alibaba and others still carry reasonable valuations.
A large run-up doesn't necessarily put a stock out of reach.
Several tech giants still carry reasonable valuations -- at least after accounting for the impact of heavy near-term spending and/or business model transitions.
Here's a look at the valuations of five well-known tech giants, and why they're still either fairly attractive or just slightly stretched in light of their growth outlooks.
In spite of its recent run-up, Tim Cook's company still only trades for 14 times its fiscal 2019 EPS consensus. Moreover, large stock buybacks -- Apple added $100 billion to its buyback program in May, and has said it wants to eventually be net cash neutral -- should place upward pressure on EPS in the coming quarters.
Apple's revenue growth profile isn't as strong as that of some of the companies mentioned below -- the consensus is for Apple to see 14% revenue growth in fiscal 2018, but just 4% growth in fiscal 2019. However, Apple also sports lower multiples, and the company's buybacks, iPhone pricing power and healthy services and wearables revenue growth collectively provide a blueprint for delivering double-digit EPS growth.
There's also some potential for future products -- for example, an AR/VR headset that's reportedly slated to arrive in 2020 -- to provide a boost to sales growth. And if (as some speculate) Apple eventually launches subscriptions that bundle hardware upgrades with various services, that could act as a fresh growth driver.
The web giant trades for 24 times its 2019 GAAP EPS consensus, and 20 times its non-GAAP consensus. However, it's worth keeping in mind that its earnings are depressed by heavy data center capital spending -- Alphabet's capex, which admittedly includes some real estate spending, is expected to total $20.5 billion this year -- as well as the substantial losses being produced by its Other Bets reporting segment, which covers businesses such as Waymo, Google Fiber and the Verily life sciences unit.
In addition, valuing Google solely based on near-term earnings would serve to assign no value to Waymo, which is arguably worth tens of billions given the technology lead its self-driving solution appears to have. It might also serve to undervalue YouTube, given that the online video giant (though quite possibly profitable now) hasn't been run with short-term profitability in mind.
The consensus is for Alphabet to see 22% revenue growth in 2018, followed by 19% growth in 2019. Search and YouTube ad sales are expected to remain the company's biggest growth drivers, but it's also hard to ignore the momentum of Alphabet's Google Other segment, which covers businesses such as Google Play, the Google Cloud Platform (GCP), YouTube subscriptions and hardware sales.
Following its recent run-up, Facebook trades for 22 times its 2019 GAAP EPS consensus, and 20 times its non-GAAP consensus. Like Google, heavy spending is weighing on Facebook's bottom line: The company has set a $15 billion 2018 capex budget, and has also forecast its GAAP costs and expenses will rise 50% to 60%.
One also has to account for the value of Facebook Messenger and WhatsApp, which for the moment only produce a tiny amount of revenue. As well as the standalone value of Instagram, which just topped 1 billion monthly active users (MAUs) and still has plenty of headroom to grow its ad revenue.
Instagram's growth, along with ad price growth for Facebook's core news feed, is expected to help the company see 39% revenue growth in 2018, followed by 27% growth in 2019. Facebook, it should be noted, has a long track record of topping consensus estimates.
The Chinese e-commerce giant trades for 24 times a fiscal 2020 (ends in March 2020) non-GAAP EPS consensus of $8.36. Continuing a recurring theme, spending growth is weighing on earnings: Alibaba is coming off a March quarter during which its cost of revenue (excluding stock expenses) equaled 53% of revenue, up from 40% a year of earlier thanks to big investments in data centers, content and logistics and offline commerce initiatives. Operating expenses equaled another 30% of revenue.
Strong top-line growth also helps make Alibaba's valuation palatable: Dollar-based revenue growth is expected to total 51% in fiscal 2019 -- acquisitions and currency swings are expected to help, but so is solid organic growth -- and 38% in fiscal 2020. In addition to its core Taobao and Tmall marketplaces, Alibaba's revenue growth is being driven by its Lazada Southeast Asian marketplace, its AliCloud cloud infrastructure platform, its Cainiao logistics unit and its Youku Tudou online video unit.
Much like Waymo, Facebook Messenger and WhatsApp, a lot of these businesses are weighing on Alibaba's bottom line for now, but have considerable value on a standalone basis. So does Alibaba's 33% stake in Alipay parent Ant Financial, which is worth about $50 billion based on Ant's most recent funding round.
The software giant's valuation is starting to look a little stretched, but isn't as bad as it might appear at first glance.
Like many other software firms that have been transitioning their customer bases from up-front license payments to subscriptions, Microsoft's free cash flow (FCF) is stronger than its reported earnings. Whereas the company trades for 25 times its fiscal 2019 (ends in June 2019) GAAP EPS consensus, its enterprise value (market cap minus net cash) is only equal to 19 times its expected fiscal 2019 FCF.
That's arguably still a little high for a company expected to see low-double digit sales growth in the near-term. However, it's far from a nosebleed valuation given that Microsoft's core software franchises (Windows, Office, Windows Server, SQL Server, etc.) remain highly dependable, and its main web/cloud businesses (Office 365, the Azure cloud platform, Dynamics 365 business apps, LinkedIn) still have a lot of room to grow. In addition, large stock buybacks can be expected to continue lifting EPS and FCF per share.
Apple, Alphabet, Facebook and Microsoft are holdings in Jim Cramer's Action Alerts PLUS member club. Want to be alerted before Jim Cramer buys or sells AAPL, GOOGL, FB or MSFT? Learn more now.