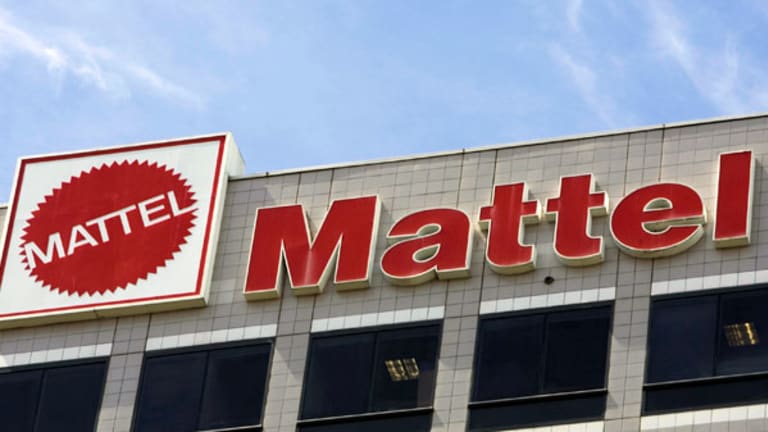 Five Stocks for Your Kid's Portfolio
You're never too young to begin investing. These stocks are names your kids will recognize.
NEW YORK (TheStreet) -- Have you ever tried to look at the investment world through a child's eyes?
What would our kids buy if they were in our shoes? Not what stocks children
should
buy, but what they
would
buy. You might be shocked at some of the quality choices that come about.
It's almost a given to begin with
Walt Disney
(DIS) - Get Walt Disney Company Report
. The House of Mouse is a company almost every kid knows. While the first thing that comes to mind is Disneyland in California or Disney World in Florida, the network shows and animated movies sure do hit home for most kids.
Just as investors and traders anxiously await the nonfarm payrolls report each month, children around the world await movie releases such
Monsters University
or
Cars
. Their dream is to go to Disneyland and meet the characters that have entertained them thus far through life.
Children would also appreciate the company's exuberant growth of recent years. Disney acquired Marvel in 2009 and most recently Lucasfilm in 2012 in an effort to boost its movie diversification beyond Disney and Pixar films.
The company also boasts impressive theme park numbers and has continually proved to the doubters that consumers will still take their children to theme parks despite the economic woes. Kids know this, and that's why they'd be buyers of Disney. There's even a dividend, albeit a small one.
Sticking with the entertainment theme, most kids love rollercoasters. So what better place to go than Cedar Point, owned by
Cedar Fun Entertainment
(FUN) - Get Cedar Fair, L.P. Report
?
Cedar Fun is regionally operated. Depending on where the kids are, they might opt instead for
Six Flags
(SIX) - Get Six Flags Entertainment Corporation Report
. While the economy is not exactly robust, these two companies continue to see increased park traffic. With the summer about to start and a decent economy, expect to see sales continue to grow over the next six months.
Of course, the Cedar Fun and Six Flags dividend payout is nice, too, yields of 6.1% and 4.8%, respectively. While our kids look for fun, they can also consider the benefits of receiving distributed income in order to pay for those annual passes.
Here's another area that would interest a kid: snack time. Kids love to chow down. Looking for a food company, look no further than
Kraft
(KRFT)
.
While the youngsters may not be ready for Maxwell House or A.1. Steak Sauce, they are sure to appreciate brands such as Capri Sun, Jell-O, Kool-Aid, Lunchables and Kraft Mac n' Cheese.
Shares have erupted nearly 23% year-to-date and future growth will likely always be there as long as kids keep eating.
The 3.6% dividend yield is also nice, despite the large run in share prices. The company will likely continue acquiring large brand-name foods that are enjoyed around the world to maintain competitive shelf space among grocers.
Perhaps it's the solid dividend that would attract this generation of kids to these stocks. This next stock yields close to 3.25%, is up 22% this year, and makes Barbies, Polly Pockets and Hot Wheelz.
Mattel
(MAT) - Get Mattel, Inc. Report
began operations in 1948 and has been going strong ever since. Mattel also makes American Girl dolls and gets these kid-investors started early with their brands through Fischer-Price.
Some savvy kids could double dip by gobbling up shares of the 3.6% yielder
Hasbro
(HAS) - Get Hasbro, Inc. (HAS) Report
.
The toy company is responsible for brands like Nerf, G.I. Joe, Transformers and Marvel action figures. It also has board games such as Twister and Hungry Hungry Hippos, making this another obvious choice for youngsters.
Finally, what kid doesn't like to get a meal with a toy? Better yet, a Happy Meal from
McDonald's
(MCD) - Get McDonald's Corporation (MCD) Report
?
The Golden Arches introduced the Happy Meal in 1979 and it has been a winning strategy. McDonald's is one of the most recognizable brands around the world for just about any age group.
Toss in a PlayPlace and kids could spend hours in a Mickey D's. So why not invest in it?
Although McDonald's, at 11.5%, has underperformed the
S&P 500's
14.5% growth, it does have a 3.1% dividend yield and has one of the most consistent payouts in the industry.
It's clear that while the kid-approved portfolio is certainly tailored to their liking, the stocks have a responsible focus on balancing growth, stability and income. With the exception of Disney, all the companies above have a yield north of 3%.
While kids might names they can recognize, they might also care about the importance and efficiency of compound growth, which will pay for future summer vacations down the road.
At the time of publication the author was long DIS and MCD.
Follow @traderboy23
This article was written by an independent contributor, separate from TheStreet's regular news coverage.
Bret Kenwell currently writes, blogs and also contributes to Rocco Pendola's Weekly Options Newsletter. Focuses on short- to intermediate-term trading opportunities that can be exposed via options. He prefers to use debit trades on momentum setups and credit trades on support/resistance setups. He also focuses on building long-term wealth by searching for consistent, quality dividend paying companies and long-term growth companies. He considers himself the surfer, not the wave, in relation to the market and himself. He has no allegiance to either the bull side or the bear side.