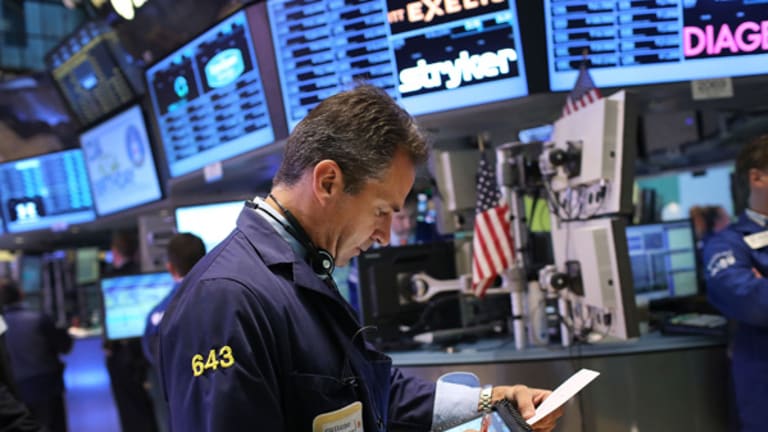 Five Red Flags for the New Year
As 2014 dawns, new anxieties have entered U.S. equity markets.
NEW YORK (TheStreet) -- Several red flags have recently appeared on the investing landscape and are worth watching as the New Year unfolds.
Red Flag #1: Federal Reserve Tapering
Many analysts consider the Federal Reserve's quantitative easing program as being a primary driver of the recent powerful bull market. Now that quantitative easing is scheduled to be wound down, worries are growing about how markets might react.
Fretful chatter first appeared last May, when Federal Reserve Chairman Ben Bernanke disclosed that the Fed was considering plans to begin tapering back its bond purchases. On December 18, the Federal Open Market Committee announced that beginning this month, the Fed's monthly purchases of Treasury securities and mortgage-backed securities would be scaled back by a combined $10 billion dollars.
This cut most likely signals the inevitable beginning of the end for quantitative easing. The question for 2014 is now twofold: How will equity markets react to the "draining of the punchbowl" and how will markets react should interest rates begin to climb?
Red Flag #2: Record Margin Debt
Recently the New York Stock Exchange reported record high levels of margin debt for November. Investors have been leveraging up to extreme levels, higher than in either 2000 or 2007, and high margin-debt levels are typically early warnings of potential stock market declines.
Red Flag #3: Shiller P/E at Extreme Highs
Nobel Prize-winning economist Robert Shiller's cyclically adjusted price/earnings ratio of the S&P 500 is currently at 26.2. This is a level only exceeded three times in history: Before Black Tuesday in 1929; at the height of the dot.com bubble; and just before the most recent financial crisis in 2008. Current levels indicate the potential for a significant "reversion to mean" over coming weeks and months as "irrational exuberance" could be unwound.

Red Flag #4: Excessive Bullishness and Complacency
Financial advisers are extremely bullish, as are retail investors, and many analysts view this as a contrarian indicator. Also, undefined, the S&P 500 Volatility Index, is well below long term averages and has spent the last several months near extreme lows.
As we all know, Mr. Market has a nasty propensity to do the opposite of what everyone thinks he will do, and so could be preparing an unwelcome surprise for complacent investors.
Red Flag #5: Weakness in China and Emerging Markets
At the dawn of the New Year, stock indexes in China and emerging markets have been pummeled. This could bode ill for future global growth. Emerging market equities are at significant lows and China reports that growth is slowing. The Shanghai Index is off approximately 7% from its recent December high while emerging market indexes are at three-month lows. In recent years, emerging markets and China have been drivers of global growth, and weakness here could spill over into the developed world as exports and demand for commodities slow.
I'm entering the New Year in a cautiously optimistic mode.  In my own research, I think the outlook for U.S. equities is in "green flag" status, however these five red flags and growing technical weakness keep me on alert for any impending change in trend.
This article represents the opinion of a contributor and not necessarily that of TheStreet or its editorial staff.