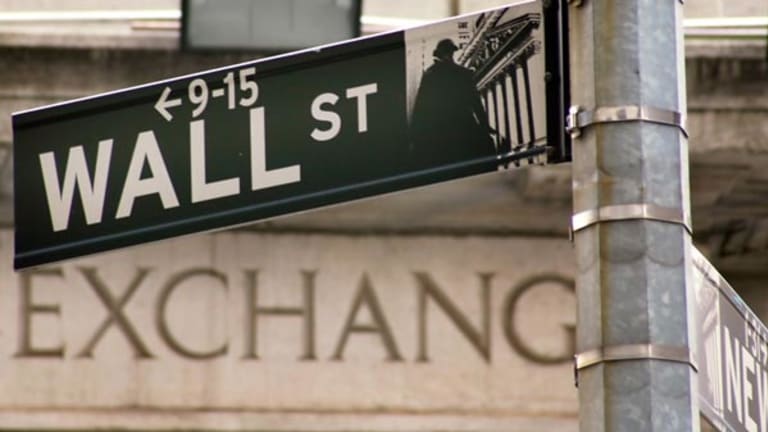 Five Dumbest Things on Wall Street: Sept. 25
Dumbness in Big D; Marvel's latest superhero, Option Man; Cadbury CEO Lays an Egg; Electronic Arts and rumor mongering; and the WWE's political Battle Royal.
Editor's note: Adam Feuerstein will be the featured guest on TSC Live at noon EDT Tuesday, Sept. 29. Send him your questions by: Emailing us at tsclive@thestreet.com; posting them on our Facebook page, facebook.com/thestreet; Tweeting us @thestreet_news with #tsclive; or posting them on the live show page in the comments section. Bookmark the TSC Live page now.
Dumbness in Dallas
NEW YORK (
) -- They say everything is bigger in Texas. We suppose that also includes stupid decisions.
In a complaint filed in Dallas, the
Securities and Exchange Commission
said Wednesday it has charged Reza Saleh, an employee of a
Perot Systems
(PER)
affiliate, with insider trading related to
Dell's
(DELL)
offer to purchase the company earlier this week. The SEC said Saleh pocketed about $8.6 million in "illicit profits" based on his knowledge of "material, non-public information" about Dell's $3.9 billion acquisition of the technology services company.
The SEC, which is now seeking a court order to freeze Saleh's assets, said Saleh made "extremely large" purchases of call options for Perot Systems common stock between Sept. 4 and Sept. 18, and then sold all of the 9,332 call options on Monday after Perot Systems' stock soared on the official merger announcement. Saleh, who works for Parkcentral Capital Management, the Plano, Texas-based investment firm of former presidential candidate and Perot Systems Chairman Emeritus Ross Perot, occasionally attended Perot Systems planning meetings, according to the complaint.
Oh, come on guys! Maybe Saleh just had a hunch that worked out. It happens now and then. Doesn't it?
No. It doesn't. And as experts in the field of dumbness, we can only say that should the allegations against Saleh prove conclusive then he will likely gain entry into the Five Dumbest "Ring of Honor." (The Dallas Cowboys have their ring, we have ours.)
Saleh's $8.6 million score was split between two
TD Ameritrade
(AMTD)
accounts, the SEC said. On the day the merger was announced, the not-so smart Saleh withdrew $5,000 from one of his accounts and tried to retrieve another $55,000, but was rejected after the SEC contacted the brokerage.
"The overwhelming evidence in this case allowed the SEC to move quickly against the trader before he could spend the huge profits from his illegal trading," said Rose Romero, director of the SEC's Fort Worth Regional office, in a statement.
Wow. Even the SEC comes up big in Texas.
Dumb-o-meter score: 95 -- In Saleh's case, "Big D" stands for "Dumb."
Marvel's Newest Superhero
We have a new superhero idea in mind for
Marvel Entertainment
( MVL). He's called "Option Man," and he has the uncanny ability to score huge profits in a single deal. Moreover, we know exactly who should play him in the movie adaptation.
Yep, Marvel Entertainment CEO Isaac "Ike" Perlmutter.
The Wall Street Journal
reported Thursday that Perlmutter was granted stock options for more than a million shares in the weeks after a subordinate began speaking with
Disney
(DIS)
about a potential merger between the two companies, according to a filing Disney submitted to the SEC this week.
Perlmutter stands to rake in more than $34 million from the 1.27 million options, granted at strike prices ranging from $23.15 to $25.86, according to the
Journal
. In case you have been off reading comic books instead of
TheStreet.com
, that's around half the $50 price tag that Disney agreed to pay for each Marvel share on Aug. 31 as part of its $4 billion acquisition of the company. And while Perlmutter's ability to exercise the options was initially spread over several years, the Disney deal means his options will vest immediately.
Now that's a lot of cash. Even Tony Stark, the playboy CEO of Stark Industries (aka Iron Man) wouldn't sneeze at that sum.
According to the filing, David Maisel, chairman of Marvel's film division, met with Disney CEO Robert Iger on Feb. 18, 2009 "to discuss ways in which the relationship between the two companies could be expanded." Then on March 2, Perlmutter was granted options for 514,354 Marvel shares with an exercise price of $25.86. On March 23, he was granted options to buy another 750,000 shares for $23.15 each, says the
Journal
.
Marvel contends in its filing that Maisel didn't discuss the meeting with anyone else at the company, including Perlmutter. Iger and Maisel met again on June 2. After this get-together, Maisel told Perlmutter of Iger's interest in buying the company.
Then again, who knows? Option Man could have super hearing. Or perhaps a sixth sense, like Spider-Man's, that alerts him when trouble -- or a merger -- is in the air.
Dumb-o-meter score: 90 -- As the great Stan Lee said, 'With great power comes great responsibility.' Stay tuned True Believers!"
Cadbury CEO Lays an Egg
Cadbury
( CBY) CEO Todd Stitzer believes he is being crafty in his handling of
Kraft's
( KFT) bid for his chocolate company. Take our word for it, he's not.
In an interview with
The Wall Street Journal
this week, Stitzer claimed the British company's shareholders still reject Kraft's offer of 9.7 billion pounds ($16 billion) as too low. How he spoke with all those shareholders who are enjoying the bump in their shares, we have no idea. Nevertheless, he didn't dismiss outright a potential combination -- as Cadbury's Chairman Roger Carr did earlier this month -- offering a convoluted comeback instead.
"I would never say there's not some strategic sense in these businesses coming together," Stitzer told the
Journal
.
Double negative aside Todd, well...D'uh!
Kraft CEO Irene Rosenfeld clearly wouldn't go through the bother of dealing with British regulators if she didn't believe the deal made "strategic sense," whatever that means. Certainly Kraft's largest shareholder,
Berkshire Hathaway's
( BRK-A) Warren Buffett wouldn't back the bid had he not seen some synergies between the two food companies.
And while we are on the subject of semantics, would you and Roger Carr stop vilifying Kraft as some kind of evil, Orwellian "conglomerate" when speaking to reporters. They make Oreos, not A-bombs or Uzis.
Some analysts are saying Kraft could raise its bid as high as 12.3 billion pounds ($20.1 billion) to seal the deal, all without losing its investment grade rating on its debt. So unless
Hershey
(HSY)
rides in as a white knight to save Cadbury -- and we believe Willy Wonka himself would make an offer before that happened -- this deal in all likelihood will get done if Rosenfeld wants it to get done.
And since she's not bidding against anybody else, we would watch our words if we were you Todd. It's dollars and cents that matter in the end, not your idea of so-called "strategic sense."
Dumb-o-meter score: 85 -- Rosenfeld is one smart cookie.
Microsoft's Game Plan
Microsoft
(MSFT)
has no interest in buying video game maker
Electronic Arts
( ERTS).
"We have no plans to acquire EA," Phil Spencer, corporate vice president of Microsoft Game Studios, told
Reuters
on Thursday. "They remain a very important partner to us. No acquisitions."
Got that all you smarty pants traders out there? Good.
Sorry for harping on this subject, but the market's mavens didn't grasp these facts on Wednesday when they pushed shares of Electronics Arts up more than 8%, based on mere rumors that Microsoft may make a pass at the company behind the "Madden" football video game.
In their defense, EA is a name frequently bandied about by traders as a takeout target. However, the company is usually whispered to be in the crosshairs of Disney or
Time Warner
(TWX)
, never Mister Softee. That's because EA maintains a close relationship with Microsoft rivals
Sony
undefined
and
Nintendo
.
"It makes no sense for one of the big hardware manufacturers to acquire one of the big software manufacturers," Todd Greenwald, senior analyst at Signal Hill Capital Group, told
TheStreet.com
late Wednesday. "There's no way that Microsoft is going to develop games for the PS3 or the Nintendo Wii."
Shares of EA retreated on Thursday, as the realization sank in that Microsoft is not interested in playing games. But we assure you of this: At some point we will see such childish behavior again in this giant arcade we call the stock market.
Dumb-o-meter score: 80 -- Galaga and Ms. Pac-Man are a lot more fun than rumor mongering.
McMahon Slammed in Political Ring
Boy, that was quick. Former
World Wrestling Entertainment
(WWE)
CEO Linda McMahon just got into the political ring, and she's already on the ropes over a voting flap.
McMahon stepped down from her job as body-slammer in chief last week to seek the Republican nomination in Connecticut for the U.S. Senate. This week, she learned that unlike professional wrestlers, politicians -- and the reporters who cover them -- play for real. McMahon, who ultimately seeks to square off against incumbent Chris Dodd (D., Conn.), was forced once again to explain why she failed to vote in previous elections, even after owning up to it on her campaign blog last week.
State records show that she voted twice in Connecticut, in the 2002 and 2008 general elections, but missed a general election in 2006 and several local elections.
Ed Patru, McMahon's campaign spokesman, said the candidate's candor is proof that she is not your ordinary politician. "When she makes a mistake, she'll own up to it, take responsibility."
Or she'll just beat your head in with a folding chair.
Just kidding Linda. Please don't send a Wild Samoan to hurt us.
The real irony here is that while McMahon was off missing elections, WWE was spending time and money in 2008 promoting a campaign called WWE's Smackdown Your Vote! The company even went so far as to have then-presidential candidates Barack Obama and Hillary Clinton, as well as their Republican challenger John McCain, appear on WWE's "Monday Night RAW" to promote voting.
Please note that McMahon isn't the only Republican hopeful who had trouble getting to the voting booth on Election Day.
Peter Schiff, a Connecticut native and the president of Euro Pacific Capital (and, in full disclosure, a guest columnist on
TheStreet.com
) didn't register to vote when he moved back to the state in 2004.
Still, McMahon's
mea culpa
seems somewhat feeble after she told the
Associated Press
last week, "I never do anything half-heartedly."
Except, of course, when it comes to voting.
Dumb-o-meter score: 75 -- There's a Battle Royal brewing in Connecticut. And Chris Dodd will likely be body slammed over his relationship to his friend Angelo Mozilo.
--
Written by Gregg Greenberg in New York.
Before joining TheStreet.com, Gregg Greenberg was a writer and segment producer for CNBC's Closing Bell. He previously worked at FleetBoston and Lehman Brothers in their Private Client Services divisions, covering high net-worth individuals and midsize hedge funds. Greenberg attended New York University's School of Business and Economic Reporting. He also has an M.B.A. from Cornell University's Johnson School of Business, and a B.A. in history from Amherst College.