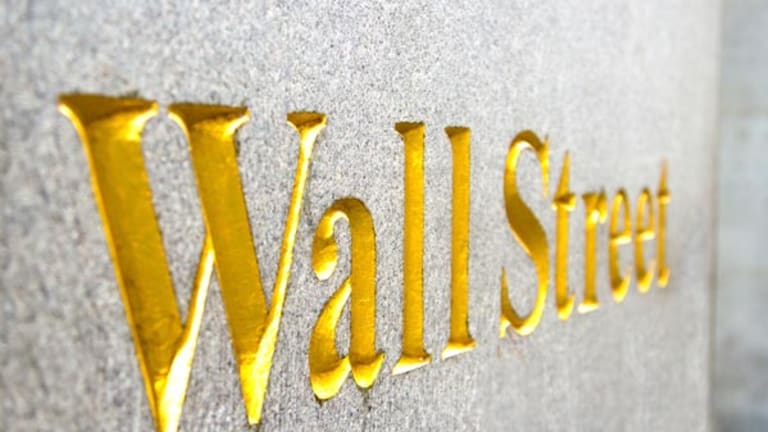 Five Dumbest Things on Wall Street: Sept. 18
Buffett's Lehman lapse; a few good bankers; a game of chicken (feet); beach party blues; garbage goes green.
Buffett's Lehman lapse; a few good bankers; a game of chicken (feet); beach party blues; garbage goes green.
Buffett's Lehman Lapse
NEW YORK (
) -- Warren Buffett oversees a $155 billion conglomerate, counsels presidents on financial matters and can supposedly see stock prices far into the future. Yet he still can't check his voice mail, even when the fate of the global economy is literally on the line.
Buffett, the CEO of
Berkshire Hathaway
and arguably the world's greatest living investor, admitted this week he was approached a year ago about insuring
Lehman Brothers'
assets before the investment bank filed for bankruptcy, according to
Bloomberg
. Nevertheless, the so-called Oracle of Omaha said he never received the financial documents he requested in order to take action.
Oh, they were sent all right. He just never got them.
Speaking on Tuesday at a conference in Carlsbad, Calif., Buffett was asked about backing Lehman while
Barclays
(BCS) - Get Report
was considering a bid for the firm. Buffett responded that he didn't receive the fax he requested and later learned there was a voice mail he missed because he didn't know how to retrieve it.
In case you've been hiding under a rock or just blocked it out of your memory entirely, Lehman went belly up soon after, dragging the world's banking system along with it. Meanwhile, Barclays benefited by the billionaire's unfathomable inability to operate a minor piece of telephony. The British bank pounced upon Lehman's still warm, yet bankrupt, carcass within hours of its demise and cherry-picked its most sought after properties.
Buffett went on to tell conference attendees that Berkshire is currently buying stocks because he is "getting a lot for my money."
Take a note from us, Warren. Use some of that money and get yourself a secretary. The next time the banking system blows up it would be nice to reach you, or at least have somebody take a message.
Dumb-o-meter score: 95 -- Truly amazing. Buffett can make sense out of AIG's (AIG) - Get Report financial statements, but can't comprehend the directions to his desk phone
.
A Few Good Bankers
All Andrew Cuomo wants from General Tommy Franks is the truth. Let's see if he can handle it.
Cuomo, the New York attorney general, reportedly subpoenaed members of
Bank of America's
(BAC) - Get Report
board -- including Franks, a retired four-star Army general -- Wednesday as part of an investigation into its acquisition last year of failing investment bank
Merrill Lynch
. The directors are expected to be grilled about what they knew regarding Merrill's mounting losses and $3.6 billion in bonus payments before the deal closed, when they knew it and, most importantly, whether they played a role in covering it up to shareholders.
All 16 directors who were on BofA's board last December are expected to be questioned. Some of those 16 people include O. Temple Sloan, the bank's former lead director; Walter Massey, who took over as chairman earlier this year; and Franks. Sloan and Franks have both since departed. BofA CEO Ken Lewis, who was chairman at the time, already has testified.
And that's not all. Adding even more intrigue to this military-financial thriller is the complex political subplot. Cuomo's office surely will pressure the BofA bigwigs about any threats made by federal regulators to remove board members if the deal wasn't completed, a charge previously intimated by Bank of America executives including Lewis.
Or in other words, was this blockbuster merger really a Bernanke/Paulson Production?
Ooh, and will Judge Rakoff, who this Monday threw out a $33 million settlement between Bank of America and the
Securities and Exchange Commission
about the bonus disclosures, calling it not even "remotely" fair to shareholders, come and save the day?
We don't know. All we can say is get your popcorn ready folks, because if this week is any indication there could be even more twists and turns to this exciting, but, let's face it, totally irrelevant story.
Dumb-o-meter score: 90 -- Cruise plays Cuomo. Nicholson plays Franks. But who plays Bernanke? Send us your ideas. Comment below!
A Game of Chicken (Feet)
The U.S. and China edged closer to a potentially catastrophic trade war this week. The opening salvos on this path to mutually assured destruction? Chinese tires we don't need and U.S. chicken parts we don't eat.
Late last Friday, the Obama administration announced its decision to impose higher tariffs for three years on Chinese tires. The president seemingly tried to sneak this tidbit past the American public ahead of the weekend. Nevertheless, ever-alert Wall Street traders jumped on this not insignificant shot at one of America's largest trading partners, bidding up shares of U.S. tire makers
Goodyear
(GT) - Get Report
and
Cooper
(CTB) - Get Report
by as much as 8% and 12%, respectively, during Monday's trading session.
There is already a 4% tariff on all tire imports, but the president's new import tax, which takes effect Sept. 26, cranks that amount up to 35% in the first year, 30% in year two, and 25% in the third year. So obviously he's not messing around.
Or is he? Seems to us all this heated rhetoric is raising pulse rates on both side of the Pacific but not addressing any real problems in the U.S. tire industry.
China's market share in the U.S. grew from 4.7% of tires purchased in 2004 to 16.7% in 2008, according to the U.S. Trade Representative's office. And while those figures look fairly ominous -- especially to the United Steelworkers union that pressed the president to act when the union raised the issue in April -- it's really a case of white walls and oranges.
The Chinese imports are primarily low-end, bargain basement-type tires, an area that U.S. tire manufacturers generally don't joyride in. Most of the bounce in American tire stocks, therefore, comes from tire manufacturers' newfound ability to raise prices in the face of reduced competition.
"Our products are principally at the higher-value, branded segments of the market," said Keith Price, spokesman for Goodyear.
No matter. The Obama administration's decision prompted the Chinese government to file a complaint with the World Trade Organization on Monday, and on Sunday, China said it may seek retribution by raising levies on American chicken products in China.
But like America raising tariffs on low-end Chinese tires, a Chinese chicken tax hurts only Chinese consumers. Last year, American poultry sellers shipped $854.3 million worth of chicken meat to China and Hong Kong, according to a report in
The New York Times
. Industry executives say the exports to China were particularly profitable because half of the chicken parts sold to China are wings and feet, which are worth only a few cents a pound in the U.S., but can be sold for 60 to 80 cents a pound in China.
Michael D. Cockrell, chief financial officer of poultry producer
Sanderson Farms
(SAFM) - Get Report
, told the
Times
that so far Chinese importers haven't stopped ordering American chicken feet and wings.
"It gives us a little bit of optimism that we will get over this," said Cockrell.
We hope so, too. This whole game of chicken just makes us sick, and, to be fair, tired.
Dumb-o-meter score: 85 -- Why don't we split the difference and raise tariffs on rubber chickens? Seems like that would be fair to everybody.
Beach Party Blues
Wells Fargo's
(WFC) - Get Report
beach party finally got crashed.
Wells Fargo announced Monday the firing of a senior vice president who was allegedly holding lavish parties at a foreclosed Malibu beachfront mansion owned by the bank. The fourth-largest U.S. bank said it had terminated Cheronda Guyton, who had been responsible for Wells Fargo's foreclosed commercial properties, for violating its policy that prohibits personal use of properties held by the bank.
Really? You mean there are actual codified rules against partying in somebody else's former home? One would think that common sense would be enough to keep a bank employee from throwing a kegger in a foreclosed house. Well, live and learn.
Neighbors said Guyton used the 3,800-square-foot beachfront house on Malibu Colony Drive on weekends for parties, one of which had guests arriving on a yacht, the
Los Angeles Times
reported. The previous owners of the house -- who were presumably not invited to Guyton's soirees -- had purchased it for $12 million but were forced to sell after losing a fortune thanks to convicted Ponzi schemer and real party hound Bernie Madoff.
Wells Fargo announced last week that it had taken possession of the prized Southern California property in May and withheld it from the market for an agreed-upon period of time.
"We deeply regret the activities that have taken place as they do not reflect the conduct we expect of our team members," the bank said in the statement.
We just wonder where the bank intends to hold its employee Christmas party now.
Dumb-o-meter score: 80 -- Hopefully, Guyton let somebody else drive the Wells Fargo stage coach home after her beach bashes
.
Garbage Goes Green
Waste Management
(WM) - Get Report
wants to cash in by going green. Wall Street, however, is telling the trash hauler not to waste its energy.
In a research note Monday, Credit Suisse analyst Hamzah Mazari discarded America's largest garbage collector's green strategy, as well as cut his rating on the company to neutral from outperform. Mazari said Waste Management "does not want to be a trash company but instead a one-stop 'green' environmental services shop and that transformation requires both a lot of patience and capital."
Mazari said Waste Management's growth strategy likely won't lead to multiple expansion of its share value unless its waste-to-energy and medical waste disposal businesses become a larger part of its operations.
Yep, it's just like Kermit the Frog said,
it's not easy being green
. And Mazari certainly played the role of Oscar the Grouch in his decision to throw away the company's environmental efforts.
Not that anybody is being fooled by the PR push to turn a company called
Waste Management
into something that it's not. Let's be honest, waste by any other name is still waste, even if it's headed for the recycling bin, and they manage it. That's what they do.
And Mazari is not the only analyst on Wall Street trashing the company's profit prospects. Michael E. Hoffman of Wunderlich Securities downgraded the Houston-based company's shares Monday to hold from buy and reduced the price target to $30 from $40 due to falling electricity rates.
Nevertheless, he did say the waste-to-energy market could benefit from climate-change legislation being considered in Congress. Waste-to-energy is eligible for renewable energy credits that could be worth as much as $25 per megawatt hour.
Or in other words, goodbye cash for clunkers. Hello cash for trash.
Dumb-o-meter score: 75 -- What about cash for finding Dumb Things on Wall Street? That's a brilliant idea if you ask us!
-- Written by Gregg Greenberg in New York
.
Before joining TheStreet.com, Gregg Greenberg was a writer and segment producer for CNBC's Closing Bell. He previously worked at FleetBoston and Lehman Brothers in their Private Client Services divisions, covering high net-worth individuals and midsize hedge funds. Greenberg attended New York University's School of Business and Economic Reporting. He also has an M.B.A. from Cornell University's Johnson School of Business, and a B.A. in history from Amherst College.