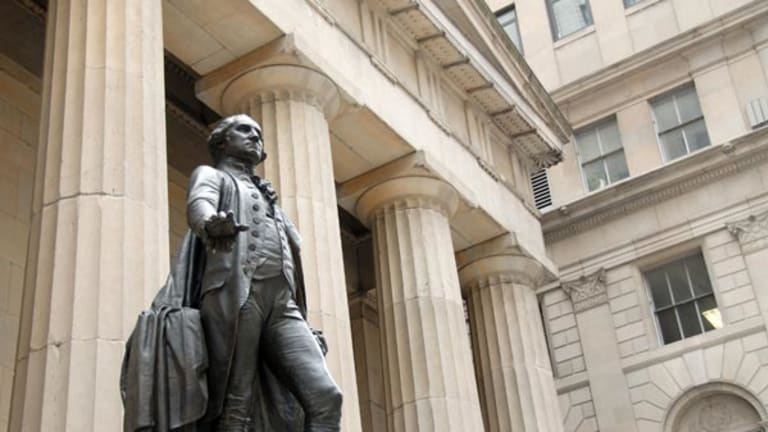 Five Dumbest Things on Wall Street: Oct. 31
Remorse for Rubin; Bono's basket case; the new Ahab; Leon's Black comedy; hedgies get bugged.
Remorse for Rubin
Just go to Washington, Bob. It's not like you're doing much good at
Citigroup
(C) - Get Citigroup Inc. Report
.
Or anything at all for that matter.
Former U.S. Treasury Secretary and current Citigroup board member Robert Rubin is an adviser to Democratic presidential candidate Barack Obama, giving rise to questions about whether he'll return to politics.
Rubin, though, says no. "I'm not going back to Washington," Rubin told CNN's Fareed Zakaria on Sunday. "Senator Obama knows that it is not my view of my own life to go in that direction."
We at the Five Dumbest Lab wish Rubin would reconsider. Not for the good of the country, but for the good of Citi.
The reputation of the former
Goldman Sachs
(NYT) - Get New York Times Company Class A Report
golden boy has been somewhat tarnished since he left the nation's Capitol. Rubin, the man credited with saving the financial world in the 1998 currency crisis, and who President Clinton once called, "the greatest secretary of the Treasury since Alexander Hamilton," joined Citigroup in October 1999, when the stock was trading at $36 a share. Now it's at $13 and the prognosis does not look positive.
Since Rubin's arrival, Citigroup has suffered through (in no particular order): a research scandal (remember Jack Grubman?), unfavorable ties to Enron, CEO Chuck Prince's subprime lending spree, thousands of employee layoffs and, most recently, billions of dollars in writedowns due to the housing bust.
In reward for overseeing -- or perhaps overlooking -- this high profile string of failures, Rubin has pocketed more than $118 million in salary, bonus and stock-based compensation. Surely he can live off his savings if he takes the pay cut to $191,300 as Obama's Treasury Secretary.
Citi's latest strategic decision may be its biggest blunder. It was revealed this week that Goldman Sachs CEO Lloyd Blankfein called Citi CEO Vikram Pandit in September about a possible merger, but the Citigroup CEO immediately rejected the proposal.
Pandit surely must have informed Citi's senior counselor that Rubin's old firm was interested in getting together. As for us, we don't understand why Blankfein made the call in the first place.
Dumb-o-meter score: 100 -- D.C. needs you, Bob. Citigroup does not.
Bono's Basket Case
U2 frontman Bono has found a new charity:
The New York Times
(NYT) - Get New York Times Company Class A Report
.
Last week, a spokeswoman for the Times confirmed that the philanthropist and rock star would begin writing an "occasional" column for the paper next year. The announcement came after Andrew Rosenthal, editor of the newspaper's opinion pages, reportedly told students at the Columbia School of Journalism that Bono had signed on to tackle topics including African development, poverty and the music of Frank Sinatra.
When asked what the Irish icon will be paid for his opinions, Rosenthal's response was "nothing."
That's probably ideal remuneration as the Gray Lady continues to pinch pennies in a brutal print-advertising environment. The company just reported a 51% drop in net income in the third quarter, and said it expects to write down the value of its New England assets, including
The Boston Globe
, by up to $150 million.
And there's more bad news to come from the "paper of record," which has seen its shares fall into the single digits. The company says capital spending next year will plummet to $80 million, down from this year's lowered range of $140 million to $145 million.
CEO Janet Robinson also is considering cutting the $25.1 million in annual dividends the company pays to the controlling Ochs-Sulzberger family. The company could surely use those funds now that Standard & Poor's has reduced its debt rating to junk, thereby raising its borrowing costs.
But if anybody can convince the Sulzbergers to sacrifice their riches for a Times relief effort, it is surely Bono, who was recently described by a Times columnist as "a one-man state who fills his treasury with the global currency of fame." Bono's currency could help fill the Times coffers, or at least sell a few extra copies.
And if Bono's columns have no effect? No problem -- Rosenthal is said to be pursuing Bruce Springsteen to join the columnist bill.
Now that makes sense. After years of mismanagement, the Times could surely use a new Boss.
Dumb-o-meter score: 95 -- What's next? David Lee Roth doing restaurant reviews?
The New Ahab
Will somebody please inform James Mitarotonda that
Dillard's
(DDS) - Get Dillard's, Inc. Class A Report
is not America's only stock?
Like Captain Ahab hunting his great white nemesis, Mitarotonda, the CEO of activist hedge fund Barington Capital, has been stalking the struggling department store for more than a year in a turnaround effort. Barington first disclosed a 3.2% stake back in June 2007, when the stock was at $36.
Since then, Mitarotonda has had a whale of a time getting the attention of Dillard's family led management, including Chief Executive William Dillard II. The Dillards, who control the company through its long-standing ownership of Class B shares, want no part of the hedge fund manager's plans. The family has basically ignored his many letters begging them for a meeting, even while the stock fell to $4.25 on Tuesday.
"As a steward of a publicly-traded company, we had expected that you would be receptive to meeting with one of your larger stockholders," wrote Mitarotonda in one of his many unanswered missives to Dillard. "Especially one with substantial experience helping improve shareholder value as a long-term investor in a number of retail companies."
The Dillards weren't interested then or now, which is why one would think a smart skipper would give up the quest after wasting this much time, effort and other people's money. Not Captain Mitarotonda, however.
In a letter to the
Securities and Exchange Commission
released on Monday, Barington Capital, along with fellow hedgie Clinton Group, asked Dillard's to immediately search for a new CEO and replace other Dillard family members, saying they are "on the company's payroll regardless of their performance." CEO Dillard II reportedly pocketed an average of $5.3 million over the past three years, while president Alex Dillard earned as much as $4.9 million a year.
"In our opinion, a management team with a comparable record of poor performance at any other company would have been fired long ago," the letter said.
Then again, any fund manager who loses 88% on a position due to an unhealthy fixation on a lost cause would also be a good candidate to walk the plank.
Dumb-o-meter score: 80 -- Don't call him Ishmael. Just call him dumb.
Leon's Black Comedy
They should stop calling
Hexion's
deal to buy
Huntsman
(HUN) - Get Huntsman Corporation Report
a leveraged buyout and start calling it a soap opera.
The long-awaited, highly litigated, $6.5 billion merger between the two chemical companies took another dramatic turn Tuesday when bankers
Credit Suisse
(CS) - Get Credit Suisse Group AG Report
and
Deutsche Bank
(DB) - Get Deutsche Bank AG Report
yanked their funding for Hexion's bid, once again stranding Huntsman at the altar.
The banks' surprising decision to back out comes a week after an independent appraiser blessed the deal, opining that the combined company would indeed be a solvent entity.
Credit Suisse and Deutsche Bank however, came to a different conclusion, saying in a joint statement Tuesday, "Aspects of the methodology, assumptions and depth of information utilized in the solvency analysis have left the banks with serious reservations."
Or, minus the legal mumbo jumbo, "Go ahead and sue us! We're not lending our good money to this loser deal."
The legal battle has a familiar ring: Hexion, a unit of Leon Black's private equity powerhouse
Apollo Management
, agreed to buy Huntsman for $28 a share, in June 2007, as the buyout boom peaked.
As business conditions worsened in the past year, Hexion tried to walk away, but was stopped last month by a Delaware court. Last week, a Texas appeals court also sided with Huntsman -- which slid to $12 on Tuesday -- when the two banks attempted to weasel out by filing lawsuits that could prevent the takeover.
Hexion says it is working to placate the banks, while the repeatedly jilted Huntsman says it is seeking "to consummate the merger promptly."
Not promptly enough for us.
Dumb-o-meter score: 75 -- If Huntsman really wants to get hitched, they should try "The Bachelor."
Hedgies' VW Bug
Like road kill on the autobahn, several hedge funds betting that shares in
Volkswagen
would fall were rolled over this week.
Instead of dropping, shares of the German auto-making giant jumped 82% in trading in Frankfurt after fellow German car maker
Porsche
announced it had increased its VW stake.
Heavy hitters reportedly squeezed by the surge include David Einhorn's Greenlight Capital and Steve Cohen's SAC Capital. Shares of investment banks
Morgan Stanley
(MS) - Get Morgan Stanley Report
and
Goldman Sachs
(GS) - Get Goldman Sachs Group, Inc. Report
were also hammered, falling more than 10% respectively, on fears their proprietary trading desks were exposed.
Both stocks snapped back later in the day with Morgan Stanley claiming "virtually no exposure" to VW.
Porsche crept up on the so-called smart money, disclosing it had amassed an indirect 31.5% stake in VW on top of its 42.6% direct stake. After accounting for the 20% held by the German state where Volkswagen is based, about 5% of equity was left to settle any open short positions.
Hedge funds scrambling to secure those remaining shares pushed the market value of the company as high as 296 billion euros ($370 billion), or more than
Exxon Mobil's
(XOM) - Get Exxon Mobil Corporation Report
$343 billion market value at yesterday's closing price.
That's a monumental market-cap for a car company, especially considering the sorry state of the global auto industry.
Mercifully, Porsche agreed to sell up to 5% of its indirect stake to ease the pressure on the stock, pocketing a tidy sum in the process.
Porsche may be the big loser in the end, however. If they drive all those wealthy hedge fund managers into the poorhouse, who's left to buy their cars?
Dumb-o-meter score: 70 -- Fewer Porsches will be sold in Greenwich this bonus season.
Before joining TheStreet.com, Gregg Greenberg was a writer and segment producer for CNBC's Closing Bell. He previously worked at FleetBoston and Lehman Brothers in their Private Client Services divisions, covering high net-worth individuals and midsize hedge funds. Greenberg attended New York University's School of Business and Economic Reporting. He also has an M.B.A. from Cornell University's Johnson School of Business, and a B.A. in history from Amherst College.