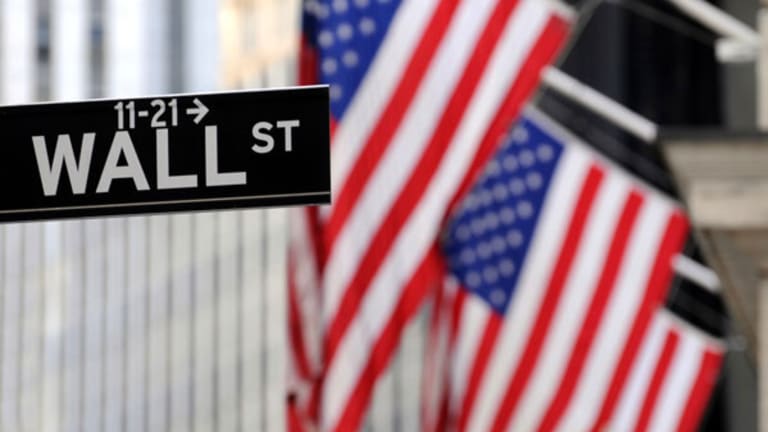 Five Dumbest Things on Wall Street: Oct. 3
Steel's meltdown; Fishman reels it in; TPG's WaMu boo-boo; Senate shenanigans; Google's ghost.
Updated from 12:03 a.m. EDT
Steel's Meltdown
Steel yourself, Bob, you've made the Wall of Shame.
Just a scant two weeks ago, with his stock trading at $10.71,
Wachovia
(WB) - Get Report
CEO Robert Steel told
Mad Money
host Jim Cramer, "We have a great future as an independent company."
Today,
Wells Fargo
(WFC) - Get Report
announced it is buying
Wachovia Bank
for $7 a share, trumping a deal announced Monday with
(C) - Get Report
that
at $1 a share.
Congratulations for getting a better price -- but what was that you were saying about independence, Bob?
Maybe Steel just didn't know what he was talking about back when he appeared on Cramer's show (how scary is that?). After all, he just joined Wachovia in July -- barely enough time to find the executive washroom, let alone the extent of its troubled loan portfolio.
But come on. Steel was no new-guy wallflower. And he was not at all hesitant about publicly trumpeting his firm's "very exciting prospects" on
Mad Money
.
Steel should've known better about blabbing too much in public. After all, he spent two years as undersecretary in charge of domestic finance at the Treasury Department and almost 30 years at
Goldman Sachs
(GS) - Get Report
, rising to vice chairman.
It's safe to say that Steel will be making few public appearances about that debacle. And he may never get invited back to appear on
Mad Money
again, but he'll be there in spirit every night on the CEO Wall of Shame.
Dumb-o-meter score: 100 -- Steel wasn't a real CEO. He was just playing one on TV.
Fishman Reels It In
Shed no tears for Alan Fishman, the CEO of failed Washington Mutual. He's yukking it up, as a matter of fact.
How many people have a chance at pocketing $19.1 million in pay after just 17 days on the job?
Of course, it was an eventful few weeks in the Fishman regime. WaMu, which has $188 billion in deposits, was seized by government regulators last week and its branch offices and assets were sold to
JPMorgan Chase
(JPM) - Get Report
in the largest bank failure in U.S. history.
WaMu brought in Fishman on Sept. 8 and gave him a $7.5 million
signing bonus
to replace acquisition-happy ex-CEO Kerry Killinger. And despite his short tenure, he gets another $11.6 million in cash as severance, according to compensation consultant James F. Reda and Associates.
So all told, he earned about $47,000 an hour for his short stint at WaMu. For
what
, exactly?
It's not like Fishman deserves credit for the sale of the company -- government regulators brokered the deal with banking overlord
CEO Jamie Dimon after customers yanked more than $17 billion in deposits, rendering the bank unsound.
Of course, Fishman could step up and reject the mammoth payout ($1.12 million a day, if you're keeping score), just as
refused a $22 million package for his three months at
AIG
.
But if you do take the money, Alan, good luck finding a safe bank to stash it.
Dumb-o-meter score: 95 -- Hard to blame a guy for winning the lottery.
TPG's WaMu Boo-Boo
So much for David Bonderman's sweet deal.
The so-called "smart money" is among the dumb losers in the wake of
's demise. TPG, the private-equity specialist founded by billionaire Bonderman, waved goodbye to $1.3 billion worth of Wamu shares when regulators seized the struggling bank and handed the keys to JPMorgan Chase late last week.
"Obviously, we are dissatisfied with the loss,'' said a TPG spokesman, who went on to blame the losses on "unprecedented turmoil in global financial markets" and a "macro crisis of confidence."
So it's a confidence game, huh? We hate to nit-pick, but TPG was obviously brimming with confidence back in April when it gobbled up millions of WaMu shares at $8.75 apiece, a 33% discount to the stock price at the time.
And from what we can remember, there was significant "turmoil" back then, too. In fact, WaMu was raising capital at the time because it admitted to more than $3 billion of home-mortgage writedowns and loan losses.
TPG, which oversees $50 billion in assets, was so secure in its WaMu bet that they broke the golden rule of private equity: Don't invest without control -- not that there's anything left to control anyway.
Dumb-o-rama score: 80 -- Sometimes, Dave, things are marked down for a reason.
Senate Shenanigans
The House couldn't close the deal, so the Senate is bringing home the bacon.
The Senate got piggy with it Wednesday night, larding up the $700 billion bailout in order to muster a winning majority. Senators were spurred to action after the House of Representatives failed Monday to approve a plan, which so riled the markets that the
Dow
dropped
.
Note to House Speaker Nancy Pelosi: Next time, don't vote on a Wall Street plan during market hours. Don't call a vote if you don't have enough support from your own party to win.
And certainly don't skimp on the swine!
Check out how the Senate spreads the pork:
Wooden arrows from Oregon, rum from Puerto Rico and movies from Hollywood are all cleaning up on tax breaks.
Also in on the action,
Harley Davidson
(HOG) - Get Report
and
Nascar
track builders.
All in, the tax provisions will add about $112 billion to budget deficits over the next five years, according to the Congressional Budget Office. So maybe it shouldn't be called a $700 billion plan any more.
Said Senator Judd Gregg, Republican from New Hampshire, about the tense, bipartisan talks surrounding the bill, "This is the way government's supposed to work, folks, and it did."
Says you, senator.
Dumb-o-rama score: 75 -- This bill may pass, but it sure ain't kosher.
Google's Ghost
Come on
Nasdaq
! It's not like we don't have enough to worry about with banks blowing up left and right.
Now you want to spook
Google
(GOOG) - Get Report
investors?
Halloween came early for the Internet search giant when its shares suddenly plummeted Tuesday, ostensibly sinking as low as a penny. Turns out the dramatic drop and ensuing "erroneous orders" were triggered by "orders routed from another exchange," according to a spokesperson for exchange parent Nasdaq OMX Group.
were flirting with the $400 mark heading into the close when the trading snafu struck. Sensing a quick score, fast-acting traders snapped up shares at seemingly bargain prices. Those lucky enough to get their orders filled celebrated when the shares miraculously recovered.
And then, like Linus in the pumpkin patch, they learned there is no Great Pumpkin.
The Nasdaq canceled transactions at or above $425.29 and at or below $400.52 that were executed between 3:57 p.m. and 4:02 p.m. The exchange set Google's closing price at $400.52, up 5.12%.
A Google spokesman declined to comment on the wacky trading. Nasdaq's surveillance arm said it was looking into it.
Don't tell us it was a ghost in the machine. We're scared enough.
Dumb-o-rama score: 70 -- We Googled "Dumb." Came up "Nasdaq."
Before joining TheStreet.com, Gregg Greenberg was a writer and segment producer for CNBC's Closing Bell. He previously worked at FleetBoston and Lehman Brothers in their Private Client Services divisions, covering high net-worth individuals and midsize hedge funds. Greenberg attended New York University's School of Business and Economic Reporting. He also has an M.B.A. from Cornell University's Johnson School of Business, and a B.A. in history from Amherst College.