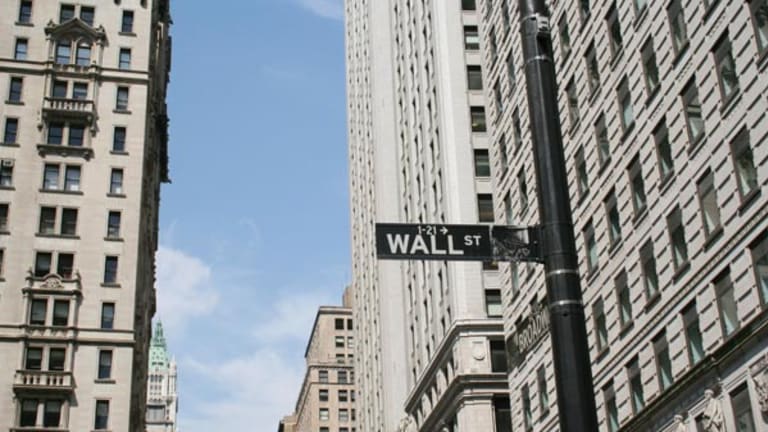 Five Dumbest Things on Wall Street: Oct. 24
Playboy's bare market; not much to Yahoo! about; Kirk craps out; hedge fund 'high' jinx; ratings rats run from blame.
Playboy's Bare Market
Investors looking for a boom should first check out
Playboy's
(PLA)
busts.
The company, whose stock is trading at a five-year-low of less than $2 a share, announced last week that it's closing its DVD business. Late last month, it was reported by the British tabloid
The Daily Star
that Playboy founder Hugh Hefner is laying off some of his bunnies because of the souring economy.
And more trouble may await the Playboy empire and its shareholders. According to a study published last week by econometricians Terry Pettijohn II and Brian Jungeberg, men tend to look for bigger, more robust, women during a lean economy. The report -- titled
Playboy Playmate Curves: Changes in Facial and Body Feature Preferences Across Social and Economic Conditions
-- also noted that when times are prosperous, men prefer less grown-up, shorter women with narrower waists.
In a move that has rendered quaint the once risqué miniskirt index, the pair of academics achieved this breakthrough by comparing the measurements from 40 years of Playmates to the economic data of the times.
"When social and economic conditions were difficult, older, heavier, taller Playboy Playmates of the Year with larger waists, smaller eyes, larger waist-to-hip ratios, smaller bust-to-waist ratios, and smaller body mass index values were selected," says the study. "These results suggest that environmental security may influence perceptions and preferences for women with certain body and facial features."
Boiled down to plain English, the paper posits that men are less interested in viewing women purely for sex when the chips are down, preferring to focus on more mature women with the ability to care for them. In short, Playboy's sales may be headed for an even steeper decline.
Whether the good professors are onto something big is debatable. But Playboy's shareholders should heed the good professors' sage barometer as a centerfold for sell.
Dumb-o-meter score: 95 -- Despite the downturn, it's still hard to pity Hef.
Not Much to Yahoo! About
Yahoo!
(YHOO)
shareholders paid a steep price for some very bad advice.
Yahoo! reported a less-than-sunny third quarter on Tuesday, earning $54.3 million, or 4 cents a share, down 64% from a year ago. The stumbling Internet giant also used the occasion to lower revenue estimates for the remainder of the year and to announce plans
to fire at least 1,500 workers or nearly 10% of its workforce
.
But what's really depressing -- dare we say "dumb" -- is the $36.5 million in charges Yahoo! paid to "outside advisers" in order to rebuff
Microsoft's
(MSFT) - Get Free Report
attempt to acquire the company, hammer out a search deal with
Google
(GOOG) - Get Free Report
and fight Carl Icahn in a proxy contest for control.
So not only did Yahoo!'s brain trust spurn Microsoft's $33-a-share offer earlier this year, and help from billionaire investor Carl Icahn's, but they paid through the nose to do so. Yahoo! was trading Tuesday at around $12 a share and still looks expensive at 24 times next year's earnings.
But that's not likely to be the end of it. Legal fees are sure to rise once the Justice Department takes aim -- and they surely will -- at any search deal that would allow Yahoo! to show advertisements sold by Google besides its own search results.
And what now? More consulting apparently. In a memo to the troops on Tuesday, CEO Jerry Yang discussed how he has been working with consultant Bain & Co. to manage costs and "become more efficient and productive as an organization."
Come on, Jer. Try something new. Overpaying consultants the last time is what got you into this mess.
Dumb-o-meter score: 80 -- Who's running the show at Yahoo! -- Ya, who?
Kirk Craps Out
Admit it, Kirk. You gambled on
Ford
(F) - Get Free Report
and lost.
Kirk Kerkorian, the billionaire investor who made his fortune buying and selling Las Vegas real estate,
is ditching some of his shares in the carmaker
, according to a regulatory filing Tuesday. On Monday, Kerkorian's
Tracinda Corp.
sold 7.3 million shares of Ford common stock, or 6.1% of the company, at an average sale price of $2.43 a share.
Talk about sprinting for the exit. Kerkorian was in such a rush to get out of Ford that he was willing to lose about two thirds of his initial $1 billion investment. The high roller paid an average of $7.07 when he amassed 140.8 million shares this spring.
His decision to cut bait is also somewhat surprising considering that Jerome York, Kerkorian's right-hand man at Tracinda, told the media back in April that "we don't care what happens in the next two or three quarters. What we're looking for is a big, big hit, five, six or seven years down the road."
Don't tell Kirk that he crapped out, however. The 91-year-old fund manager refuses to admit defeat, instead saying he "sees unique value in the gaming and hospitality and oil and gas industries" as the impetus for the sudden decision to reallocate resources.
We're sorry, Captain Kirk. Las Vegas hasn't fared any better than your Ford investment as of late. Your stake in
MGM Mirage
(MGM) - Get Free Report
shrank by 86% since last year.
Oh, and other Ford investors would like to thank you for the slide in the stock to $2 since you announced you were bailing out. Got any more big plans for your remaining 133.5 million Ford shares?
Dumb-o-meter score: 80 -- Kirk is lucky in one respect: He lost his 2007 bid for Chrysler to Cerberus. Whew!
Hedge Fund 'High' Jinx
If Cheech and Chong ever need a hedge fund manager, we've found their man.
Andrew Lahde, the California-based hedgie who rose to fame with an 870% gain last year by betting on the subprime mortgage collapse, bid farewell to his investors this weekend, but not without a bang.
The 37-year-old fund manager, who oversaw approximately $80 million, sent the money back to his clients along with a scathing letter offering some views on "idiot" traders, the U.S. government and marijuana laws. He said that he had closed shop rather than trade with teetering banks. That's the nice version. Here's what he actually said:
"The low-hanging fruit, i.e., idiots whose parents paid for prep school, Yale, and then the Harvard MBA, was there for the taking. These people who were (often) truly not worthy of the education they received (or supposedly received) rose to the top of companies such as
AIG
(AIG) - Get Free Report
, Bear Stearns and Lehman Brothers and all levels of our government," according to a copy of the letter picked up by Portfolio.com. "All of this behavior supporting the Aristocracy only ended up making it easier for me to find people stupid enough to take the other side of my trades. God bless America."
Blasting Congress' inability to rein in "the predatory lending practices of now mostly defunct institutions," he urged that billionaire activist George Soros come up with a solution to revamp the "corrupt" U.S. capitalist system.
Lahde, who now plans to kick back and manage his unspecified millions, also bizarrely argues for the legalization of hemp and marijuana, calling hemp "an alternative food and energy source."
"My only conclusion as to why it is illegal is that Corporate America, which owns Congress, would rather sell you Paxil, Zoloft, Xanax and other ... drugs than allow you to grow a plant in your home without some of the profits going into their coffers."
Not wanting to sound "like a Hollywood actor accepting an award," Lahde decided not to thank those who helped him pocket his millions saying "the money was reward enough."
Then let us thank you Mr. Lahde for your wonderful goodbye. Wall Street will be a lot less dumb without you.
Dumb-o-meter score: 70 -- Talk about a Wall Street burnout.
Ratings Rats Run From Blame
Something about this week's trip to Washington by three ratings CEOs reminds us of the old nursery rhyme
Three Blind Mice
. Did you "see how they run, see how they run" from blame.
California Democrat Henry Waxman certainly saw them running.
"The story of the credit rating agencies is a story of colossal failure,'' Waxman said Wednesday as he kicked off congressional hearings that brought together former and current executives from Standard & Poor's, a division of
McGraw Hill
(MCG)
,
Moody's
(MCO) - Get Free Report
and
Fitch
.
The ratings honchos were summoned to Washington to explain how their companies enabled the credit crisis by issuing triple-A ratings on toxic mortgage bonds.
Waxman was not just waxing poetic, as evidenced by the raft of e-mails that surfaced during the proceedings.
Employees at Moody's Investors Service, for example, directly questioned their bosses, saying they were selling "our soul to the devil for revenue."'
Another email that an S&P employee wrote to a co-worker in 2006, obtained by committee investigators, said, "Let's hope we are all wealthy and retired by the time this house of cards falters."
The house of cards certainly collapsed, falling hardest on the investment banks that paid millions to the ratings agencies for their grades. As delinquencies on the underlying loans soared, the ratings agencies downgraded the bonds they previously blessed, thereby contributing to the demise of Bear Stearns and Lehman Brothers.
The three wealthy, and not yet retired, ratings-agency CEOs found plenty of places to point the finger. All three claimed their biggest failure was their inability, in Fitch chief Stephen Joynt's words, "to foresee the magnitude or velocity of the decline in the U.S. housing market."
We at the Five Dumbest Lab throw our hats in with the former Moody's employee who told lawmakers that credit raters relied on outdated models in a "race to the bottom" to maximize profits.
The bottom is, after all, where rats tend to congregate.
Dumb-o-meter score: 70 -- Capitol Hill's rat trap is filling up. Who's next?
Before joining TheStreet.com, Gregg Greenberg was a writer and segment producer for CNBC's Closing Bell. He previously worked at FleetBoston and Lehman Brothers in their Private Client Services divisions, covering high net-worth individuals and midsize hedge funds. Greenberg attended New York University's School of Business and Economic Reporting. He also has an M.B.A. from Cornell University's Johnson School of Business, and a B.A. in history from Amherst College.