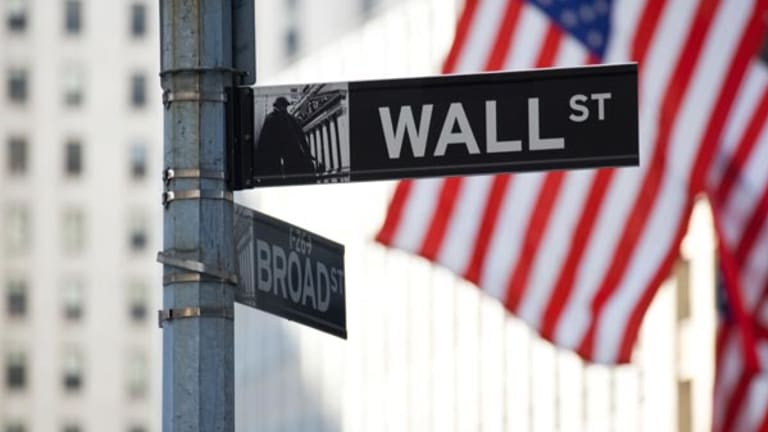 Five Dumbest Things on Wall Street: Oct. 17
AIG's hunting party; Redstone ruckus; GMAC's monkey grinder; Wal-Mart's foot fetish; Boeing breakdown.
AIG's Hunting Party
American International Group
(AIG) - Get American International Group, Inc. Report
may have just
gone on the government's dole
for $123 billion, but that doesn't mean its executives can't have a jolly old time.
A handful of top executives from AIG allegedly racked up an $86,000 tab during a recent English hunting trip, even as the New York-based insurer was lobbying for an additional $37.8 billion from the
Federal Reserve
.
AIG spokesman Peter Tulupman said Wednesday that the event had been planned "months before" the Fed's loan to AIG, adding, "We regret that this event was not canceled."
Perhaps sincere regret carries a little less weight in these extraordinary times. What taxpayer wasn't overjoyed with learning that he or she helped sponsor another boondoggle, this one at a $440,000 price tag, for top AIG insurance agents at a posh California resort last month -- just days after the U.S. government stepped in to save AIG with $85 billion?
White House Press Secretary Dana Perino called that event "despicable."
This latest one, however, we'll call just plain stupid.
Dumb-o-meter score: 95 -- Late Thursday, the company declared a moratorium on junkets or perks "not strictly justified by legitimate business neeeds." Tell that to the English big game.
Redstone Ruckus
Everybody's favorite media-empire family was at it again this week.
The daughter of billionaire Sumner Redstone, Shari, denied publicly that her National Amusements movie theater business had forced Daddy's sale of a lump of the family's
Viacom
(VIA) - Get Viacom Inc. Class A Report
and
CBS
(CBS) - Get CBS Corporation Class B Report
holdings. The privately held movie company, which is controlled by Sumner Redstone, recently unloaded $233 million of the two stock holdings to pay down debt in order to comply with credit agreement covenants.
In an emailed statement to
The Wall Street Journal
, a very touchy Shari Redstone called the "implication" that the stock sale was required by the operation and expansion of the company's theater circuit "not accurate." She went on to pin the sale on "last week's historic financial crisis, which included the precipitous ... drop in value of CBS and Viacom stock."
As to who was making such implications -- or who cares enough to make them -- we have no idea.
But we know enough to spot renewed family dysfunction when we see it.
Shari has long been at odds with her father over the viability of the movie theater chain and other businesses it owns. The pair also tangled when Sumner started buying shares in now-slumping
Midway Games
(MWY)
, through National Amusements.
But the biggest rift between the two remains Shari's future role in Viacom and CBS. Ms. Redstone owns 20% of National Amusements, and according to
The Wall Street Journal
, she has sought to swap that stake in the holding company for ownership in the theater chain.
Here's our suggestion: Reunite father and daughter on the
The Dr. Phil Show
. Even if the good doctor can't work his magic, it'll be good ratings for the Viacom property.
Dumb-o-meter score: 80 -- Not on CBS' fall lineup: "Repairing the Redstones."
What's Next for GMAC, an Organ Grinder and a Monkey?
It seems that GMAC chief Al de Molina has had a recent reality check.
In a note to employees that was leaked to
Bloomberg
this week, the CEO of the financing arm of
General Motors
(GM) - Get General Motors Company (GM) Report
whined about the company's "limited ... access to funding" for its mortgage and auto lending units.
"We have pursued a 'self-help' approach that on some days is akin to hand-to-hand combat," bemoaned the CEO, speaking of his battle to land financing for his ailing business.
de Molina should shuck the self-help approach and pray for some divine intervention.
GMAC, which is 51%-owned by the private-equity powerhouse Cerberus Capital Management, has suffered $5.4 billion in losses over the past year as a result of plummeting auto sales and record foreclosures. GMAC's cost of capital has skyrocketed as leading credit agencies reduced its debt to junk, severely restricting its access to capital.
And even if GMAC could obtain the cash at a reasonable cost, it's harder for it to find creditworthy borrowers. This blunder is of its own making. GMAC announced earlier this week that it is limiting auto lending to buyers who have credit scores of at least 700, representing about 58% of U.S. consumers.
It's not as though de Molina hasn't had enough time to get his hands around the problem. Before being elevated to CEO in March, he served for eight months as GMAC's chief operating officer in charge of real estate finance, commercial finance and, ironically, risk functions.
Obviously, his risk controls failed, which is why de Molina said in his email that Cerberus, which also owns
Chrysler
, is evaluating "new and creative solutions to the problems brought about by the current environment."
Here's one suggestion for the creative brass at Cerberus: Depose of de Molina. If nothing else, they won't have to hear his whining any longer, and for that matter, we won't either.
Dumb-o-meter score: 80 -- One whiny CEO is one too many
.
Wal-Mart's Foot Fetish
Wal-Mart
(WMT) - Get Walmart Inc. Report
can't kick the copying habit.
The world's biggest retailer was sued by
Nike
(NKE) - Get NIKE, Inc. (NKE) Report
on Monday for allegedly selling footwear that infringes on their patented Shox sneaker line featuring exposed piston-like cylinders in the heel.
Nike is seeking a court order barring
from selling the disputed footwear plus unspecified monetary damages.
Nike's Shox line features four to five cylinders in the heels of its shoes, according to illustrations contained in the complaint filed in federal court in Chicago. On the other hand, or foot, Wal-Mart's shoes have five cylinders.
Sadly, this isn't the first time these two have squared off over knockoffs.
In 1999, the Supreme Court rejected Nike's appeal of a case in which the footwear firm unsuccessfully sued Wal-Mart for selling a lookalike of Nike's Air Mada Mid athletic shoe.
And just this August, Wal-Mart settled, for undisclosed terms, a patent-infringement lawsuit brought by Germany-based
Adidas
over a shoe design. In that case, Adidas claimed Wal-Mart footwear infringed on its trademarked three-stripe pattern.
With consumers looking increasingly likely to slow their spending, a plan to help keep a lid on Wal-Mart's legal expenses would be a step in the right direction.
Dumb-o-meter score: 70 -- Fortunately, all evidence points to the company doing nothing to copy the Icee.
Boeing Breakdown
Boeing's
(BA) - Get Boeing Company Report
management and labor may want to consider speaking to each other soon, or there soon may be no reason.
A machinists' union strike that has shut down
's commercial aircraft plants since Sept. 6 looks to extend well into November -- and maybe longer, after two days of talks collapsed earlier this week. Neither Boeing management nor the union appears to be budging on the big issue of job security. The two sides abandoned the bargaining table without even broaching questions of pay, retirement benefits and medical coverage.
Meanwhile, as both groups dig in for what looks like the long haul, Boeing's shares continue to sink on both recession and competitive fears. At last check, Boeing stock was down about 50% in 2008 to $42.65. Analysts have said they believe Boeing is losing $100 million or more in deferred revenue each day of the strike, for a total that is approaching $4 billion.
Boeing's arch-rival
Airbus
is enjoying its competitor's labor discord. Airbus has orders for 737 planes this year, after cancellations, and expects to deliver about 470 airliners -- more than it ever has. It plans to increase output by almost 20% over the next two years.
Boeing, which has 623 net orders this year, had delivered 325 planes when its factory workers went on strike.
At this rate, it's going to be a long time before we see that 326th plane -- or any updraft in Boeing's stock.
Dumb-o-meter score: 70 -- This just in: A global downturn isn't the time to stop making your product.
Before joining TheStreet.com, Gregg Greenberg was a writer and segment producer for CNBC's Closing Bell. He previously worked at FleetBoston and Lehman Brothers in their Private Client Services divisions, covering high net-worth individuals and midsize hedge funds. Greenberg attended New York University's School of Business and Economic Reporting. He also has an M.B.A. from Cornell University's Johnson School of Business, and a B.A. in history from Amherst College.