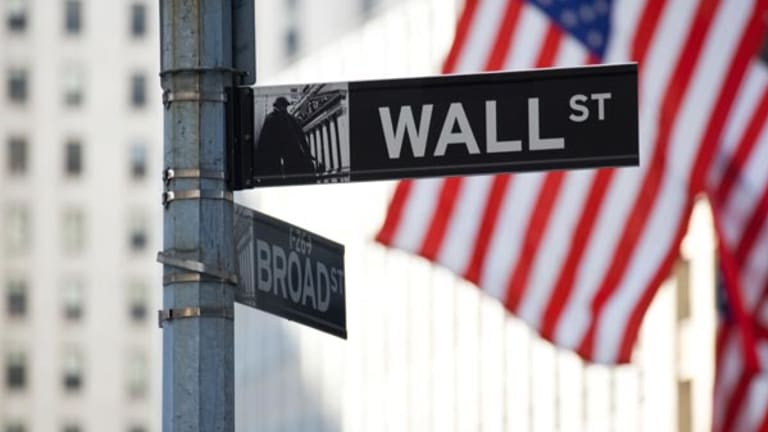 Five Dumbest Things on Wall Street: Nov. 14
GE's intergalactic yard sale; big tech tug of war; Charney's sideshow; Fannie maelstrom; GM's telethon
GE's Intergalactic Yard Sale
General Electric's
(GE) - Get General Electric Company Report
brass can stop sweating. The geeks are coming to save the day.
The company's NBC Universal division, which is undergoing a huge cost-cutting drive, has completed plans to auction props, costumes and set pieces from its
Sci Fi Channel
cult favorite
Battlestar Galactica
.
The entertainment goliath booked a weekend at the Pasadena Convention Center for the event, just in time to kick off the show's second half of its final season on Jan. 16, according to the
Hollywood Reporter
. A portion of the auction's proceeds will benefit United Way.
The auction is shaping up to be one of the largest events ever planned around the conclusion of a TV series, with faithful fans jetting in from around the world for the bidding.
BSG
collectibles up for sale include spaceship props, the desk used by Admiral Adama (Edward James Olmos), and up to a dozen costumes from each major character, including a red dress worn by Caprica-Six (Tricia Helfer).
"We are also really excited to be able to offer both fans and collectors this incredible opportunity to own a piece of science fiction television history as the series concludes," says NBC Universal Television executive Stacey Ward.
How nice. Just a little something for the fans. It's not like the studio is desperate for cash after NBC Universal CEO Jeff Zucker announced plans last month to cut spending by $500 million next year. That wouldn't have anything to do with it, right?
Of course, Zucker is just channeling pressure from his boss, GE CEO Jeffrey Immelt, who is under increasing pressure to ditch the TV and movie studio after a 22% drop in third-quarter earnings last month.
Sadly, unloading useless items from hit shows is becoming a regular source of revenue for the studio.
Maybe they should skip the middleman and produce a new auction reality show. They can call it "Immelt's Yard Sale."
Dumb-o-meter score: 95 -- Is Battlestar Galactica the one with Luke Skywalker? Somebody call a nerd!
Charney's Sideshow
American Apparel's
(APP) - Get Applovin Corporation Report
ringmaster has another legal circus on his hands.
A former employee filed a wrongful termination suit against the retailer last week, alleging he was fired for refusing requests by renegade CEO Dov Charney to pump up figures on the company's balance sheet.
Roberto Hernandez, who handled accounts payable for the company, charges that in 2006 Charney "demanded that Mr. Hernandez pad the inventory" in an effort to spruce up the company for sale to outside investors.
American Apparel, a private company at the time of the allegation, went public later that year. (The stock fell 35% to $4.50 Wednesday on news of the suit).
The normally gregarious Charney refused to comment on the matter, opting instead to deny the allegation in a press release, saying the company would "vigorously defend itself and its shareholders in this contemptible action." Charney claims Hernandez was more involved with low-level data entry than accounting and therefore had no opportunity to cook the books.
var config = new Array(); config<BRACKET>"videoId"</BRACKET> = 2097166001; config<BRACKET>"playerTag"</BRACKET> = "TSCM Embedded Video Player"; config<BRACKET>"autoStart"</BRACKET> = false; config<BRACKET>"preloadBackColor"</BRACKET> = "#FFFFFF"; config<BRACKET>"useOverlayMenu"</BRACKET> = "false"; config<BRACKET>"width"</BRACKET> = 265; config<BRACKET>"height"</BRACKET> = 255; config<BRACKET>"playerId"</BRACKET> = 1243645856; createExperience(config, 8);
Moreover, Charney contends this latest legal assault is just another shot in a long war against the company by Hernandez's lawyer Keith Fink, who represents another ex-American Apparel employee suing Charney for alleged sexual harassment. That particular suit, which Charney also is fighting, alleges he conducted a "reign of sexual terror" at the company, parading around the office in his underwear and even taking employees to strip clubs to do market research.
Charney, who successfully mixed sex with showmanship to grow his chain to 230 locations, blames the media for focusing on "sideshows" instead of the company's growth.
That's a lot of blarney, Charney. This is a freak show that is freaking out your shareholders.
Dumb-o-meter score: 85 -- For a company that doesn't sell suits, it sure has a lot piling up.
Fannie Maelstrom
Fannie Mae
( FNM) continues to live in a house of pain -- and it can't afford the mortgage payments.
The mortgage finance giant, taken over by federal regulators more than two months ago, posted a $29 billion
third-quarter loss
on Monday due to a massive tax-related charge.
That's correct -- it lost $29 billion.
A company with a market cap of less than $700 million and a 65-cent stock price lost $13 a share for the July-September quarter as a result of a $21.4 billion non-cash charge to reduce the value of deferred-tax assets. Deferred-tax assets can emerge from operating losses -- an area Fannie's management knows very well -- and can be used to reduce future tax expenses.
Even after this quarter's mammoth charge, Fannie Mae says it may have to reduce the value of the remaining $4.6 billion in tax assets it has on its books.
What difference does it make? Fannie will be spending taxpayer money one way or another.
The company will likely tap the government's $100 billion lifeline early next year. Fannie Mae's net worth dropped to $9.4 billion at the end of September from $44.1 billion at the end of last year. If that number turns negative, Fannie Mae said it would have to obtain funding from the Treasury Department.
Fannie Mae said in a
Securities and Exchange Commission
filing that it made the accounting change and took the huge charge partly due to "the uncertainty surrounding our future business model."
So, there
is
a business model? This looks more like a bloodbath.
Dumb-o-meter score: 80 -- On the bright side, last year's quarterly loss of $1.4 billion doesn't look that horrible anymore, does it?
GM's Telethon
Hey Congress, do we have a car deal for you!
General Motors
(GM) - Get General Motors Company Report
asked its U.S. dealers on Wednesday to call their representatives and senators to beg them to approve an additional loan package to help the struggling automaker, according to
Reuters
.
GM U.S. sales chief Mark LaNeve told dealers to smile and dial, saying 3 million jobs will be wiped out if the government doesn't deliver the necessary funding. Shares of the country's largest automaker sank as low as $2.75 this week.
"As we're in the midst of the deepest crisis our industry has ever faced, GM's priority is on seeking support from various U.S. government agencies and congressional leaders," LaNeve wrote in a letter to dealers.
That's funny. We thought GM's top priority should be selling cars people want to buy.
Chief executives of GM,
Ford
(F) - Get Ford Motor Company Report
and
Chrysler
skipped the phone calls in favor of face-to-face meetings with House Speaker Nancy Pelosi and Senate Majority leader Harry Reid last week to discuss a $50 billion aid package. The executives requested half that sum be delivered immediately as "emergency capital," with the second $25 billion going to a retiree health care trust fund.
Rep. Barney Frank (D., Mass.) said on Wednesday his committee will host a hearing to consider an auto-industry bailout next week.
That is, if he can avoid thousands of phone pitches from all those dealers trying to sell him last year's model.
Dumb-o-meter score: 70 -- Looks like U.S. taxpayers are going to buy a lemon of a bailout deal.
Big Tech's Tug Of War
As if tech companies weren't putting enough people out of work,
IBM's
(IBM) - Get International Business Machines Corporation Report
now letting jealousy keep qualified employees from getting new jobs.
Mark Papermaster, recently appointed as
Apple's
(AAPL) - Get Apple Inc. Report
iPod and iPhone engineering chief, was
ordered to stop working by a federal court judge last Friday amid a breach-of-contract dispute with IBM. Big Blue sued Papermaster after he handed in his notice last month, alleging that he breached a noncompete agreement.
Under the terms of the agreement, Papermaster, who spent 26 years at IBM, cannot work for a competitor for up to a year after his IBM employment ends. Judge Kenneth Karas of New York's Southern District will hear the case on Nov. 18.
It all comes down to whether Apple and IBM are direct competitors. Simple enough to figure out -- when was the last time you downloaded a song or sent a text message from an IBM device? Case closed.
That is, in fact, Papermaster's defense. In a court declaration, he said that aside from a few isolated cases, "I do not recall a single instance of Apple being described as a competitor of IBM during my entire tenure at IBM."
At The Five Dumbest Lab, we accept Papermaster's recollection.
In fact, we're not sure International
Business
Machines Corp. really makes that many machines anymore. The company sold its personal computer business to Lenovo in 2005 in order to concentrate on hawking so-called "systems" and "solutions," and the "hardware" division accounted for only 17% of revenue in the latest quarter.
IBM should drop the silly suit, lose the "M" from its name, and let the guy go to work.
Dumb-o-meter score: 65 -- On the other hand, Apple doesn't sell apples, does it?
Before joining TheStreet.com, Gregg Greenberg was a writer and segment producer for CNBC's Closing Bell. He previously worked at FleetBoston and Lehman Brothers in their Private Client Services divisions, covering high net-worth individuals and midsize hedge funds. Greenberg attended New York University's School of Business and Economic Reporting. He also has an M.B.A. from Cornell University's Johnson School of Business, and a B.A. in history from Amherst College.