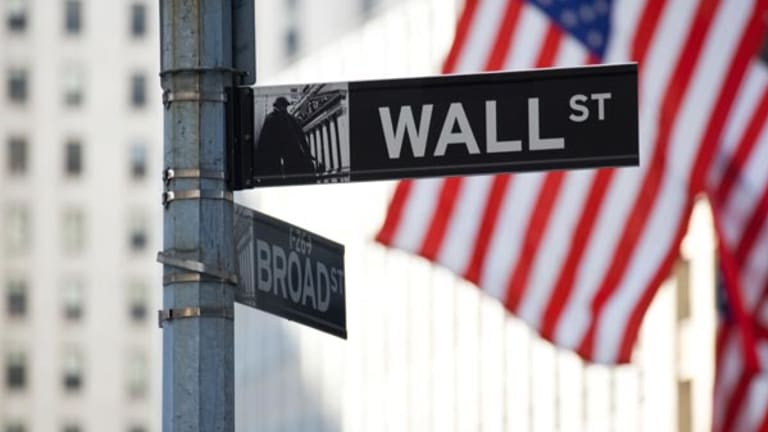 Five Dumbest Things on Wall Street: Nov. 13
Irregular regulators; Pinnacle's pinhead CEO; Disney's Chirtmas jeer; Goldman's divine inspiration; and Benmosche the brave.
Irregular Regulators
NEW YORK (
) -- We've seen plenty of hostile corporate takeovers over the years. But the escalating battle between international regulators over the pending
Oracle
(ORCL) - Get Oracle Corporation Report
-
Sun Microsystems
( JAVA) deal is a new twist even for us.
The European Commission, which formally objected to the $7.4 billion merger on the grounds that it could hurt competition in the database market, called out the U.S. Justice Department Tuesday. The cause of EC's displeasure was a curious statement by the U.S. regulator reaffirming its August decision to allow the merger.
"We remain hopeful that the parties and the EC will reach a speedy resolution that benefits consumers in the commission's jurisdiction," Molly Boast, deputy assistant attorney general for the Justice Department's antitrust division, said in a statement Monday.
Miffed that the Justice Department was pressing for the merger while the ball was still in their court, EC spokesman Jonathan Todd brusquely responded Tuesday by calling the American statement "unusual."
"I cannot recall any instance where the European Commission has ever issued a statement concerning ongoing investigations in another jurisdiction," said Todd, adding, "We have our methods, they have theirs."
Good golly, Miss Molly, we have a good, old-fashioned bureaucratic brouhaha brewing.
Of course, this isn't the first time the two regulators issued different decisions on a merger case. In 2000, U.S. authorities approved
General Electric's
(GE) - Get General Electric Company (GE) Report
takeover of
Honeywell
(HON) - Get Honeywell International Inc. (HON) Report
, but the EC stepped in to block it the following year on antitrust grounds.
Nevertheless, the economic climate is very different this time around. The chips are down and even regulators know that it's every nation for itself.
And that means that even fellow trust-busters can't be trusted.
Dumb-o-meter score: 95 -- It's like going to a hockey game and seeing a fight break out -- among the referees.
Pinnacle's Pin-Head CEO
Pinnacle Entertainment
(PNK) - Get Pinnacle Entertainment Inc Report
says its CEO resigned "to pursue other business interests." We think his big mouth got him thrown out of the casino.
Daniel Lee stepped down as the gaming company's CEO and chairman Monday, barely a week after he allegedly confronted a St. Louis County Council member who voted in favor of a rival company's expansion plans. The Missouri State Highway Patrol, which performs investigations for the Missouri Gaming Commission, said it is looking into Lee's actions. Pinnacle owns two casinos in downtown St. Louis and is developing a third in St. Louis County to open next year.
Las Vegas-based Pinnacle said Richard Goeglein will be interim chairman and John Giovenco interim CEO. Both are currently on its board. Hopefully, each can control his emotions better than Lee.
According to
The Associated Press
Lee reportedly asked County Council member Steve Stenger to vote against a zoning issue for a casino being developed in the county by a competitor. Stenger voted in favor of it, however, sending Lee through the roof. The casino big-wig approached the council platform -- while the meeting was still in session mind you -- and told Stenger's assistant that her boss made a grave error and that he wouldn't forget the councilman's betrayal.
"It's one thing to come in and ask for something," Stenger said Monday. "It's another to come in and pressure someone and then make threats when you don't get what you want."
And performance has been left wanting of late at Pinnacle, which may have contributed to Lee losing it in public. The casino operator lost $21.9 million in its fiscal third quarter, compared with a loss of $11.8 million a year earlier.
You would think by now Lee would know how to take a loss in stride. It doesn't take a casino CEO to know that you won't be playing very long if you insult the dealer.
Dumb-o-meter score: 90 -- He used to be the pit boss, now he's the pits.
Disney's Christmas Jeer
Boy that Mickey Mouse can be a real Scrooge when things don't go his way.
Mark Zoradi, president of
Walt Disney
(DIS) - Get Walt Disney Company Report
Studios Motion Pictures Group and the head of worldwide marketing for all Disney, Pixar, Touchstone and Disney nature movies, announced Monday he is stepping down immediately in the wake of a weak opening for the costly holiday movie, "A Christmas Carol." The 3-D remake of the classic Christmas tale, which cost $175 million and stars Jim Carrey, opened to a pitiful $30.1 million at the weekend box office in the U.S. and Canada and is expected to lose up to $100 million.
If only the ghost of Disney past could go back in time and stop whoever greenlighted that bomb, then maybe Zoradi would still have a job.
It's worth noting that Zoradi is not the only Disney movie executive sent to the sidelines this season. In fact, the Mouse House has been more like a rat trap for studio chiefs lately.
Last month, Disney named Rich Ross as chairman of its movie studios, replacing the popular Dick Cook, who oversaw a string of bombs. And Daniel Battsek, who ran Disney's low-budget Miramax Films, left in October after the company slashed the unit's workforce and cut the number of films it would release.
In all, Disney's studio revenue has fallen in each of the last five quarters, sinking from $1.82 billion in the March quarter of 2008 to $1.26 billion in the quarter ended in June this year. The studio also posted a $12 million operating loss in the June quarter, down from a $97 million operating profit last year.
Disney is counting on its latest addition,
Marvel Entertainment
( MVL), to lift its fortunes with a blockbuster or two. However, if Spider-Man can't use his spidey sense to pick some winners, he may be the next one out the door.
Dumb-o-meter score: 85 -- Disney to Zoradi: "Bah, Humbug!"
Goldman's Divine Inspiration
Wall Street may be a fertile ground for stupidity, but there are still times when we here at the Five Dumbest Lab struggle to find stories worthy of our list. If only we had a batphone to God like
Goldman Sachs
(GS) - Get Goldman Sachs Group, Inc. (GS) Report
CEO Lloyd Blankfein, it sure would make our lives much easier.
The CEO of the gold-standard investment bank discussed his divine partnership in an interview with London's
Sunday Times
newspaper, saying his flock of bankers and traders are doing "God's work."
"We help companies to grow by helping them to raise capital. Companies that grow create wealth. This, in turn, allows people to have jobs that create more growth and more wealth. We have a social purpose," sayeth Blankfein unto the Times.
Oh, so that's why the Apostle Paulson -- praised be Hank -- saved his former firm from going under last year instead of those unbelievers at
Lehman Brothers
. It's because Goldman helps other companies be fruitful and multiply.
And while we were looking for a burning bush to show us the way, Blankfein opened our eyes to the real sign that the world economy was recovering. He said that bountiful bank profits and bonuses, like Goldman's $3 billion third-quarter earnings and $20 billion bonus pool, are the real indicators of heavenly times ahead.
"Others made no money and still paid large bonuses. Some are not around anymore. I wonder why?" asketh Blankfein.
We don't know, Lloyd. Why don't you call your boss? Surely
He
knows.
Dumb-o-meter score: 80 -- Brother Lloyd needs to take a vow of silence.
Benmosche the Brave
In the end, Bennie decided not to jet.
American International Group
(AIG) - Get American International Group, Inc. Report
CEO Robert Benmosche said Wednesday he plans to remain in his job at the besieged insurer. Benmosche reaffirmed his commitment to the company in a letter to employees after a report in
The Wall Street Journal
claimed he was close to quitting. The
Journal
said Benmosche was fed up with government meddling and heavy restrictions on executive pay resulting from the $180 billion in bailout funds the company took from Uncle Sam last year in return for an 80% stake.
Benmosche said in his letter that while he was aggravated by the regulatory oversight, he and the board of directors "remain totally committed to leading AIG through its challenges and to continuing to fight on your behalf."
Wow, now that is a stand up guy! He is a man of such principle and character that he would rather quit after three months on the job than listen to his bosses in Washington. Take heed all you salary-capped AIG employees, because you truly have a special leader worth emulating now. If he can threaten to quit, you can too!
Of course, unlike many of his employees, Benmosche doesn't need the job or the headache, so he can threaten to jump ship and follow through. It's well known he could hang it up in a heartbeat and live quite cozily on the money he made at his last gig running
Metlife
(MET) - Get MetLife, Inc. (MET) Report
.
But no. Benmosche is going to be a martyr. He's going to stick around and turn this ship around, or sell it off piece by piece, whichever comes first. And while he does that he's going to collect that entire $10.5 million pay package, which was approved by pay czar Ken Feinberg. The top 25 highest-paid AIG executives, on the other hand, will be limited in most cases to $500,000 according to the government's plan.
Now that's what we call sacrifice.
Dumb-o-meter score: 75 -- Benmosche could easily solve his compensation problem by sharing some of his own. There's plenty of it to go around.
Before joining TheStreet.com, Gregg Greenberg was a writer and segment producer for CNBC's Closing Bell. He previously worked at FleetBoston and Lehman Brothers in their Private Client Services divisions, covering high net-worth individuals and midsize hedge funds. Greenberg attended New York University's School of Business and Economic Reporting. He also has an M.B.A. from Cornell University's Johnson School of Business, and a B.A. in history from Amherst College.