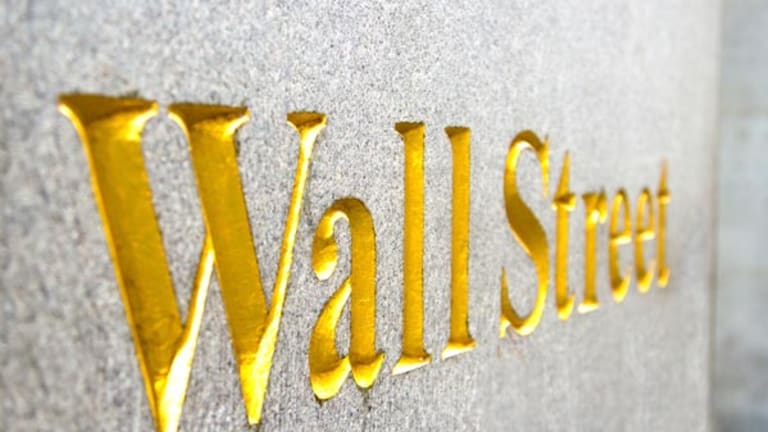 Five Dumbest Things on Wall Street: May 8
'Turbo Tax Tim' rides again; Lampert's laboratory; KFC plays chicken; Sprint flees; GM goes for broke.
'TurboTax Tim' Rides Again
The irony was inescapable. But Tim Geithner still should have tried to get away.
President Barack Obama, with the Treasury secretary by his side, launched a new initiative Monday to "detect and pursue" American tax evaders by wiping out their offshore tax shelters.
Obama said he plans to close tax loopholes that enable U.S. companies to stash profits overseas. Plus, the president wants to increase transparency in bank accounts held by Americans in notorious offshore tax havens so as to avoid tax evasion cases like the one currently embroiling Swiss private banking giant
UBS
(UBS) - Get UBS Group AG Report
.
With a straight face, the Treasury secretary kicked off the press conference by lecturing the American public about "indefensible" tax breaks and loopholes that allow "some well-off citizens to evade the rules that the rest of America lives by."
The always eloquent Obama followed Geithner, remarking that nobody likes paying taxes "but most Americans meet their responsibilities because they understand that it's an obligation of citizenship, necessary to pay the costs of our common defense and our mutual well-being."
Unless, of course, you are the president's nominee for of Secretary of the Treasury.
Yes Mr. President, the American public may have short attention spans, but it has not been that long since "TurboTax Tim" Geithner was raked over the coals during his confirmation hearing for failing to pay $34,000 in Social Security and Medicare taxes. In fact, it almost seems like yesterday when Geithner was blathering to Congress about how the popular tax-preparation software caused him to make "careless mistakes" on his returns.
After that embarrassing episode, one would think that the president would choose a different member from his deep bench of economic advisers for the occasion. Or maybe just grab his trusty teleprompter and do it as a solo act.
Trotting out the poster boy for tax evasion for an event like this, however, just makes no sense.
Unless, of course, the president's point is that it takes a tax cheat to know one.
Dumb-o-meter score: 95 -- What's next, President Obama? Will Jose Canseco and Barry Bonds be spearheading your new program to fight steroids in baseball?
Lampert's Laboratory
Eddie Lampert was once considered the next Warren Buffett because of his financial acumen. Too bad the wizard behind
Sears Holdings
(SHLD)
chose to practice retail alchemy instead.
The billionaire investor and majority stakeholder in Sears told investors at the company's annual meeting Monday that the struggling retailer will spend the remainder of 2009 tinkering with operations at both its brick-and-mortar outlets and its Web sites in order to improve the customer experience. Lampert told the Chicago audience he is busy devising ways to make the nearly 200 million square feet of retail real estate space controlled by the company "more productive."
Lampert seemed most proud of his latest plot, a concept called MyGofer whereby shoppers can order online and pick up their purchases at a drive-through warehouse. If nobody shops at the stores, what makes him think they'll want to drive through the warehouses?
Sears just opened its first MyGofer location in Joliet, Ill., in an old Kmart store. Lampert said he sees MyGofer as a way to convert hundreds of high-cost stores into low-cost, high revenue-generating warehouses.
"I want to get this right," said Lampert about the service whereby shoppers can buy everything from milk to appliances without leaving their cars.
We bet you do Eddie, especially after your never-ending string of failed efforts to reinvent retailing.
Who can forget that Sears Essentials experiment when you tried to take on
Wal-Mart
(WMT) - Get Walmart Inc. Report
and
Target
(TGT) - Get Target Corporation Report
by turning Kmarts into second-rate Sears stores? Or how about your decision to buy back 33 million shares at an average price of $132 between 2004 and 2007 instead of making capital improvements at your stores? All that dough sure could have made a lot of Sears stores "more productive," now couldn't it?
Now we know it's an ugly environment for large and small shopkeeps out there, so we won't blame all of Sears recent woes on your less-than-subtle strategy of trial and a whole lot of errors. And we can plainly see that your company's stock has risen substantially this year, up 55%, as analysts and investors applaud your ruthless cost cutting and store closings.
But please understand our skepticism when your MyGofer scheme to save one of America's oldest and best known brands sounds to us like a bad cross between
Amazon.com
(AMZN) - Get Amazon.com, Inc. Report
and
Dairy Barn
.
Dumb-o-meter score: 90 -- MyGofer? My Goodness!
KFC Plays Chicken
Swine flu may be leveling pork purveyors, but an escalating conflict between chicken sellers has our dumbest antenna tingling.
The bird-brained battle got started in late April when El Pollo Loco, a 380-restaurant grilled chicken chain based in Southern California, challenged the new grilled competition from
KFC
to a taste test. El Pollo Loco's CEO Steve Carley threw down the gauntlet to the
Yum! Brands
(YUM) - Get Yum! Brands, Inc. Report
subsidiary in a video in which he matched KFC's free grilled chicken giveaway with one of his own.
KFC is short for Kentucky Fried Chicken, of course. And the company is in the midst of a huge marketing campaign to attract health conscious diners by pushing its grilled, not fried, chicken.
We wish we could offer a comment from Colonel Sanders about the decision to forsake his famous frying recipe in favor of grilling, but the good colonel was too busy spinning in his grave.
In any event, KFC officially ignored the challenge from El Pollo Loco. Or at least that's what most people thought.
In a fairly convincing follow up
, El Pollo Loco alleges that KFC corporate executives have been crank-calling their consumer-hotline and leaving messages praising KFC's new grilled offering. The callers claim to be from California and attempt to use California slang; however, the caller ID shows a Kentucky area code.
"Prank calls from KFC. How professional. Guess if they had better grilled chicken, they wouldn't be so chicken," the video concludes.
A rep from KFC dismissed the charge, however, telling
magazine, that they were "grilling our employees to see if any have been doing any undercover dialing."
We can't prove whether members of Colonel Sanders' Army have been waging a covert war on a California competitor. But for the good of the poultry-eating population, we urge both companies to end this silly game of chicken.
Dumb-o-meter score: 85 -- The whole sorry affair is just
fowl
in our opinion.
Sprint Flees
Sprint Nextel
(S) - Get SentinelOne, Inc. Class A Report
is running as fast as it can from its network business -- right into oblivion.
Sprint, which has a total of 49,000 employees worldwide, is close to outsourcing the management of its cellular network to
Ericsson
(ERIC) - Get Telefonaktiebolaget LM Ericsson Report
, according to Monday's
Wall Street Journal
. The potential deal would transfer 5,000 to 7,000 U.S. employees to the wireless-equipment supplier in a cost-cutting maneuver conjured up to offset Sprint's declining subscriber numbers.
Sprint said Monday it lost 1.25 million of its postpaid customers during the first quarter and saw its total number of wireless users decline by around 182,000. Aside from customers, Sprint lost $594 million in the quarter as sales dropped 12% from last year to $8.21 billion.
According to the WSJ, Sprint could end up paying Ericsson as much as $2 billion to maintain the thousands of cell sites that carry Sprint's wireless voice and data traffic.
Put simply, Sprint was once a telecom giant running a towering empire of, well, towers. And now they morphing into what looks to us like a moribund marketing firm peddling other people's phones.
Then again, what else can they do, other than count their losses, wave goodbye to subscribers and pray the
Palm
(PALM)
Pre saves their hides.
Conversely, Ericsson's bid for Sprint's outsourcing business shows what an aggressive company can do if it has guts -- and money to burn. Ericsson reportedly beat out
Alcatel Lucent
(ALU)
, and a joint venture between
Nokia
and
Siemens
(SI) - Get Silvergate Capital Corp. Class A Report
for the right to run Sprint's network.
And while most analysts agree Ericsson won't make too much on the hypothesized deal, especially in the early years, it does give the Swedish company a beachhead into the same "lucrative" North American market that Sprint is sprinting away from.
Wherever Sprint winds up, we just hope the company will send us a postcard when it gets there. How else will it communicate once it's sold off all its assets?
(Sprint's response to this item is posted as a
letter to the editor.
)
Dumb-o-meter score: 80 -- Will the last Sprint customer please switch off the phone?
GM Goes For Broke
GM's
(GM) - Get General Motors Company Report
cars used to burn rubber and turn heads. Now they burn billions of dollars and nobody blinks.
The nation's largest automaker said Thursday that
it lost $6 billion in the first quarter
while burning through $10.2 billion in cash. GM blamed global economic pressures and low worldwide auto sales for negating the impact of its $3.1 billion in cost reductions.
So how did the market react to GM burning through all those billions?
Frankly, it didn't even twitch. GM's stock opened unchanged at $1.66 a share.
Perhaps the stock remained stuck in neutral, as opposed to going speedily in reverse, because the actual loss was $9.78 a share, which at the very least was better than Wall Street's $11.05 a share estimate. And maybe it was because revenue fell 47% to $22.4 billion, still an ugly number, but once again better than analysts' expectation of $20.2 billion.
Or conceivably the Street was reassured by GM CEO Fritz Henderson, who said the company's first-quarter results underscored the importance of executing GM's revised viability plan "which goes further and faster to lower our break-even point."
Then again, nobody listens to poor old Fritz. Heck, barely anybody knows he's running the company.
Our guess is that pending any major breakthroughs at the bargaining table, this stock will remain idle until May 26. GM said it needs 90% support from bondholders for its most recent deal by that date or it will file for bankruptcy.
Under the new deal, bondholders would own about 10% of the company after swapping $1,000 worth of debt for 225 shares, which would then be reduced to two shares in the new General Motors in a 1-for-100 reverse stock split.
The bondholders, like the stock after its earnings announcement, don't seem interested in budging. So it looks like GM will soon follow fellow Big Three member Chrysler into bankruptcy court, where the company can be stripped down and rebuilt.
Until then, however, GM can spin its wheels and do doughnuts on the White House lawn and nobody will really care.
Dumb-o-meter score: 85 -- Gentlemen! Stop your engines! D-Day for Detroit is almost here.
Before joining TheStreet.com, Gregg Greenberg was a writer and segment producer for CNBC's Closing Bell. He previously worked at FleetBoston and Lehman Brothers in their Private Client Services divisions, covering high net-worth individuals and midsize hedge funds. Greenberg attended New York University's School of Business and Economic Reporting. He also has an M.B.A. from Cornell University's Johnson School of Business, and a B.A. in history from Amherst College.