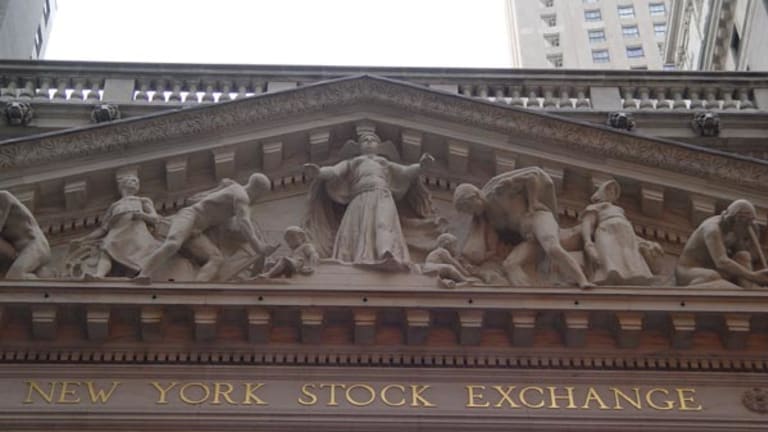 Five Dumbest Things on Wall Street: May 23
Biovail of ignorance; Mozilo's email malfunctions; an unFortune-ate prediction; clear the dairy air; Ballmer egged on.
This story contains a correction.
1. Biovail of Ignorance
Last Friday, Canadian biotech
Biovail
( BVF) settled criminal allegations. Again.
This time the charges stemmed from the Department of Justice and were related to the way Biovail handled the release of its heart drug Cardizem LA. The company said that a segment of its pharmaceutical business known as Biovail Pharmaceuticals is pleading guilty to offering doctors money to put patients on Cardizem. In addition to this admission of wrongdoing, Biovail is kindly offering the government $24.6 million to settle the matter.
The misdeeds stem from antics by former CEO Eugene Menlyk, under whom Biovail gave a long-acting version of Cardizem, along with $1,000, to doctors for use in trials of the drug.
The Wall Street Journal
and
Barron's
reported instances of this misdeed in 2003. In a 2006 lawsuit, Menlyk cried foul, claiming the stories were unfounded, planted in the media by short-sellers.
Now Menlyk's righteous indignation has come back to haunt him. Documents in another suit launched against Biovail by a Canadian union pension fund have revealed that Biovail senior manager Rolf Reininghaus hesitated to disclose the Cardizem program because investors would surmise that Biovail was "bribing physicians." He added that the tactic "is close to the line" but said it's also important that Biovail stock go up. Biovail settled that lawsuit in December for $138 million.
Since then, the
Securities and Exchange Commission
has filed complaints against Melnyk and other Biovail alums, and Menlyk also remains on the radar of federal prosecutors.
In a press release, current Biovail CEO Bill Wells expressed relief, saying he is "pleased to resolve another legacy action. The agreement with the DOJ represents the fourth such action to be resolved in the past six months." He added that "the
settlement agreement eliminates the significant exposure to the Corporation related to this matter and should immediately reduce our ongoing legal expenses."
Only after years of dealing with a history of bribery and cover-ups can a guilty plea to federal charges start to look like a positive result.
Dumb-o-meter score: 65. If Biovail hadn't settled the bribery suit, "the company was at risk of being excluded from doing business with any health program sponsored by the U.S. federal government. These programs represent a material proportion of Biovail's business," it said.
2. Mozilo's Email Malfunctions
Countrywide Financial
( CFC) CEO (and frequent "Five Dumbest" honoree) Angelo Mozilo once again made headlines this week.
But unlike the creative lending practices and securitized debt obligations that placed Countrywide at the center of the U.S. housing crisis and on permanent stupidity watch, this week's head-scratcher required no great financial savvy. All it took was a simple click of a mouse.
On Monday, an email from Daniel Bailey Jr., a dissatisfied Countrywide customer, made it to Mozilo's desk. Bailey was looking for a modification on the terms of an adjustable-rate loan that was getting hard to pay. Mozilo dutifully read the email and typed this gem of a reply, but then made the mistake of hitting "reply" rather than "forward":
"This is unbelievable. Most of these letters now have the same wording. Obviously they are being counseled by some other person or by the Internet. Disgusting."
Now, it turns out Bailey had indeed used a form-style letter he found on the Internet. (Interested Countrywide customers can find them
). And Mozilo has a point: Miss Manners does say in her pending housing-crisis revision to her book that near-impoverished homeowners should add at least a few personal touches to emails when begging for mercy from their lenders.
But seeing as he ignored that facet of politesse, it's no surprise that Bailey posted the orange-hued man's reply on an Internet message board. News outlets gleefully spread the word, and others who have Countrywide gripes seized on Mozilo's email as evidence that the CEO doesn't care about customers.
In response to this little issue, Countrywide said in a statement late Tuesday that the company and Mozilo "regret any misunderstanding caused by this inadvertent response to an e-mail by Mr. Bailey. Countrywide is actively working to help borrowers like Mr. Bailey keep their homes."
In spite of such press releases, many Countrywide investors remain confused about the mortgage lender's efforts in this regard, as do some members of the judiciary. Last week, a federal judge ruled that a lawsuit, which alleges that top Countrywide officials have misled shareholders about the company's financial health, should go to trial.
Dumb-o-meter score: 91. Countrywide probably regrets that judge's misunderstanding as well.
3. An UnFortune-ate Prediction
The current cover of list-making glossy and storied recounter of Wall Street tales
Fortune
carries the story "The Biggest Deal Ever" and shows Providence Equity Partners CEO Jonathan Nelson in large, living color. It's a great picture. The reporting, unfortunately, proved less than predictive.
"Inside a Record-Breaking $51 Billion Buyout" offered a look at Providence's effort to acquire
BCE's
Bell Canada, featuring a rare interview with Nelson and carefully detailing the hard work and detailed planning that went into the buyout offer.
Then on Monday,
The New York Times
reported that banks financing the deal -- including
Citigroup
(C) - Get Citigroup Inc. Report
,
Deutsche Bank
(DB) - Get Deutsche Bank AG Report
and
Royal Bank of Scotland
(RBS) - Get Royal Bank of Scotland Group plc Sponsored ADR Report
-- were balking, in the same manner that banks had blinked at backing big deals to take over
Clear Channel
(CCU) - Get Compania Cervecerias Unidas S.A. Sponsored ADR Report
,
Sallie Mae
and
United Rentals
(URI) - Get United Rentals, Inc. Report
this past year.
Then on Thursday, the works got further gummed when
The Wall Street Journal
said that a Quebec court rejected the takeover altogether after BCE bondholders complained that they weren't getting a fair deal. The ruling threatens to turn the record-breaking deal completely busto, says the
Journal
.
"Bagging Bell Canada put Providence Equity Partners into the top tier of private money firms. Now Jonathan Nelson has to keep it there," claimed the headline on the
Fortune
story. A few days later, it's clear that Nelson has a couple more items on his to-do list.
Dumb-o-meter score: 95. Journalism is hard. Financing a private-equity buyout in the middle of the credit crunch is harder.
4. Clear the Dairy Air
There are a lot of unethical ways to get rich, but it's hard to get much more reprehensible than cheese-price manipulation.
A Monday report in
The Wall Street Journal
indicates that stomach-churning prices for an assortment of milk-related goods may be criminally high. The U.S. consumer can now add price-fixing by the Dairy Farmers of America to a growing list of reasons why their paychecks seem shorter these days.
The Commodities Futures Trading Commission, known for its intolerance of over-leveraged lactose, is grilling DFA on alleged manipulation of cheese contracts on the Chicago Mercantile Exchange in 2004. The co-op stands accused of unduly influencing the formula that determines a Department of Agriculture-mandated floor on raw milk prices, which drive DFA revenue. Meanwhile, DFA's members are pursuing legal action against the co-op,
Dean Foods
(DF) - Get Dean Foods Company Report
and others, accusing the cohort of conspiring to underpay farmers for their milk products.
But consumers who take cream aren't the only ones getting milked. A separate inquiry by the Department of Justice indicates that former DFA chief Gary Hanman authorized an illicit payment of $1 million of co-op money to a former Dairy Farmers board member -- a move that gives new meaning to the phrase "cow-tipping."
The co-op's members themselves have filed civil suits alleging that "DFA management also diverted millions of dollars
and assets that lawfully belonged to DFA dairy farmer members through a pattern of inappropriate transactions."
Current chief Richard P. Smith acknowledges a sour smell at his business. He told the
Journal
, "This was a severe breach of trust, and we are not going to cover it up," vowing to change the culture at the cooperative.
Dumb-o-meter score: 88. Pasteurization might help.
5. Ballmer Gets Egged On
Steve Ballmer, CEO of the ever-put upon software company
Microsoft
(MSFT) - Get Microsoft Corporation (MSFT) Report
found himself under fire this week, from shareholders and egg-throwers.
Ballmer, who infamously danced around on stage a few years ago, had far less fun this week when eggs were thrown at him while he was speaking at Cornivus University in Budapest on Monday. No one was injured.
This is not the first time disgruntled audience members have resorted to food-launching as a means of self-expression. In February 1998, Microsoft Chairman Bill Gates took a cream pie to the face in Flanders, Belgium. At Brown University in April,
New York Times
columnist Thomas Friedman suffered at the hands of pie-wielding assailants.
During Monday's ovum onslaught, the assailant, in difficult-to-decipher English, accused Microsoft of stealing "45 million hundred and forty teenage" from the Hungarian people, and said Ballmer should "give that money back -- right now!" He then lobbed eggs at the surprised CEO.
Perhaps most amazing is that the Hungarian avenger missed the hulking Ballmer, who displayed surprising agility as he dove behind an oversized podium. The remaining students in attendance expressed surprise at the outburst, and then Ballmer defused the situation by calling the incident a "friendly disruption."
A spokesperson for Microsoft told the
AP
that the company doesn't know who the heckler is. However, the allegation scrawled across his shirt -- "Microsoft = Corruption" -- has been widely noted. The Hungarian government has recently signed a $60 million deal with Microsoft to enhance computer literacy in the country. This may offer a clue as to the motive for this act of eggery.
Then on Wednesday, at a project launch in Israel, Ballmer said again that his company will no longer be bidding to buy the Internet company
Yahoo!
(YHOO)
. Surprisingly, no one threw eggs at him, despite a spate of billionaire investors, including Carl Icahn and T. Boone Pickens, who are agitating to merge the companies.
Dumb-o-meter score: 73. At least Ballmer didn't start running around high-fiving the crowd after he dodged the attack.