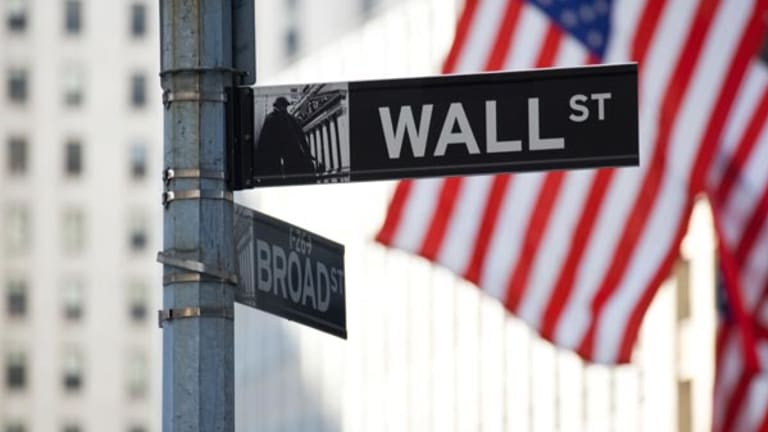 Five Dumbest Things on Wall Street: May 22
Woody's Big Win; Wyeth's Upset Tummy; Congress Goes Gun Crazy; Alternative Energy's Agony; WWE's Denver Debacle
Woody's Big Win (or Dov's Dumb Defeat)
Thanks to a CEO gone
Bananas
putting up a silly
Annie Hall
billboard, the director of
Take the Money and Run
is doing exactly that.
American Apparel
(APP) - Get AppLovin Corp. Class A Report
agreed to pay Woody Allen $5 million to settle a lawsuit over the company's use of his image on advertisements, Allen said on Monday. Allen sued the U.S. clothing company over a year ago seeking more than $10 million in damages after his image was featured without his consent on billboards in New York and Los Angeles. The case was set for trial this week with Allen expected to testify.
The billboards, which were taken down after a week's viewing in 2007, used a frame from Allen's film "Annie Hall" depicting the actor and director as a Hasidic Jew, complete with long beard, side curls and black hat. Allen's lawyers called the ads a "blatant misappropriation" and commercial use of his image. American Apparel's renegade CEO Dov Charney, however, argued the billboards were intended as a parody.
How that parody would help Charney's sell more racy clothing, we aren't exactly sure. But Charney remained defiant even in defeat telling reporters he was "not sorry for expressing myself" and that the case was about "the dignity of ideas."
Sorry Dov. There was not a lick of dignity involved in this charade, just a bad idea followed by a ton of legal fees and an even bigger bill footed by your insurance company and shareholders.
Not that Charney minds showering his lawyers with shareholder dollars. Aside from this quixotic free speech crusade, Charney has kept his legal team busy for years fending off sexual harassment and wrongful termination lawsuits.
To his lawyers -- and now to Woody -- Charney means only one thing:
Ka-ching!
.
Dumb-o-meter score: 95 -- Sad to say, Charney's $5 million payout probably outgrossed Woody's last five movies.
Wyeth's Upset Tummy
All the Protonix in the world won't settle the stomachache the U.S. government is about to give
Wyeth
( WYE).
The Justice Department on Monday accused the drugmaker of cheating Medicaid programs out of hundreds of millions of dollars by overcharging for Protonix, a drug that suppresses stomach acid. The government and more than a dozen states are seeking financial penalties against Wyeth of up to three times the amount lost by Medicaid.
The government alleges Wyeth offered steep discounts to thousands of hospitals for two versions of Protonix between 2000 and 2006, according to court papers. But then Wyeth allegedly hid that information causing Medicaid programs throughout the country to pay much more for these drugs than they should have. Manufacturers of brand-name drugs are required by law to offer the same rebates to state Medicaid programs that they provide to other customers. Medicaid is the U.S. health program for low income families.
The two whistleblowers who filed the original suits must now be feeling pretty good with Uncle Sam on their side. They would be entitled to some share of the sum if a settlement is reached with the Madison, N.J.-based company.
On the other side of the river, New York-based
Pfizer
(PFE) - Get Pfizer Inc. Report
, which is trying to swallow Wyeth in a $60 billion deal slated to close later this year, is certainly watching the headlines with acute indigestion.
Predictably, a Wyeth spokesman defended the company's pricing plan saying it believes its "calculations were correct" and that the company intends to "defend itself vigorously in these actions."
Now that's
chutzpah
. The government has whistleblowers on its side. And still Wyeth is whistling past the graveyard.
Even when it is likely to get buried.
Dumb-o-meter score: 90 -- If Wyeth wanted to steal money from the government, it should have just become a bank and applied for TARP funds.
Congress Goes Gun Crazy
A credit card can slay your savings account while a concealed weapon can kill a grizzly bear. Apparently Congress doesn't see the difference.
Both Houses of Congress overwhelmingly passed a bill this week making it tougher for credit card issuers to raise fees and interest rates. President Obama pushed for such legislation for weeks in order to get it to his desk by Memorial Day.
One enterprising senator, however, took Obama's figurative gun to the head of Congress a little too literally.
Sen. Tom Coburn (R, Okla.) inserted an amendment to the credit card bill that allows concealed, loaded guns in national parks and wildlife refuges. The measure reverses a federal judge's decision in March to block a rule change by former President George W. Bush, who tried to allow park visitors to carry concealed weapons.
In our humble opinion, it seems less than sporting to hunt an unarmed Yogi Bear with an assault rifle. And allowing a would-be assassin the additional advantage of hiding his AK-47 only increases the unevenness of the match-up.
Nevertheless, Coburn sees things differently, calling his legislative end-run a genuine step to protect the Second Amendment.
In fact, Coburn's ploy is likely to succeed. Obama has had the credit card companies in his crosshairs since his presidential campaign and may not get another chance to pull the trigger. He stepped up his harsh rhetoric this year after media reports emerged detailing how firms were doubling and tripling their charges to customers, including those with good credit. In a White House meeting in April, Obama directly applied pressure to executives from card issuers and servicers including
Bank of America
(BAC) - Get Bank of America Corp Report
,
JPMorgan Chase
(JPM) - Get JPMorgan Chase & Co. Report
,
Citigroup
(C) - Get Citigroup Inc. Report
,
Wells Fargo
(WFC) - Get Wells Fargo & Company Report
,
Visa
(V) - Get Visa Inc. Class A Report
,
Mastercard
(MA) - Get Mastercard Incorporated Class A Report
,
Capitol One Financial
(COF) - Get Capital One Financial Corporation Report
,
American Express
(AXP) - Get American Express Company Report
,
Discover Financial Services
(DFS) - Get Discover Financial Services Report
, as well as several other firms.
We say Congress should only conjoin guns and financial services in legislation to deter bank robbers. But we'll defend to the death Coburn's right to make everybody else look dumb.
Dumb-o-meter score: 85 -- For the record, the Five Dumbest Lab wholly supports the right to arm bears.
.
Alternative Energy's Agony
The Wall Street hype machine lifted alternative energy stocks sky-high. Sad to say, the sun is fast setting on ethanol and solar stocks.
Pacific Ethanol
(PEIX) - Get Alto Ingredients, Inc. Report
, the largest West Coast-based producer and marketer of ethanol, said Monday that subsidiaries that own its four ethanol production facilities filed for Chapter 11 bankruptcy. The Sacramento, Calif.-based company said that certain lenders have agreed to debtor-in-possession financing of up to $20 million so that the plant subsidiaries can meet customer obligations related to ongoing operations.
Pacific Ethanol went public to much hoopla in March 2005, partly due to the company's high-profile backer,
Microsoft
(MSFT) - Get Microsoft Corporation Report
founder Bill Gates. The stock surged from $10 to more than $40 in May 2006 as politicians pushed biofuel's potential, and unwittingly, corn prices, sky-high.
Falling oil prices and oversupply, however, depressed ethanol prices and margins. By 2008, the company was bleeding cash and Gates was feverishly selling off his shares. On Monday, prior to calling it quits, Pacific Ethanol reported a first-quarter loss of $23.9 million on revenue of $86.7 million.
The company won't have to worry about quarterly reports anymore. It now trades around 36 cents a share, joining fellow ethanol high-flyer turned fast-faller
VeraSun
in the bankruptcy courts.
At least Pacific Ethanol can take heart that it was not the only alternative energy stock stung this week. Investors also revisited the Icarus-like stories of a pair of high profile solar stocks.
China's JA Solar Holdings
(JASO)
, which went public in February 2007, reported a wider-than-expected quarterly net loss on Tuesday and warned revenues would miss its 2009 target, sending its shares down 3% to $3.21. Last year, the stock traded seven times its current price.
Its smaller rival
Solarfun Power Holdings
( SOLF) not only posted a loss for the quarter, but lost its CEO as well. Solarfun Chief Executive Harold Hosken announced his resignation this week. Shares in JA Solar now trade around $6, down from $25 a year ago.
Both companies make products that turn sunlight into electricity. But that has not been the problem for the pair of alternative energy players.
What they really needed was a way to turn publicity into profits.
Dumb-o-meter score: 75 -- Green energy stocks are turning trader's screens deep red.
.
WWE's Denver Debacle
Vince McMahon tried to settle a corporate dispute with a winner-take-all steel cage wrestling match. We think he may be onto something.
McMahon, the chairman of
World Wrestling Entertainment
(WWE) - Get World Wrestling Entertainment, Inc. Class A Report
, challenged Denver Nuggets owner Stan Kroenke to a steel-cage match after learning that Kroenke's management company double booked Denver's
Pepsi
(PEP) - Get PepsiCo, Inc. Report
Center on Monday.
The Nuggets were scheduled to host the Lakers in Game 4 of their first Western Conference final since 1985. Meanwhile, McMahon's WWE reserved the spot nine months ago for its Monday Night Raw event and has already sold more than 10,000 tickets. Monday Night Raw draws almost 6 million viewers weekly, making it one of the top-rated programs on cable television.
"Quite frankly, it's my view that Stan Kroenke should be arrested, should be arrested for impersonating a good businessman, because he's not a good businessman," McMahon said on
ESPN
. "A good businessman doesn't book a World Wrestling Federation live televised event on Monday night realizing that his team in all likelihood would not make the playoffs."
McMahon went on to challenge Kroenke to a steel cage match, a wrestling gimmick normally reserved for feuding wrestlers unable to square their differences in a regulation ring. Ever the promoter, McMahon billed the arena dispute as "The Denver Debacle" on the WWE Web site.
Ultimately, the Staples Center, home of the Los Angeles Lakers, stepped up Wednesday with an offer to host Monday night's wrestling card, adding a Tuesday night smack-down as well. Like a true wrestling heel, McMahon took a final cheap shot at Kroenke by apologizing to Denver's WWE fans "who have been inconvenienced by Kroenke Sports Enterprises."
We say Kroenke shouldn't have let McMahon pin him down. The smart move was for him to stage both events in Denver at the same time.
Imagine the ratings for a WWE vs. NBA battle royale?
Dumb-o-meter score: 70 -- We went to a wrestling match and a basketball game broke out.
Before joining TheStreet.com, Gregg Greenberg was a writer and segment producer for CNBC's Closing Bell. He previously worked at FleetBoston and Lehman Brothers in their Private Client Services divisions, covering high net-worth individuals and midsize hedge funds. Greenberg attended New York University's School of Business and Economic Reporting. He also has an M.B.A. from Cornell University's Johnson School of Business, and a B.A. in history from Amherst College.