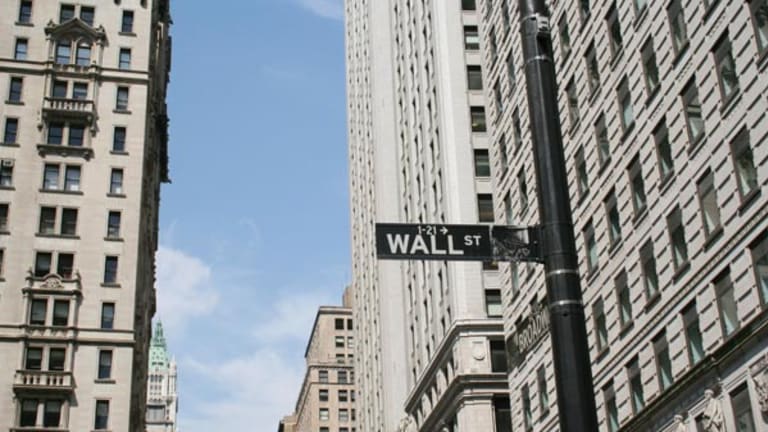 Five Dumbest Things on Wall Street: March 20
Good grief, AIG; IBM's Sun stroke; leaving Las Vegas Sands; Ackman needs new target; Coke has no juice in China.
Good grief, AIG; IBM's Sun stroke; leaving Las Vegas Sands; Ackman needs new target; Coke has no juice in China.
How Do You Spell 'Stupid?' A-I-G
With great pride, we hereby enshrine
American International Group
(AIG) - Get Report
into our Five Dumbest Hall of Fame.
Never in the field of corporate folly has a single company been worthy of so much ridicule and at the expense of so many. For all the asinine things AIG has done for us, we elevate it into the highest circle of idiots.
To commemorate this special occasion, and with the hope that AIG's pratfalls provide us with column fodder for years to come, we offer you AIG's dumbest highlights that have recently come to light.
AIG, which was saved from bankruptcy by $170 billion in federal bailout funds, revealed that it paid $220 million in "retention" awards to its financial products employees, the very same unit responsible for selling the risky credit default swaps that drove the company to the brink of bankruptcy.
Edward Liddy, the CEO of AIG, justified the hefty bonuses in a letter to
Treasury
Secretary Timothy Geithner dated Saturday saying that AIG needs them to "attract and retain the best and brightest talent."
If that weren't galling enough, AIG granted bonuses of $1 million or more to each of 73 employees, including 11 who no longer work for the company, according to New York Attorney General Andrew Cuomo.
Dumbness, in its severe forms, is contagious, and AIG is the equivalent of the plague. Hence, more fodder for the company's entrance into the Hall of Fame. Get this: In a letter to House Speaker Nancy Pelosi, Geithner defended his inability to prevent the bonus payments from AIG, now 80% owned by the U.S. government, saying the Treasury's "lawyers agreed, in consultation with outside counsel, that it would be legally difficult to prevent these contractually-mandated payments."
And still more are now infected: On Monday,
Goldman Sachs
(GS) - Get Report
, which had last autumn denied having any "material" exposure to AIG, was revealed to be the biggest beneficiary from the bailout of AIG, receiving $12.9 billion of recently received government money to settle credit default swap (CDS) trades between the two firms. The bailout's chief architect, of course, was former Goldman CEO and later Treasury Secretary Hank Paulson, and Liddy himself was a Goldman board member until he stepped down to take the top job at AIG.
And, unfortunately, no one is apparently immune. President Barack Obama told reporters Wednesday that his administration was not responsible for a lack of federal oversight that preceded AIG's demise. But Obama added, "The buck stops with me."
We did like one piece of advice that came out of Washington this week. In a radio interview Tuesday, Sen. Charles Grassley (R., Iowa) said AIG's executives should "follow the Japanese example and come before the American people and take that deep bow and say, I'm sorry, and then either do one of two things: resign or go commit suicide."
Yo, Chuck. We like your attitude. Only one problem: Unless these AIG execs have life insurance policies with the U.S. Treasury as beneficiary, that option -- while pleasant to ponder -- won't work.
But give us a call. We can put the Hall of Fame, and the newly enshrined AIG brass, most any place in the world. What's your thoughts on Leavenworth or Sing Sing?
Dumb-o-meter score: 100 -- Take a bow, AIG. You earned that perfect score.
IBM's Sun Stroke
IBM
(IBM) - Get Report
should know by now it's dangerous to look directly into the
Sun
( JAVA).
Merger talks are already under way between IBM and Sun Microsystems, according to a report in Wednesday's
Wall Street Journal
, which says that IBM could pay up to $6.5 billion for the troubled tech firm. Sun's stock soared more than 79% on the news, finishing the day at $8.89, as investors warmed to the idea of an IBM acquisition.
The takeover talk comes at a crucial time for Sun, as the computer systems maker continues to suffer from a brutal spending climate, as well as stiff competition from both IBM and
Hewlett-Packard
(HPQ) - Get Report
. Sun, which struggled to swallow its $4.1 billion acquisition of StorageTek in 2005, has been hit by slowing demand for its tape systems and Unix servers. Last year, the company swung to a massive $1.8 billion loss on $3.7 billion in sales.
Set against this backdrop, the company's shares have plunged in the last 12 months and were trading well below their 52-week high of $16.72 prior to Wednesday's spike. Sun traded to a reverse-split-adjusted high of $250 in April 2000, the height of the Internet bubble.
It's gone from dot-com darling to tech doormat and now back again. What a long, arduous trip it's been for Sun. And considering all the losses, layoffs, internal restructurings and even a ticker change, one would have thought the sun would have set on this tech wreck a long time ago.
Not Big Blue it seems. IBM is willing to pay twice Sun's market value, despite the company's not-so-sunny track record. If the deal goes through, Sun's losses will dilute IBM's earnings by about 5 cents a share, according to one buy-side analyst. This leads us to the conclusion that IBM is doing the deal more out of desperation, and an inability to grow its business organically, than valuation.
"I'm not worried about the future, I'm focused on its arrival date," wrote Sun CEO Jonathan Schwartz in a recent blog posting about the relevance of Sun's offerings.
It looks like the future is now for Sun. And they better take advantage of it before IBM realizes it had a total eclipse of the brain and drops the offer.
Dumb-o-meter score: 80 -- IBM needs to wake up and smell the JAVA.
Leaving Las Vegas Sands
Las Vegas Sands
(LVS) - Get Report
is suffering from a case of March madness. Too bad it's in the boardroom, not the sports-betting business.
The struggling casino company said board member James Purcell resigned last Friday due to a disagreement over the ouster of William Weidner, Sands former president and chief operating officer. Weidner, a nearly 14-year veteran of the company, resigned the previous Sunday after the board informed him his employment would be terminated.
In a letter filed with the
Securities and Exchange Commission
, Purcell said he had doubts "as to the wisdom and the timing" of the board's decision to cast out Weidner.
"No business enterprise should undertake the significant actions that have been and are proposed to be taken today without a full meeting of its board," said Purcell.
Sands, which is controlled by Chairman and CEO Sheldon Adelson, replied in a statement that "the process was proper and appropriate under the circumstances." The company has already replaced Purcell with Jeffrey H. Schwartz, chairman and co-founder of Global Logistic Properties.
What a joke. In a town where the house always wins, these guys sure are acting like a bunch of craps shooters. And all this imbecilic, C-level sniping could not come at a worse time. Sands is struggling to avoid a default on its $10.47 billion outstanding debt in the face of vanishing gamblers and untimely expansions into Singapore and Bethlehem, Pa. Sands stock now trades just at a lowly $2, down 97% over the past year.
To be sure, this house has been divided for a long time, so all this pettiness probably should have been expected. In a regulatory filing last year, the company set a new standard for corporate dysfunction when its board created an executive committee just to settle fights between Adelson and other senior management members.
Although it's not like Adelson was ever going to lose a boardroom battle anyway. When he was asked last week if Weidner's termination would lead to other managers departing, the imperial Adelson replied that "nobody's indispensable."
That is, nobody except the Sands' customers: the gambler and his money. And like Elvis Presley, the patron saint of Sin City, he has already left the building.
Dumb-o-meter score: 95 -- The Sands of time are running out for Sheldon Adelson's casino empire.
Ackman Misses Target
Hedge fund manager Bill Ackman needs to find a new
Target
(TGT) - Get Report
already.
Ackman, the founder and chief executive of Pershing Square Capital Management, continued his obsession with the struggling discount retailer Tuesday, offering five nominees for board seats that will come up for election at Target's annual shareholder meeting in May.
If elected, Pershing Square's nominees will hold five of the 13 seats on the discount retailer's board. Pershing Square Capital is Target's third-largest investor, with beneficial ownership of approximately 7.8% of its outstanding common stock, through shares and options.
Target shares traded this week around $30 a share, down 50% from the level where Pershing Square began building its stake two years ago. One of Ackman's funds, Pershing Square IV, a leveraged investment devoted entirely to Target, lost 90% last year. Ackman called the fund's performance "one of the greatest disappointments of my career to date."
In addition to Ackman, Pershing Square's nominees include
Winthrop Realty Trust
(FUR)
CEO Michael Ashner, former
Starbucks
(SBUX) - Get Report
CEO Jim Donald, Professor Ronald Gilson, and Richard Vague, the former CEO of First USA, Juniper Financial and Barclays Bank Delaware.
"We believe that our nominees will bring insight, accountability and fresh and relevant perspectives to the Target board," Ackman said in a statement.
Bully for them Bill, but will they be bringing any retail experience to the checkout counter as well? Not much from the looks of it. Unless, of course, you took some time off from losing other people's money to stock shelves and sweep aisles at
Sears
(SHLD)
with fellow hedgie-turned-failed-retailer Eddie Lampert.
Judging from your slate, your proxy battle is just another one of your vain attempts to put Target's store leases into a real estate management trust -- something that current management is dead set against, despite your unceasing -- and wildly unproven -- claims that it will unlock shareholder value.
Take it from, us Bill, the best way to succeed in retail is not through accounting wizardry, but by selling more products at better margins.
All your wild schemes are doing is turning you into a target for ridicule by people like us. And more often than not, our aim is true.
Dumb-o-meter score: 85 -- We wonder if Bill ever heard of a little store called Wal-Mart (WMT) - Get Report. ... Nah.
Chinese Flatten Coke
Coca-Cola's
(KO) - Get Report
China strategy has run out of juice.
The Chinese government rejected Coca-Cola Co.'s $2.5 billion bid to buy a major Chinese fruit juice maker Wednesday, raising charges of nationalism and protectionism. Coca-Cola's purchase of
Huiyuan Juice Group Ltd.
, which would have been the largest acquisition of a Chinese company in history, was blocked by the Chinese Commerce Ministry on anti-monopoly grounds.
Huiyuan has 42% of China's pure juice market, dominating supermarket shelves with its trademark green cartons of orange, apple, pear and grape juice. Huiyuan's founders and major shareholders pressed for the sale as a way for the company to benefit from Coke's marketing expertise.
Chinese nationalists and rival domestic juice makers began protesting last September when the deal was announced, claiming it would give Coke an unfair advantage in China's beverage market. Earlier this month, Coca-Cola tried to curry favor with Chinese regulators by saying it would invest $2 billion in China over the next three years.
A Chinese foreign ministry spokesman denied claims of protectionism Wednesday, saying China's "policy of expanding, opening up and positively utilizing foreign investment has never changed."
Yeah, right. And we have a bridge in Beijing to sell you. The decision to dismantle the Coke deal is clearly payback for Congress preventing the
Chinese National Offshore Oil Corp.
(CEO) - Get Report
, or Cnooc, from acquiring Unocal in 2005. The U.S. House of Representatives voted against that takeover, citing security concerns over a foreign country controlling America's oil supply. Unocal ultimately merged with California-based
Chevron
(CVX) - Get Report
for $1 billion less than Cnooc's offer.
And while the Chinese may be voracious fruit juice drinkers, we hardly think their national security depends on the stuff as much as America's depends on the free flow of oil.
Now Coca-Cola, the iconic American brand, is paying the price for protectionism. And that's got us wondering: How can anybody buy the world a Coke if nobody wants to talk to each other?
Dumb-o-meter score: 80 -- Trade war over Coke? That's "The Real Thing."
Before joining TheStreet.com, Gregg Greenberg was a writer and segment producer for CNBC's Closing Bell. He previously worked at FleetBoston and Lehman Brothers in their Private Client Services divisions, covering high net-worth individuals and midsize hedge funds. Greenberg attended New York University's School of Business and Economic Reporting. He also has an M.B.A. from Cornell University's Johnson School of Business, and a B.A. in history from Amherst College.