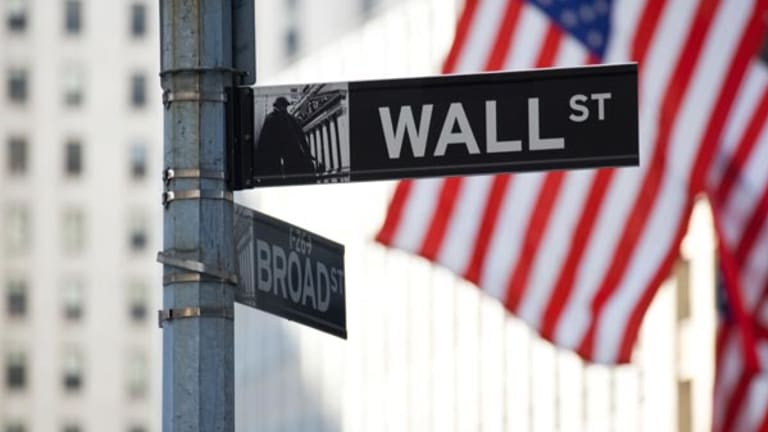 Five Dumbest Things on Wall Street: March 13
Palm Pre's premature promoter; Moody's hits bottom; Citi's huge unfinished quarter; bye-bye, Bernie; Google's great repricing.
Palm Pre's premature promoter; Moody's hits bottom; Citi's huge unfinished quarter; bye-bye, Bernie; Google's great repricing.
Palm's Pinhead Promoter
If only somebody slapped a palm over Roger McNamee's mouth, then
Palm
( PALM) could have saved itself a whole lot of trouble.
The tech company filed a "free writing prospectus" with the
Securities and Exchange Commission
Monday on the subject of Palm investor Roger McNamee's recent
Bloomberg
TV interview and subsequent article. The SEC document includes 10 "Clarifications and Corrections" concerning remarks made by McNamee about the upcoming Palm Pre's functionality, as well as comparisons with
Apple's
(AAPL) - Get Report
iPhone. McNamee co-founded Elevation Partners, a private-equity fund that invested $425 million in Palm in an effort to bring the smartphone maker back from the brink of collapse.
The highly anticipated Palm Pre is said to be scheduled for a summer release. The lack of a product on store shelves, however, did not stop McNamee from boasting to
Bloomberg
that the Pre was going to be "several times faster than the iPhone" and would "run rings around
Apple on the Web."
McNamee also predicted that "not one" of the iPhone's early adopters would renew their contracts, which are set to expire this summer.
Obviously McNamee's intention was to promote his own product while simultaneously taking a bite out of Apple, the reigning giant of the industry. What he really did, however, was get a rise out of Palm's attorneys, who rushed to whitewash his colorful yet highly nonsensical commentary.
With respect to the Pre being faster than the iPhone, Palm's filing states that "the Palm Pre is still under development, and it is premature to state the speed at which the device accesses the Web or the relative speed of the Palm Pre compared to the smartphone products of competitors."
And as for his summer forecast that every single iPhone user would switch to Pre, Palm's lawyers withdrew the statement, calling it an "exaggerated prediction of consumer behavior pattern."
No matter how earth-shattering the Pre may prove to be, McNamee should have been prevented from mouthing off. Palm still has no product on the shelves and Apple could still surprise the market with a new product or upgrade of their own.
Even David wasn't dumb enough to take on Goliath with his slingshot still "under development."
Dumb-o-meter score: 95 -- Palm needs to muzzle McNamee Pre-emptively.
Moody's Hits Bottom
After missing the credit bubble on the way up,
Moody's
(MCO) - Get Report
is winning the race to the bottom.
The bond-ratings agency is expected to publish a monthly list called the "Bottom Rung," detailing the companies that Moody's says are most likely to default on their debts, according to
The Wall Street Journal
. The list contains the riskiest names out of the 2,073 companies rated by Moody's, touching nearly every sector of the economy. Moody's estimates about 45% of the 283 companies listed on the Bottom Rung will default on their debt in the next year.
Companies such as
Eastman Kodak
( EK),
Unisys
(UIS) - Get Report
,
MGM Mirage
(MGM) - Get Report
and U.S. automakers
General Motors
(GM) - Get Report
and
Chrysler
are on the list, says the
WSJ
.
We here at The Five Dumbest Lab know a thing or two about the list-making business, having compiled this one for years on a weekly basis. So please heed our sage advice, Moody's, when we tell you to abandon your Bottom Rung plan entirely before it's too late.
There's more to a quality list, you see, than simply crunching a few numbers and assigning them an order. It takes dedication, commitment and something else that you lack entirely -- credibility.
Moody's, along with fellow blind mice
Standard and Poor's
( MHP) and Fitch Ratings Services, sold its integrity and ratings to the highest Wall Street bidder, helping to fuel the financial meltdown. The toxic mortgage-backed assets that Moody's stamped Triple A continue to blow up on unsuspecting holders worldwide, even while the terrible trio persist in running their businesses as usual, conflicts of interest and all.
Take it from us, Moody's, put aside the Bottom Rung until you and your friends emerge from the bottom of the barrel.
Dumb-o-meter score: 95 -- We rate Moody's AAA: Always Acting Asinine.
Quarter According to Citi
Vikram Pandit must be working off a different calendar than we are. We could swear the first quarter isn't over yet.
The
Citigroup
(C) - Get Report
CEO sparked a 5.8% rally in the
Dow
Tuesday after he said
the company has been "profitable"
through the first two months of the year. Dow component Citigroup saw its shares rise almost 40% on Pandit's positive message, jumping to $1.45 from $1.05.
Pandit, in his latest effort to assuage concerns regarding the company's stock, which traded under $1 last week, said in an internal memo distributed Monday evening that the company is having the "best quarter to date" since the third quarter of 2007. The company said that, based on 2008 metrics, the first-quarter profit is $8.3 billion before taxes and provisions.
For the first two months of the year, Citi's revenue totaled $19 billion, compared with $21 billion for the fourth quarter. In addition, the firm's deposits remain stable and its securities and banking businesses are performing well, while the company continues to provide credit to consumers and corporate customers, Pandit said in his memo.
In the widely circulated message, Pandit told his troops that he remains "disappointed" with the company's current stock price as well as the "broad-based misperceptions about our company." He added that Citi's "newly strengthened capital base" will help the market recognize Citi's many strengths.
First, let us say congrats to you, Vikram, on a great two months. And thanks as well for giving an ailing market a terrific shot in the arm. It seems like that $45 billion you borrowed from the government is suiting you well. So sorry if we
misperceived
it as a complete collapse of trust, rather than a strengthening of your capital base.
Now, should we be expecting similar updates on Citi's business every two months? Or is your new strategy to leak good news only on the odd occasion you have some?
Yeah, we thought so.
Dumb-o-meter score: 90 -- Citigroup is expected to lose 32 cents this quarter and 74 cents this year. But boy they had two great months!
Bonus video! Meet the "The Mortgage Guys."
Bye-Bye, Bernie
Bernie Madoff will be spending the rest of his life in prison. He should spend some time with his victims first.
Thursday to 11 felony counts, including securities fraud and perjury, in what was the largest investment scam in U.S. history. The 70-year-old former
Nasdaq
chairman was expected to be sentenced to up to 150 years in prison for running a massive Ponzi scheme that defrauded approximately $65 billion from more than 4,800 clients, including pension funds and charities.
Madoff was charged with securities, investment adviser, mail and wire frauds, along with money laundering, making false statements, perjury, making a false filing with the SEC, theft from an employee benefit plan and two counts of international money laundering.
The charges "reflect an extraordinary array of crimes committed by Bernard Madoff for over 20 years," U.S. Attorney Lev L. Dassin said in a release. "While the alleged crimes are not novel, the size and scope of Mr. Madoff's fraud are unprecedented."
In addition to prison time, Madoff faces mandatory restitution to victims, forfeiture of ill-gotten gains and criminal fines.
We at The Five Dumbest Lab are more than pleased that Madoff is finally facing the music. After spending decades living royally off other people's hard-earned money, he deserves every second of confinement coming to him. And more.
What perturbs us, however, is that he won't be facing his victims.
U.S. District Court Judge Denny Chin outraged scores of Madoff victims by limiting investors who wanted to speak at Thursday's proceedings to those who challenged whether the plea should be accepted or whether Madoff should be allowed to remain on bail. At least 25 Madoff investors asked to speak under provisions allowing victims of crime to appear at a plea hearing.
"There is no plea bargain here," Chin said Tuesday. "Those victims who objected to a plea bargain no longer have a reason to object."
Then, let us object for them, your honor. The system failed these people, and they deserve more than the puny payouts they will be getting from the Securities Investor Protection Corp. They can't sue the SEC for negligence, so now you are leaving them not only penniless but voiceless.
So we ask you, Judge Chin, why should Madoff get the last word? Even if it is "guilty."
Dumb-o-meter score 90 -- Bernie is finally trading his penthouse for the big house. It's about time.
Google's Great Repricing
Here's a novel idea for those brainiacs at
Google
(GOOG) - Get Report
. If you really want to keep talented employees from leaving, then don't fire them.
Google said in a regulatory filing Tuesday that it
had repriced 7.64 million employee stock options
that had become less valuable, due to the sharp fall in the Internet search engine's market value during the past 16 months. The Mountain View, Calif.-based company said 15,642 employees, or more than 75% of Google's staff of 20,200, jumped at the chance to lower the exercise price of their options. The substitute options were all priced at $308.57, equal to Google's closing stock price at the end of last week.
Employees profit from options by cashing in on the disparity between the exercise price and a stock's market price. Google's workers will see a windfall of profits should Google's stock price, which peaked at $747 in November 2007, rise far above the now-lower exercise price.
The filing said that more than 6 million of the options eligible for the exchange program had original exercise prices above $500. In other words, the majority of these repriced options were severely "underwater" and had little chance of making money on their options unless the stock rallied substantially.
When the repricing plan was originally floated in January, Google CEO Eric Schmidt called it a "good deal" for employees and shareholders alike because it would enable the company to motivate and retain its top talent.
Don't give us that, Schmidt. It's a terrible deal for shareholders who, unlike Google employees, are not allowed to wipe the slate clean. The only thing shareholders get from this deal is more than $400 million in accounting charges during the next five years.
And as for keeping employees happy and in house, we have two serious questions: First, where are they going to go now that Silicon Valley is joining Wall Street in a huge white-collar job purge? And second, how about not firing them in the first place?
Google announced it was laying off recruiters and closing engineering offices in January due to the state of the economy. And earlier this month at a tech conference, Schimidt telegraphed that more cuts were coming when he said, "We are not immune" from the downturn in online advertising.
Here's an option for you, Eric: Don't reprice. Rehire.
Dumb-o-meter score: 85 -- Sinking shareholders to keep employees above water? Not so smart.
Before joining TheStreet.com, Gregg Greenberg was a writer and segment producer for CNBC's Closing Bell. He previously worked at FleetBoston and Lehman Brothers in their Private Client Services divisions, covering high net-worth individuals and midsize hedge funds. Greenberg attended New York University's School of Business and Economic Reporting. He also has an M.B.A. from Cornell University's Johnson School of Business, and a B.A. in history from Amherst College.