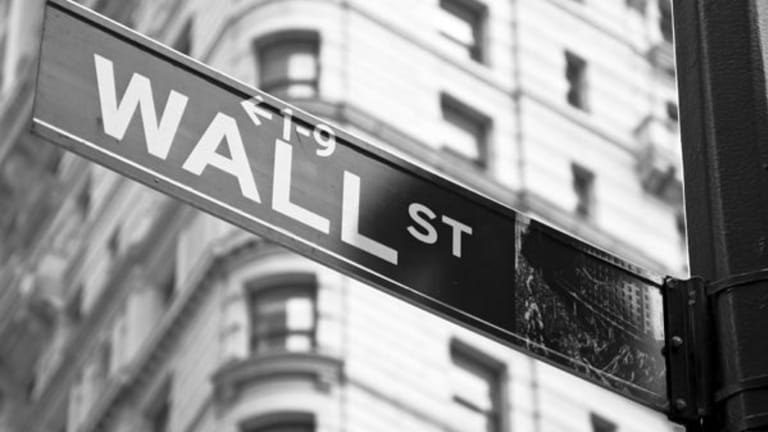 Publish date:
Five Dumbest Things on Wall Street: June 12
Angelo's Legal Aid; NYT Writes Off Union; Supreme Injustice; TD Ameritrade Tempts Fate
Angelo's Legal Aid; NYT Writes Off Union; Supreme Injustice; TD Ameritrade Tempts Fate
Angelo's Legal Aid
Thank you, fellow taxpayers, for your generous contributions to the Angelo Mozilo defense fund.
Bank of America
(BAC) - Get Bank of America Corp Report
confirmed on Tuesday it is covering the legal fees for the former Countrywide CEO who has been charged with securities fraud and insider trading. BofA, America's biggest bank, says it is obligated to shell out for Mozilo's defense as a result of an indemnity clause in place when he ran Countrywide.
The
Securities and Exchange Commission
filed civil charges against Countrywide's co-founder last Thursday, alleging he raked in more than $139 million of improper profits by exercising stock options in 2006 and 2007 while the nation's housing market and Countrywide's finances were collapsing.
Now Bank of America, which accepted $45 billion from the U.S. government's Troubled Asset Relief Program, is picking up the tab to defend one of the key players in the subprime mortgage mess that created all those troubled assets.
Excuse us for being blunt (and clearly rhetorical), but have our lawmakers lost their minds?
Mozilo made $139 million in just two years selling subprime loans. He can surely afford his own legal team. In fact, he's probably better capitalized than Bank of America which even after passing a stress test is still unable to function without the assistance of John Q. Public and his wealthy Uncle Sam.
The Obama Administration has no problem trampling on contracts in order to get what it wants, just ask
GM
(GMGMQ)
and
Chrysler
bondholders who were stiffed of their rightful due in favor of the politically powerful
UAW
. Likewise, Congress bowed to public pressure to unfairly - and perhaps unlawfully - tax
AIG
(AIG) - Get American International Group, Inc. Report
executives out of bonuses they legally, however undeservedly, earned.
As for the Supreme Court checking and/or balancing the frightening power grabs of Washington's other two branches of government, well, to quote their lame excuse for bowing out of the Chrysler case, "they have not carried that burden."
If that's the way Washington wants to play it, then we say the government should force Bank of America to call off all bets with Mozilo and let him pay his own freight.
Mozilo made a fortune passing around admittedly "toxic" pieces of paper. In this, of all cases, the American taxpayer should not be footing the bill for an equally poisonous piece of paper he calls a contract.
Dumb-o-meter score: 95 -- If Mozilo wants the public to defend him, let him get a public defender.
NYT Writes Off Union
Anybody want to buy a cracked
Boston Globe
?
The Boston Globe's
biggest labor union voted Monday night to reject pay cuts and other concessions to the paper's owner,
The New York Times
(NYT) - Get New York Times Company Class A Report
. The Boston Newspaper Guild, which represents 700 editorial, advertising and business employees, voted 277-265 against the new contract negotiated after the Times said it needed $20 million in annual savings from Globe unions -- half from the Guild.
The contract included an 8.3% wage cut, five-day unpaid furloughs and cuts in health care benefits, 401(k) contributions and pensions. It also would have eliminated lifetime job guarantees for 190 Guild workers. Six other unions already agreed to the concessions, leaving the Guild as the only holdout.
In response, the Times said it is unilaterally cutting Guild members' pay by 23% to get the savings that it needs. Moreover, the Globe reported Wednesday that the Times hired
Goldman Sachs
(GS) - Get Goldman Sachs Group, Inc. (GS) Report
to sell the 137-year-old newspaper.
Way to go guys! You refused an 8.3% wage cut only to get your pay slashed by 23% instead. You really showed those New York fat cats how to drive a hard bargain.
But seriously folks, we here at the Five Dumbest Lab commiserate with the Guild's members. We really do. We understand that a promise of lifetime employment is a hard perk to sign away. In fact, it's exactly the reason why you don't see Supreme Court justices doing celebrity reality shows or advertisements on Japanese TV.
Nevertheless, job guarantees don't mean much when a company folds. And the ink-stained wretches who voted against the deal should know by now the wretched state of the Globe's finances. The paper had $50 million in operating losses in 2008 and is projected to lose $85 million this year.
For a group of newspaper employees, they sure can't read the writing on the wall. Even when it's written clearly and boldly in red ink.
Dumb-o-meter score: 90 -- Note to the Boston Newspaper Guild: you can't spell "unemployment line" without "union."
Supreme Injustice
Boy did the wheels of justice spin quickly to get the Chrysler deal done.
The Supreme Court on Tuesday cleared the way for Chrysler's sale to Italian automaker Fiat, rejecting an appeal by opponents that included consumer groups and three bond-holding Indiana pension plans. A federal appeals court in New York had earlier approved the deal, but offered its opponents until Monday afternoon to persuade the Supreme Court to hear their case.
Justice Ruth Bader Ginsburg offered the bondholders a glimmer of hope late Monday with a temporary delay, putting a scare into the Obama administration and most of lower Michigan. Nevertheless, the trip to the highest court proved to be little more than a speed bump on the way to the deal's completion.
The Court issued a brief, unsigned opinion explaining its action, or lack thereof, simply stating that "the applicants have not carried that burden" which would have required them to intervene. On Wednesday, Fiat closed the deal, handing over the keys to the new entity known as Chrysler Group LLC to new CEO Sergio Marchionne.
We here at the Five Dumbest may not boast legal degrees but quite clearly the idea of
due process
has been replaced in America's legal corridors by a new judicial notion called
Detroit process
whereby bankrupt carmakers, Congress and President Obama can ride roughshod over the Constitution all in the name of saving automotive jobs that may or may not be worth saving.
Under the agreement brokered before Chrysler's Chapter 11 filing, Fiat gets up to 35% stake in the new company in exchange for sharing its small-car expertise. Not cash, mind you, but so-called technology. The
United Auto Workers
union grabs a 55% stake that will be used to fund its retiree health care obligations. And the U.S. and Canadian governments receives a combined 10% stake.
Meanwhile, the automaker's secured debtholders are scheduled to receive $2 billion in cash, or about 29 cents on the dollar, for their combined $6.9 billion in debt. And some of those creditors, including the Indiana funds, have a pretty strong case that they should be getting paid more considering their holdings rank higher than the UAW's in the company's capital structure.
The White House argued that completing the Chrysler deal as soon as possible was in the national interest because the company is bleeding jobs and money. To which we respectfully counter, 'what else is new?'
We also maintain that those bondholders being forced to accept an unjustified - if not unjust - haircut are also part of this nation, and they have interests too. And, more importantly, rights. And were it not for the fact other banks holding Chrysler debt like
JP Morgan Chase
(JPM) - Get JPMorgan Chase & Co. (JPM) Report
,
Morgan Stanley
(MS) - Get Morgan Stanley (MS) Report
and
Bank of America
were also holding the government's TARP money, then the dissident bondholders would undoubtedly have had more heavy-weight supporters in their protests.
At the very least they deserved the right to be heard by the Supreme Court. And at the very, very least they deserved a decent explanation as to why the Court chose to ignore them.
Dumb-o-meter score: 85 -- We want the truth Ruth. We can handle it.
.
Palm Loses Grip
Until this Saturday,
Palm
(PALM)
had a good thing going. Then it launched its biggest, best product and it all went downhill.
The handheld device maker released its highly anticipated new phone, the Pre, Saturday to small crowds at many of the stores operated by
Sprint Nextel
(S) - Get SENTINELONE, INC. Report
, the exclusive U.S. provider of the phone. Widely viewed as a potential rival to
Apple's
(AAPL) - Get Apple Inc. (AAPL) Report
iPhone and
Research In Motion's
(RIMM)
Storm, Palm's Pre was praised by reviewers ahead of last weekend's release for its speed, ease of use and unique styling.
Palm's performance ahead of the Pre's release was also praiseworthy. Shares of the company's stock levitated 292% from $3 at the start of the year to $13 last Friday, the evening before Pre's coming out party.
Alas, all good things come to an end and the Pre hit the shelves on Saturday. And on Monday morning at 9:30 a.m. EDT, Palm learned the cold hard fact that no matter how good their gadget or gizmo, Wall Street traders prefer to buy the rumor and sell the release. Shares of Palm closed down 6.5% Monday after falling as much as 11.8% earlier in the session.
And the bad news did not stop there. While Sprint said demand for the phone was high, Wall Street analysts questioned Palm's ability to manufacture the necessary supply to meet it. RBC's Mike Abramsky reported "widespread stockouts on strong early demand" in a research note Monday. And CL King analyst Lawrence Harris said that shipments appeared to be far less than he had expected and that shoppers who missed their chance may have to wait a while.
The Pre's opening weekend performance also failed in its inevitable comparison with iPhone's debut, according to analysts. Pre sold approximately 50,000 units in its first weekend, far less than the 146,000 for the 2007 launch of the first generation Apple iPhone.
Predictably, tech bloggers who were finally able to get their hands on the Pre quickly filled the blogosphere with gripes ranging from screen discoloration to random shutdowns due to a short battery life.
In fact, the only good news for Palm on Monday was the lukewarm reaction to Apple's new iPhone, which was greeted by complaints about poor service on its network partner
AT&T
.
Silly Apple should know better. The trick to spoiling Palm's Pre Party was delaying their new iPhone. Not introducing a new one.
Dumb-o-meter score: 75 -- Palm investors buy the sizzle, sell the stock.
TD Ameritrade Tempts Fate
TD Ameritrade
(AMTD) - Get TD Ameritrade Holding Corporation Report
thinks it's sponsoring a baseball stadium, but in reality it's tempting fate.
The Omaha, Neb-based online banking giant announced its plan to invest $20 million in Omaha's new downtown ballpark Wednesday, dubbing the stadium: TD Ameritrade Park Omaha. Officials from TD Ameritrade, the Metropolitan Entertainment and Convention Authority and other organizations discussed the 20-year agreement and unveiled the new name at a news conference near the construction site.
The stadium, which planners say will hold about 24,000 fans, will host the College World Series (CWS) beginning in 2011. The $120 million project is aimed at replacing Rosenblatt Stadium, home to the CWS since 1950 and to the Omaha Royals since 1969.
"College baseball represents many of the core values we promote at TD Ameritrade, namely integrity, teamwork and professionalism," said Fred Tomczyk, president and chief executive officer at TD Ameritrade. "We also share the value of education, which for us is a gateway for people to more confidently pursue their financial goals, just as for many student athletes, athletics is the gateway to a better life through a college education."
We wholeheartedly agree with Tomczyk that athletics is a gateway to a college education. And we concur that a solid education is a gateway to reaching one's financial goals. In fact, our goal at The Five Dumbest Lab is to educate our readers so they don't do something stupid with their finances (well, that and to crack wise).
Nevertheless, history has proven again and again that when a company names a sports stadium after itself, it is inevitably a gateway to a lower stock price. And in some cases, utter destruction.
Citigroup
(C) - Get Citigroup Inc. Report
saw its stock fall 93% since it agreed in 2006 to pay $400 million over 20 years to rename the N.Y. Mets home field
Citi Field
. Internet company CMGI, now known as
ModusLink Global Solutions
(MLNK)
, was forced to abandon its naming rights deal for the New England Patriots football stadium after the dot-com bust. So too did internet darling
PSINet
which inked a 20-year naming rights deal for the Baltimore Ravens' football stadium in 1999 only to go bankrupt two years later.
Speaking of bankruptcies, who can forget the titanic collapses of
Enron
and
Adelphia
? Enron Field was once the name of the Houston Astros' baseball park while Adelphia Coliseum was the home of the NFL's Tennessee Titans.
The smart move for TD Ameritrade is to name the ballpark after
Charles Schwab
(SCHW) - Get Charles Schwab Corporation Report
or
E*Trade
(ETFC) - Get E*TRADE Financial Corporation Report
. In one fell swoop they would be jinxing their competitors while still celebrating the spirit of competition.
As they say, turnabout is fair play.
Dumb-o-meter score: 70 -- The Mets don't need Citigroup's money. They need to shop choking.
Before joining TheStreet.com, Gregg Greenberg was a writer and segment producer for CNBC's Closing Bell. He previously worked at FleetBoston and Lehman Brothers in their Private Client Services divisions, covering high net-worth individuals and midsize hedge funds. Greenberg attended New York University's School of Business and Economic Reporting. He also has an M.B.A. from Cornell University's Johnson School of Business, and a B.A. in history from Amherst College.