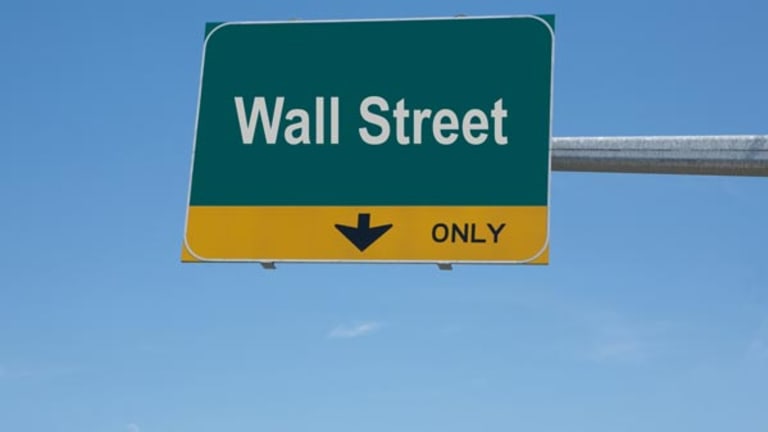 Amazon.com Re-Kindles Orwell
Somebody call the
Thought Police
!
Amazon
(AMZN) - Get Amazon.com, Inc. Report
stole my Kindle copy of
1984
.
The online bookseller enraged customers last Friday when it remotely deleted electronic editions of certain books already purchased by readers for the their Kindle devices. Ironically, and quite hilariously, one of those books wiped out by Amazon was the George Orwell dystopian classic set in a nightmarish world in which speech is repressed by a dark, omnipresent overlord called Jeff Bezos ... oops, we mean Big Brother. Our bad.
Amazon sends its digital books to Kindle owners over a wireless network. Amazon can also use that network to synchronize electronic books between devices and remove books entirely.
In an email message to customers, Amazon tried to explain away the mix-up, saying the books were added to the Kindle store by a company that did not own the rights to them.
"When we were notified of this by the rights holder, we removed the illegal copies from our systems and from customers' devices, and refunded customers," said Drew Herdener, Amazon's Minister of Truth.
Darn! We meant the director of communications. Sorry again.
"We are changing our systems so that in the future we will not remove books from customers' devices in these circumstances," said Herdener.
An authorized digital edition of
1984
from its American publisher,
Houghton Mifflin Harcourt
, is still available on the Kindle. The U.S. copyright on
1984
does not expire until 2044, but it has already expired in other countries, including Canada, Australia and Russia where readers can download digital copies of the book without fear of committing a
thoughtcrime
.
Wait! Not a thoughtcrime, we mean breaking the law. ... Hey, what are you Amazon guys doing here? ... Get your hands off us! ... Where are you taking us? ... What do you mean re-education?...
Dumb-o-meter score: 95 -- All hail Jeff Bezos. All hail Jeff Bezos.
Human Genome Stumps Street
Like the man said, "To err is human, to forgive divine." And Wall Street analysts erred in a big way when trying to divine the share price of
Human Genome Sciences
(HGSI)
.
Five investment banks downgraded the stock since the start of 2009, including
UBS
(UBS) - Get UBS Group AG Report
and
Lazard Capital Markets
(LAZ) - Get Lazard Ltd Class A Report
. In June, Lazard's analyst slapped a sell on the stock along with a measly $1 price target.
Fast forward to Monday, when Human Genome Sciences surged 277% on unexpected good news about experimental lupus drug Benlysta, potentially clearing the way for the first new treatment in decades against the inflammatory disease that causes the body to attack its own tissue and organs.
Patients who took Benlysta for one year saw reduced symptoms compared with patients taking a placebo. The study involved more than 860 patients in Asia, South America and Eastern Europe. Company executives said they are optimistic a second study conducted in North America will confirm the findings in November, clearing the way for a submission to the Food and Drug Administration in 2010.
"We're delighted," said Executive Vice President Dr. David Stump. "It's a disease that hasn't had a new approved drug in 50 years, so it's a first in many ways."
Not so delighted, however, were sell-side analysts who advised their clients to avoid owning shares of the biotech company, or even sell it outright.
Since Monday's big news, Human Genome has seen four analysts upgrade their views on the stock, including Lazard, which raised its rating to hold, and
Citigroup
(C) - Get Citigroup Inc. Report
, which changed its hold rating to buy.
Despite the error of their ways, the analysts received forgiveness from Human Genome Sciences CEO Tom Watkins who said their "skepticism is perhaps understandable," adding that he hopes Wall Street shares his enthusiasm for "the great progress for lupus patients and for the company."
Like the same man said, "A man should never be ashamed to own he has been in the wrong, which is but saying, in other words, that he is wiser today than he was yesterday."
We could not have said it better ourselves.
Dumb-o-meter score: 90 -- In case you were wondering, the "man" was the great 18th century poet Alexander Pope. Not Joe Biden.
Western Union's Surprise Package
Western Union
(WU) - Get Western Union Company Report
investors received a not-so special delivery this week. And we're not talking about the company's sorry sales numbers.
The payment transfer giant apologized to
Piper Jaffray
(PJC) - Get Piper Jaffray Companies Report
analyst Robert Napoli Tuesday
after a man posing as Napoli snuck onto the company's conference call and
harassed chief executive officer Christina Gold
.
About 52 minutes into the company's second-quarter earnings call, a man identified as Napoli unleashed a loony, curse-filled outburst directed at Gold and Western Union's general counsel David Schlapbach, according to the
Bloomberg
transcript.
"Hi, Christina, you are going to jail -- your name is -- you and inaudible, and you are going to pay for the corruption. You buy judges, you buy everybody. Your goal is just to collect information on people, and I am going to name you and shame you, you expletive, and all of the people surrounding you, especially David Schlapbach, and you know all your inaudible. So get ready. You bought a judge against you, you bought a prosecutor, you bought a case, but I am going to expletive you legally, legally. Did you get it Christi? Christina?"
Obviously, the crank caller was upset with something other than the 7% drop in revenue due to fewer migrant workers sending money home. Our best guess is that he lost his meds, but that's merely conjecture.
In a telephone interview with Bloomberg, Napoli confirmed that the lunatic on the line was most certainly not him, adding he usually refers to himself as "Bob" and not "Robert." Napoli said Western Union "just sent an email to me and apologized for the person using my name." Shares of Western Union dropped 4% on the day.
A Western Union spokesman said the call stems from a "long-running harassment case" and promised that the company would not stand for similar incidents in the future.
Nor would they sign for it we presume.
Dumb-o-meter score: 85 -- Western Union gets cranked, shareholders get cranky.
Bankruptcy for a Baldwin
While we may not deserve it, The Five Dumbest Lab begs your sympathy this week. You see, we've been struck hard by some shockingly sad news and it got us thinking about the sorry state of the real estate market and the ridiculous behavior that brought about its collapse.
Yes, Stephen Baldwin has gone bankrupt. We share your grief.
A filing Tuesday in federal court in New York shows the actor-turned-reality show star owes $1.2 million in two mortgages on a property about 30 miles north of New York City valued at $1.1 million. The document shows he also owes more than $1 million in taxes and has about $70,000 in credit card debt.
Baldwin's last major role -- if you call it that -- was on the NBC show
I'm a Celebrity ... Get Me Out of Here!
. NBC is a division of
General Electric
(GE) - Get General Electric Company (GE) Report
. Unfortunately, Baldwin left the Costa Rican set after suffering a rash of insect bites.
As for his financial woes, well, it seems Baldwin bit off more than he can chew. And not even big brother Alec will help him out of this jam.
Similarly,
Playboy Enterprises
(PLA)
bared its real estate troubles this week. The adult entertainment company said Tuesday it expects to take a pumped-up restructuring charge in the second quarter related to the closing of its Manhattan office.
Playboy, which is struggling with declining ad sales, originally planned to take a $4 million charge to shutter its Manhattan digs. Nevertheless, as a result of the "significant deterioration in the New York real estate market," that amount has since grown to $9 million, proving for maybe the first time in the magazine's history that bigger is not always better.
Meanwhile, down in Washington, D.C., there was another high-profile bust. The Watergate Hotel, made famous by the scandal that brought down President Nixon, failed to attract any bids at auction Tuesday and was taken back by the lender that held the $40 million note on it.
For those attempting to "follow the money" in this latest Watergate episode, you don't need Deep Throat's help. The cash was clearly blown in a wild attempt to turn the landmark hotel into a pricey resort.
Finally, and saddest of all was the news from Cleveland that
Wells Fargo
(WFC) - Get Wells Fargo & Company Report
will be selling the recently foreclosed boyhood home of poet Langston Hughes. The 2 1/2-story, wood-frame house on the city's east side was sold at a sheriff's auction in February for just under $17,000.
Hughes later moved to New York City where he penned the classic poem
Harlem: A Dream Deferred
, among other notable works. His Harlem home received landmark status protection in 1981.
It makes you think, doesn't it?
If only Stephen Baldwin did a second season of
Celebrity Apprentice
, maybe he could have gotten landmark status, too.
Dumb-o-meter score: 80 -- We feel your pain, Baldwins. All of you. Wherever you are.
I-Spy A Blackberry
Forget the Blackberry Bold. How about the Blackberry Bond? As in James Bond.
BlackBerry users in the United Arab Emirates who were directed by their service provider to upgrade their phones were in reality installing spy software that enabled outsiders to snoop inside, according to
The Associated Press
.
Research In Motion
(RIMM)
, the Canadian company that makes the smartphones, said in a statement emailed Wednesday that it did not authorize the software installation and "was not involved in any way in the testing, promotion or distribution of this software application." RIM says it is offering directions to customers on how to strip out the unwanted software.
So if RIM was not responsible for sending out the spyware, then who did it? Al Qaeda? The KGB? Dick Cheney?
According to RIM, the likely culprit was UAE government-owned Emirates Telecommunications Co., or Etisalat. Etisalat appears to have sent text messages to the more than 145,000 BlackBerry customers in the country instructing them to follow a link to update their phones.
Etisalat described the software change in a statement as an "upgrade ... required for service enhancements," adding that the upgrades were linked to a handover to the 3G wireless technology standard.
The BlackBerry maker rejected that explanation saying that it was unaware of "any technical network concerns with the performance of BlackBerry smart phones on Etisalat's network in the UAE."
Etisalat blocks hundreds of Web addresses so as not to run afoul of state censorship guidelines, most notably porn sites. In this case, however, its motive is less than clear, so it looks like their cover has been blown.
With this kind of bumbling, maybe the companyshould rename it the Maxwell Smart phone.
Dumb-o-meter score: 75 -- Hey Agent 99, would you believe somebody else is listening to your calls?
Before joining TheStreet.com, Gregg Greenberg was a writer and segment producer for CNBC's Closing Bell. He previously worked at FleetBoston and Lehman Brothers in their Private Client Services divisions, covering high net-worth individuals and midsize hedge funds. Greenberg attended New York University's School of Business and Economic Reporting. He also has an M.B.A. from Cornell University's Johnson School of Business, and a B.A. in history from Amherst College.