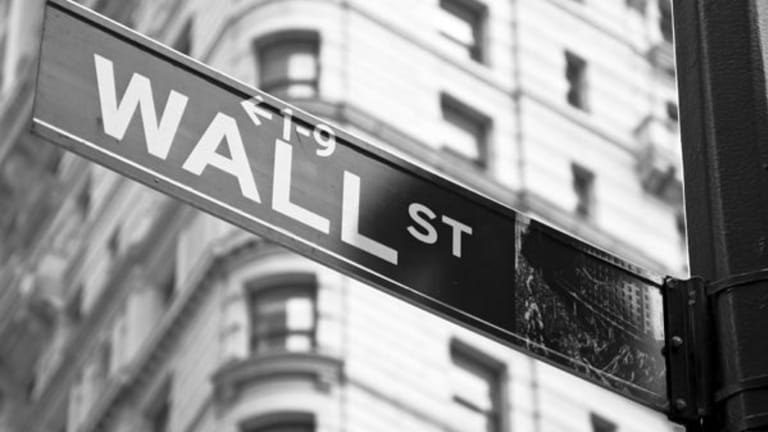 Five Dumbest Things on Wall Street: July 17
Nortel's French revolution; ratings agencies play dumb (again); so long, CIT; Take-Two interrupted; Burger King's rebellion.
Nortel's French Revolution
French workers typically celebrate Bastille Day every July 14 by setting off fireworks and getting bombed -- not getting laid off and setting bombs.
Workers at the French arm of telecommunications manufacturer
Nortel Networks
(NT)
threatened to blow up their factory this week unless they received better severance pay. French daily
Le Parisien
reported on Wednesday that the employees had placed gas cylinders in front of the Chateaufort plant in the Yvelines area near Paris, where 480 jobs are set to be slashed following bankruptcy proceedings.
Turns out the gas cylinders placed around the plant were empty. But still, that's a far cry from
liberte, fraternite, egalite
in honor of the founding of the first French Republic. Sounds more like
anarchie
to us, with a real desperate need for
securite
.
In fact, it was the second threat by French workers to blow up a factory in a week. Fired workers at a bankrupt auto-industry supplier on July 13 threatened to blow up their factory unless clients
Renault SA
and
PSA Peugeot Citroen
paid the company's 366 employees 30,000 euros ($42,000) each, according to
Bloomberg
. And those violent outbursts come on top of a wave of so-called "boss-nappings" sweeping the country as unemployment rises.
Reinhard Dammann
, a lawyer for the Nortel workers, said the meeting between Nortel management and the workers was canceled at the last minute, and "they were furious about it." Dammann added, "These employees have been laid off, and they've been told there is no money to pay what is usually given in France."
French workers at the plant went on strike July 6. They are asking for 100,000 euros each in addition to their standard severance pay. Nortel filed to reorganize under bankruptcy protection in the U.S. and Canada in January after losing $5.8 billion last year as telecom suppliers cope with the slowing economy.
"We are advancing in our efforts to find a positive solution for all parties," Nortel said in an emailed statement to Bloomberg.
That's good news. We can only imagine what would have happened if he said
"Qu'ils mangent de la brioche."
(Translation: Let them eat cake.)
Dumb-o-meter score: 95 -- How can you blow up a company that's already blown itself up?
Ratings Agencies Play Dumb (Again)
The bond rating agencies enabled the credit crisis by giving triple AAA ratings to CCC securities. Now they're giving Calpers the same old B.S.
The California Public Employees' Retirement System, the biggest U.S. public pension fund, is suing the three largest bond rating agencies for giving their highest marks to securities that later suffered huge subprime mortgage losses. In a lawsuit filed last week in California Superior Court in San Francisco, Calpers said it might lose more than $1 billion from structured investment vehicles, or SIVs, that were blessed by
Moody's
(MCO) - Get Moody's Corporation Report
,
Standard & Poor's
, a unit of
McGraw-Hill
(MHP)
and
Fitch
.
Calpers, which oversees the pensions of about 1.6 million retired California public servants, said the bond raters "made negligent misrepresentations to Calpers and Calpers' money manager agents, which have caused and will cause Calpers to suffer substantial investment losses."
As you can imagine, the last thing California and its Governator need right now is to lose any more money on SIVs, CDOs or any other asinine acronym for a basket of crappy mortgage bonds. The state is already stuck with a $28 billion budget deficit and is paying their employees with IOUs.
Predictably, the three blind mice, otherwise known as the ratings agencies, denied Calpers allegations. McGraw-Hill spokesman Steven Weiss said, "The claim is without legal or factual merit, and we will take action to have it dismissed." Likewise, a Fitch spokesman called the claim unfounded and vowed a vigorous defense.
Moody's, which is 20% owned by Warren Buffett's
Berkshire Hathaway
(BRK.A) - Get Berkshire Hathaway Inc. Class A Report
said, "Our role in the market is simply to offer reasoned, forward-looking opinions on credit risk ... There is nothing in the Calpers complaint to suggest that Moody's policies were not followed in this particular case."
Can't argue with Moody's there. They certainly followed their policies to the letter. They gave the SIVs the triple A's that Wall Street paid for.
And now California is SOL.
Dumb-o-meter score: 90 -- A Calpers victory could spell D-O-O-M for the ratings agencies.
So Long, CIT
Citi
(C) - Get Citigroup Inc. Report
, yes.
CIT
(CIT) - Get CIT Group Inc. Report
, no.
CIT Group shares tumbled more than 70% Thursday as it became more likely that the government would not supply the small business lender with the emergency funding it needs
. CIT said late Wednesday that negotiations with regulators about a possible rescue had broken off after days of round-the-clock talks.
With the Obama administration unwilling to throw it a lifeline, CIT is attempting to save itself by raising $2 billion to $4 billion in rescue financing from its debtholders within the next 24 hours, a source close to the talks told
The Associated Press
. Investors, however, were betting against their success, sending CIT shares to 43 cents from $1.18.
CIT said Thursday it was in discussions with potential lenders to secure financing.
Earlier this week the stock jumped as high as $1.66 on hopes that the government would step in. That seemed like a sensible wager at the time, especially considering CIT lends to hundreds of thousands of small businesses, which, according to Obama himself, are the backbone of this economy and our best chance for job creation.
On top of that, there was also the idea floating around that letting CIT go would only make other lenders like
GE Capital
(GE) - Get General Electric Company Report
much more powerful, and by default create additional "too big to fail" colossuses. And finally, there was the notion that the government would not let CIT go after giving it $2.3 billion in TARP money in December.
Well, aren't small businesses the salt of the earth and our best hope for economic salvation? And won't CIT's collapse only make the remaining players on Wall Street more susceptible to moral hazard and all its evil consequences? And finally, why would the government lend a company billions and then turn its back on it six months later?
Don't hold your breath waiting for answers from Washington. Instead, look at the numbers.
CIT had $75.7 billion in assets as of March 31, according to a corporate filing, or about a tenth of the $639 billion in assets Lehman Brothers listed when it filed for bankruptcy last year. Lehman's failure, as we were reminded once again this week by former
Treasury Secretary Henry Paulson
, nearly led to the collapse of the global economy.
In other words, the Obama administration is gambling that a CIT bankruptcy will only be 10% as painful for the nation's economy as Lehman's failure.
What's 10% of the end of the financial world as we know it?
Get ready to find out.
Dumb-o-meter score: 85 -- So long, CIT. We hate to see you go ... or maybe not!
Take-Two Interrupted
Somebody better shock some life into
Take-Two Interactive
(TTWO) - Get Take-Two Interactive Software, Inc. Report
. Better yet, "BioShock" them.
Shares of the video-game software maker plunged over 10% on Monday after the company reduced its yearly financial forecast due to tough retail conditions and the delay of the release of its "BioShock 2" title. Originally slated for an
, the highly anticipated game is being pushed back to early 2010 to "provide additional development time for the title."
In case you were wondering, that's the sequel to their blockbuster
BioShock
. Not to be confused with their other bestsellers:
Civilization II
,
Manhunt II
,
Mafia II
or for that matter,
Grand Theft Auto II
,
Grand Theft Auto III
or
Grand Theft IV
.
Take-Two told analysts it expects to lose 80 cents to 95 cents an adjusted share for its fiscal year ending Oct. 31, instead of the break-even to 20 cents a share profit range it had previously forecast. Take-Two said sales have proven more challenging than expected, resulting in less catalog products sold and lower than anticipated initial retail orders of new releases.
That's got us wondering, if times are so tough and new releases so important, how could you screw up so badly the new release of
BioShock 2
? Who at the company took their eyes off the monitor and their hands off the joystick on this all-important project?
"We recognize that our revised outlook for the balance of fiscal year 2009, due to both internal and external factors, is a disappointment. That said, we concluded that moving the release of
BioShock 2
into fiscal year 2010 was the right decision for the product," said Take-Two's Chairman Strauss Zelnick.
Hey Strauss, apologizing to Wall Street or your shareholders won't get you anywhere. They still haven't forgiven you for rejecting
Electronic Arts
(ERTS)
$26 a share buy-out offer last year and now your stock is well below $10.
No, you should be sucking up to all those kids out there stuck with last year's "Grand Theft Auto" next Christmas. And wondering if they'll ever come back for "BioShock III," "IV," "V," etc.
Dumb-o-meter score: 80 -- Our idea for Take-Two's next game? Grand Theft Shareholder.
Burger King's Rebellion
Back off your highness!
Burger King's
(BKC)
franchisees are having it their way.
Burger King submitted to the will of its franchisees Tuesday, saying it will mail customers coupons in August and September allowing them to purchase a double cheeseburger for $1. The decision arrives after the fast food chain's franchisees reportedly vetoed a corporate proposal to offer the burger for only a buck.
The bargain price was meant to be for a limited time only in order to boost restaurant traffic, according to
The Wall Street Journal
, which broke the news about the uprising among Burger King's disloyal subjects. Fast-food chains are slashing prices to attract cash strapped customers often to the dismay of individual store owners working on razor thin margins. The double cheeseburger costs $2 in most cities.
Burger King announced the coupons, including one for the double cheeseburger, will be mailed to nearly 80 million U.S. households. Consumers will have 60 days to redeem the coupons.
As if we here at The Five Dumbest Lab didn't get enough junk mail. Now they are sending us junk-food mail!
The company said in a statement it "remains fully focused on its value offerings and delivering value for the money to its guests," adding that "many product and menu options are always in development and under consideration."
Burger King certainly needs to shake things up as it continues to get grilled on Wall Street. Shares of the company are down almost 33% this year, compared with a 7% drop in rival
McDonald's
(MCD) - Get McDonald's Corporation Report
. Not helping the matter was a Bank of America downgrade of the company's stock this week to neutral from buy.
Customers are hard to come by, so the last thing Burger King needs is to lose the good faith of its franchisees. Another whopper like this one and the monarchy could be in jeopardy.
Dumb-o-meter score: 75 -- With apologies to Mel Brooks: It's not so good to be the King.
Before joining TheStreet.com, Gregg Greenberg was a writer and segment producer for CNBC's Closing Bell. He previously worked at FleetBoston and Lehman Brothers in their Private Client Services divisions, covering high net-worth individuals and midsize hedge funds. Greenberg attended New York University's School of Business and Economic Reporting. He also has an M.B.A. from Cornell University's Johnson School of Business, and a B.A. in history from Amherst College.