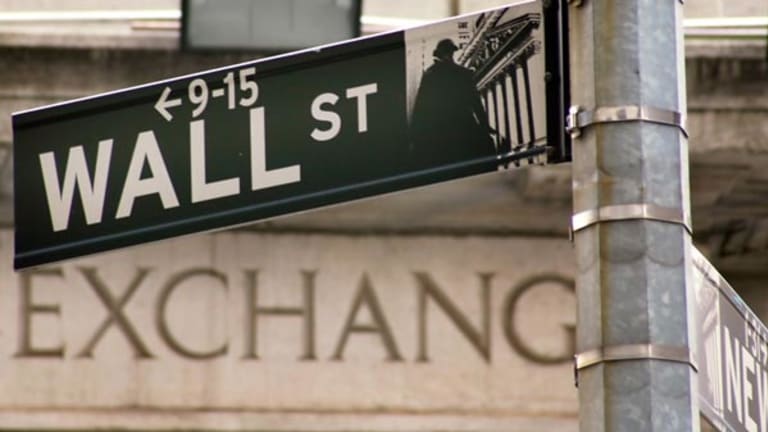 Five Dumbest Things on Wall Street: Jan. 23
RBS's Royal Screw-up; BNY Mellon's Ominous Signs; Moody's Asinine Assumptions; RIM's Big Blow; Chrysler's Italian Job
RBS's Royal Screw-up
God save the Queen, but we're not even sure the Old Girl can save the
Royal Bank of Scotland
(RBS) - Get Report
right now.
RBS accepted another round of government assistance Monday and announced that its losses for 2008 could approach 28 billion pounds ($41.3 billion), the largest ever for a British corporation. The bank's ADRs plunged 69% to just above $3 when trading in New York resumed Tuesday after the holiday weekend.
The British government raised its stake in RBS from 58% to 70% in a deal intended to save the company 600 million pounds a year in interest charges. The bank also said it will likely reduce the value of past acquisitions including the ABN Amro deal by 15 billion to 20 billion pounds. RBS led a consortium in 2007 that included Belgian-Dutch group
Fortis
and Spain's
Banco Santander
(STD)
in a buyout of ABN Amro at a cost of 70.5 billion Euros ($139.04 billion).
"Almost all their losses are in the subprime markets in America and related to the acquisition of the bank ABN Amro," said an angry Prime Minister Gordon Brown at a news conference. "And these are irresponsible risks, which were taken by a bank with people's money in the United Kingdom."
Brown separately announced a new round of bailouts for Britain's troubled banks which - like their American cousins
Citigroup
(C) - Get Report
and
Bank of America
(BAC) - Get Report
- are edging closer and closer to complete nationalization.
In an interview with British newspaper
The Times
, recently appointed RBS Chief Executive Stephen Hester pledged "to return banking to boredom and not use colorful adjectives at a time when there are lots of emotions running high."
We understand entirely. So we will describe their situation with an adverb instead: "
Royally
screwed."
Dumb-o-meter score: 95 -- Can you hear that Royal flushing sound?
BNY Mellon's Ominous Signs
Bank of NY Mellon Corp.
(BK) - Get Report
should rethink putting its name in lights after this week's earnings disaster.
The city of Pittsburgh's planning commission approved changes to signs atop the 54-story One Mellon Center office building this Wednesday. The new signs, which will say "BNY Mellon" in 14-foot-tall illuminated letters, will reflect the 2007 merger between
The Bank of New York
and
Mellon Financial
. BNY Mellon officials say the $1 million signs will take 14 months to design and build.
Judging by the bank's quarterly results announced Tuesday evening, however, the bank may want to scrap the signs and rent the space instead.
After fellow custody bank and TARP recipient
State Street
(STT) - Get Report
reported billions of dollars in unrealized investment losses early on Tuesday, BNY Mellon shocked the market by moving up its earnings announcement by two days. The result? An 88% drop in fourth-quarter profit to $61 million, or 2 cents a share.
BNY Mellon's big earnings hit came from a $1.24 billion writedown for securities tied to "Alt-A" mortgages, which often are used by people who can't document income or assets. Chief Executive Robert Kelly said the writedowns reflected "enormous liquidity discounts" for mortgage-backed securities and that the "actual incurred loss will ultimately be materially lower."
Kelly's positive spin may be proven correct by the time the new signs are unveiled over the Pittsburgh skyline next year.
A memo to Kelly: Forget the signs and save the $1 million. One point in your favor is that you haven't had to beg to the Feds like
Bank of America
(BAC) - Get Report
-- yet.
Dumb-o-meter score: 90 -- Stupidity is best ignored, not advertised.
Moody's Asinine Assumptions
Moody's
(MCO) - Get Report
should just assume we stopped listening to them a long time ago.
Moody's Investors Service said in a report last week that it is revising the assumptions it uses to rate and monitor corporate synthetic CDOs, a type of collateralized debt obligation backed by a pool of credit default swaps. As a result, the bond rating giant said it will likely lower the ratings of "a large majority" of corporate synthetic CDO tranches by three to seven notches on average.
Moody's said its assumption adjustments include a 30% increase in the assumed likelihood of default for all corporate credits in synthetic CDOs due to the worsening economy. The corporate synthetic CDO market is estimated to represent over a trillion dollars in notional outstanding debt.
"We are anticipating a lot more corporate defaults going forward as Moody's expects that the current negative cycle will be worse than the previous cycles," said Jian Hu, managing director at Moody's.
Not to boast, but we here at the
5 Dumbest Lab
came to the conclusion a while ago that this was no run-of-the-mill recession, and we did it without the benefit of sophisticated computer models. And putting aside the fact that Moody's rivals
Standard & Poor's
and
Fitch Ratings
already made similar changes last year, Moody's about-face only serves as a cruel reminder of the outsized role the ratings agencies played in creating the credit crisis.
It's no surprise that Moody's was the last to do a 180. We see nothing has changed at Moody's, especially when it comes to being on top of things.
Dumb-o-meter score: 75 -- Moody's ratings are better never than late.
RIM's Big Blow
Research In Motion
(RIMM)
tried to play hardball with tiny
Certicom
, but now the Blackberry-maker is in a jam.
RIM dropped its $53 million bid for security specialist
Certicom
Tuesday after an Ontario court blocked its hostile takeover attempt. The court granted Certicom a permanent injunction restraining the bid Monday by claiming that RIM had breached nondisclosure agreements entered into by the two firms in 2007 and 2008. The companies had been in contact since 2007 about a possible deal, but Certicom refused to grant RIM exclusive buyout talks.
Certicom develops a technology called Elliptic Curve Cryptography (ECC), which is used to secure data on a range of devices, including smartphones. The
National Security Agency
uses the same technique, and Certicom licenses its technology to a range of companies in addition to RIM, including
IBM
(IBM) - Get Report
,
General Dynamics
(GD) - Get Report
and
Motorola
(MOT)
.
RIM, whose market value is just under $29 billion, launched its bid for comparatively puny Certicom in December through one of the smartphone specialist's subsidiaries. The move could have bolstered RIM's ability to secure Internet data and potentially squeeze the competition.
Certicom's board rejected the offer as too low, however, and now RIM's decision to go hostile has backfired. RIM now faces the expensive prospect of increasing its Certicom bid or looking elsewhere to boost its security portfolio, something which could prove prohibitively expensive and difficult to achieve. Certicom is also openly canvassing other suitors, increasing the pressure on RIM to come up with a security solution.
For one of the world's biggest maker of smartphones, RIM could not have played this one any dumber.
Dumb-o-meter score: 85 -- Hey RIM! Put down your Blackberry, and pick up your checkbook.
Chrysler's Italian Job
Here's a riddle: How do you say
loser
in German, English and Italian?
Answer:
Chrysler
.
Fiat signed a nonbinding agreement with Chrysler this Tuesday for a strategic alliance that would give the Italian auto manufacturer a 35% stake in the troubled U.S. carmaker. Under the proposed alliance, Fiat would not invest cash in Chrysler but would cover the cost of retooling a Chrysler plant to produce one or more Fiat models to be sold in the U.S. Fiat also would provide engine and transmission technology to help Chrysler introduce new, fuel-efficient small cars.
The alliance is subject to a review of Chrysler's finances and regulatory approvals, including the
U.S. Treasury Department
, which earlier this month announced an emergency $4 billion bridge loan for Chrysler. The tentative terms Fiat and Chrysler have worked out would call for Chrysler's owners, Cerberus Capital Management and Germany's
Daimler AG
(DAI)
, to retain stakes in the Auburn Hills, Michigan-based car maker.
In return for Fiat's so-called investment, Chrysler CEO Bob Nardelli said Chrysler would receive "access to products that complement our current portfolio and a distribution network outside North America."
Give us a retool on that one, Bob. Everybody knows that you need to prove Chrysler's viability by March or Congress will pull the plug on $3 billion in additional government aid. This ridiculous "merger" is not helping your case, no matter what language you use to spin it.
Dumb-o-meter score: 95 -- American taxpayers are being taken for a ride. Again.
Before joining TheStreet.com, Gregg Greenberg was a writer and segment producer for CNBC's Closing Bell. He previously worked at FleetBoston and Lehman Brothers in their Private Client Services divisions, covering high net-worth individuals and midsize hedge funds. Greenberg attended New York University's School of Business and Economic Reporting. He also has an M.B.A. from Cornell University's Johnson School of Business, and a B.A. in history from Amherst College.