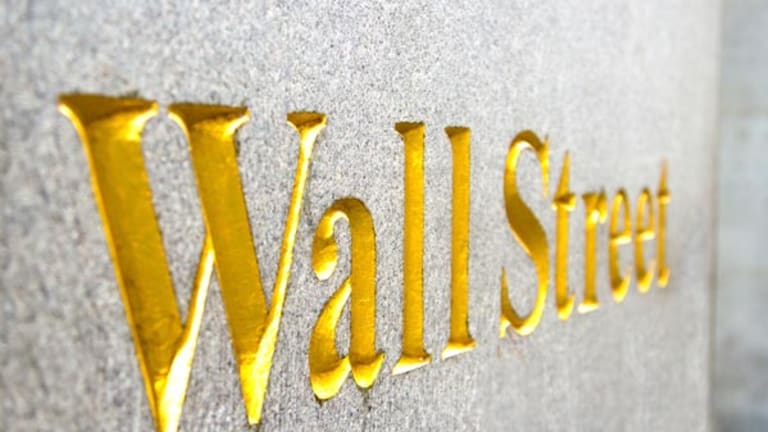 Five Dumbest Things on Wall Street: Feb. 5
Nike's airball; Icahn's (Block) best; Amazon's sob story; Wal-Mart assaults battery maker; and Toyota's troubles.
Nike's Airball
Nike
(NKE) - Get NIKE, Inc. Class B Report
is launching an ad campaign laden with gun references at the same time the National Basketball Association is cracking down on firearms in the locker room.
Talk about shooting yourself in the foot.
The Nike ad, which was unveiled late last week in publications like
Sports Illustrated
and
ESPN The Magazine
, features armor clad NBA All-Stars LeBron James and Kobe Bryant standing beside the slogan: "Prepare For Combat." The ad also carries a quote from each player boasting about his toughness. Bryant's blurb says: "I'll do whatever it takes to win games. I don't leave anything in the chamber."
Metaphorically speaking, of course, Kobe doesn't leave anything in the "chamber" when he plays basketball, especially against the Knicks where he habitually shoots the lights out. As for "King" James, he doesn't need combat armor to protect him now that he has Shaquille O'Neal as a teammate.
However, the NBA is sensitive to any gun references after Washington Wizards (nee Washington Bullets) players Gilbert Arenas and Javaris Crittenton were busted for playing with guns in the Wizards' locker room. Arenas and Crittenton have been suspended for the remainder of the season.
"We had no prior notice of this ad," said NBA spokesman Tim Frank. "We think it is inappropriate."
Bullseye
, Tim! Or should we say,
Swish!
Dumb-o-meter score: 75 -- Here's our question: Can we still call Pete Maravich the "Pistol?"
Icahn's (Block) Bust
Activist investor Carl Icahn isn't even waiting for the credits to roll before exiting the flop that is
Blockbuster
(BBI) - Get Brickell Biotech, Inc. Report
.
Icahn relinquished his seat on Blockbuster's board last Friday, five years after he launched a proxy battle that resulted in his winning three board seats, and three years after he ousted then CEO John Antioco. Icahn cited Institutional Shareholder Services guidelines regarding how many directorships he can hold for his exit.
Yeah, right. Like good old Carl really cares about what an advisory firm like ISS has to say when it comes to corporate governance. And Lindsay Lohan will win the Oscar for Best Actress this year.
No, what really led to Icahn's exit was the movie rental chain's stock sinking to 45 cents from the $10 range it was trading at when he started hammering Antioco over an excessive pay package and his direction for the company. In the end, it seems that neither Icahn nor his flunkies could turn this Titanic around (and we're not referring to the box office smash James Cameron movie).
In a letter to Blockbuster's current CEO Jim Keyes, Icahn told the Blockbuster chieftain that he "greatly enjoyed working with you, the board and the management." In response, Keyes called Icahn a "valuable director and a tremendous resource to the board and the management team."
That's laughable. We don't see where he added any value. And we certainly don't think Icahn will be winning best director for his work on Blockbuster any time soon.
Dumb-o-meter score: 80 -- One day they will make a movie about the failure of Blockbuster. And we will be sure to rent it on Netflix (NFLX) - Get Netflix, Inc. Report.
Amazon's Sob Story
Amazon.com
(AMZN) - Get Amazon.com, Inc. Report
wanted a loss leader to sell more Kindles. Instead, it was thrown for a loss by a fed-up publisher.
Amazon announced on Monday it will submit to the demands of publishing giant Macmillan and agree to sell digital versions of its books at prices it claims are too high. The online bookselling behemoth yanked new Macmillan titles last week after the publisher posted a new, higher pricing model for its e-books.
Amazon charges just $9.99 for bestsellers on its Kindle e-reader. Macmillan and other publishers complain the price is too low and hammering their hardcover sales. Under Macmillan's model, to be put in place in March, e-books will be priced from $12.99 to $14.99 when first released and prices will change over time.
"We want you to know that ultimately, however, we will have to capitulate and accept Macmillan's terms because Macmillan has a monopoly over their own titles, and we will want to offer them to you even at prices we believe are needlessly high for e-books," said Amazon in a posting on its online Kindle Forum.
Kindle this Amazon. Not that we disagree with lower prices, but please save us the martyr act. Your so-called capitulation has less to do with fighting for consumers than to keep competitors like
Barnes & Noble
(BKS) - Get Barnes & Noble, Inc. Report
,
Sony Corp.
and, most especially, the
Apple
(AAPL) - Get Apple Inc. Report
iPad from challenging your own dominance in this rapidly expanding device market. A more competitive market, in our opinion, will eventually lead to better pricing and increased choice for e-book readers everywhere. We have seen enough gadgets and gizmos come and go to determine that much is true.
Moreover, most analysts believe the higher prices Amazon says were foisted upon them by Macmillan will ultimately lead to higher profits for both parties. So the last thing we want to hear is whining from Amazon. And we certainly don't want to see anymore books pulled from the shelves, electronic or otherwise.
Dumb-o-meter score: 85 -- Cry us a river, Amazon.
Wal-Mart Assaults Battery Maker
Here's yet another one for the "don't put all your eggs in
Wal-Mart's
(WMT) - Get Walmart Inc. Report
basket" file.
Shareholders of battery-maker
Exide Technologies
(XIDE)
received more than a jolt Wednesday when their stock slid nearly 30% after the company missed Wall Street's profit expectations by 33% and, even worse, said Wal-Mart will stop buying its products.
Yep, it's the same old story. Wal-Mart giveth. And Wal-Mart taketh away. Big time.
As for the earnings disappointment, Exide's third-quarter net income fell to $9.8 million, or 12 cents a share, from $15.4 million, or 20 cents a share, last year. Analysts expected earnings of 16 cents a share, according to Thomson Reuters.
Wall Street's disenchantment pales in comparison to that of Exide's management, however. In its earnings announcement, Exide admitted that Wal-Mart purchases currently represent "a significant portion of the company's Transportation Americas sales" and the order phase-outs will continue into the third quarter of fiscal 2011.
CEO Gordon Ulsh tried to put on a brave face in a statement, saying that Exide hopes "to regain some or all of this business in the future."
Gordon, we too hope you get all Wal-Mart's business back. And once you do, we look forward to having you back on the Five Dumbest list the next time they drop you.
Dumb-o-meter score: 90 -- Wal-Mart. Can't live without them. Can't live without them.
Toyota's Troubles
When the going gets tough,
Toyota
(TM) - Get Toyota Motor Corp. Report
executives get tongue tied.
As Toyota mechanics struggle to fix the gas pedal problem that led to the recall of millions of cars, the company's executives worldwide are having an even harder time repairing the its good name.
"This is embarrassing for us to have ... this kind of recall situation," Jim Lentz, president of Toyota Motor Sales USA, told reporters. "But it doesn't necessarily mean that we have lost our edge on quality."
Come on Jim. You've got to be kidding us. That's exactly what it means! On Tuesday, Toyota U.S.A reported its January sales plunged 16% compared with last year, while
Ford's
(F) - Get Ford Motor Company Report
rose 25% and
GM's
sales popped 14%.
Meanwhile, half a world away in the land of the rising sun and the home of the falling automaker, Toyota's president Akio Toyoda was not helping matters. Toyoda was blasted by Japanese critics after he decided not to attend a slapdash press conference addressing the multi-million vehicle recall. Unable to stand the heat, he got out of the kitchen, sending Toyota's executive vice-president in charge of quality control, Shinichi Sasaki, to be grilled in his place.
Sasaki said that Toyota was working hard behind the scenes to fix the problem, but it was a prompting by the U.S. Department of Transportation that "greatly helped to push us to act swiftly on the problem."
Eureka! We found the working
accelerator
at Toyota. It's the DOT!
"Why did we decide to take action now suddenly? That's because, to be honest, there was fear that if we continued our study on this any longer
our credibility could be questioned," remarked Sasaki.
Please tell us Mr. Sasaki, how's that working out for you?
Dumb-o-meter score: 95 -- Lentz told the media Monday the latest repairs 'solve the issues that we know of.' Boy, that sure makes us want to run out and buy a Toyota.
Before joining TheStreet.com, Gregg Greenberg was a writer and segment producer for CNBC's Closing Bell. He previously worked at FleetBoston and Lehman Brothers in their Private Client Services divisions, covering high net-worth individuals and midsize hedge funds. Greenberg attended New York University's School of Business and Economic Reporting. He also has an M.B.A. from Cornell University's Johnson School of Business, and a B.A. in history from Amherst College.