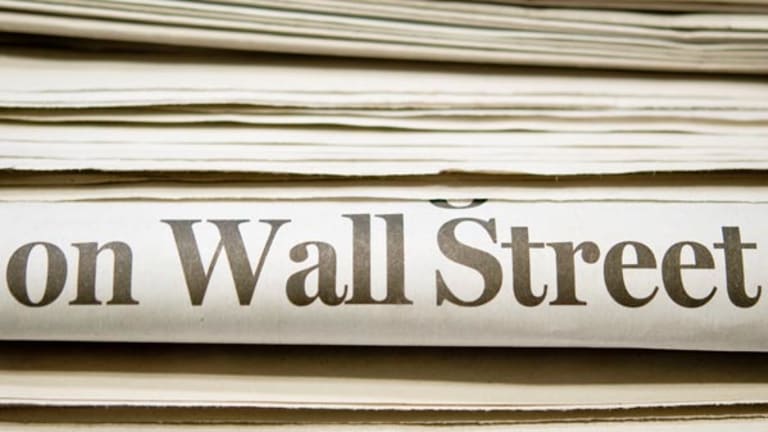 Five Dumbest Things on Wall Street: Feb. 26
Monster fib; Apple sheds its soft core; CBS' Supreme cheapness; Glaxo loses grip; and Google gets the boot.
Monster Fib
Looking for a job? Don't go to online recruiter
Monster Worldwide
(MWW)
for help.
Literally, don't go there.
Monster Worldwide, the parent of Monster.com, announced it was cutting 200 jobs from its global work force Monday, reducing it to around 5,600 people. The company said the layoffs have no connection to Monster's acquisition of HotJobs from
Yahoo
(YHOO)
earlier this month for $225 million in cash.
Really? It seems to us like it must have something to do with the HotJobs purchase. $225 million could sure put a lot of people to work. Perhaps salary, unlike charity, does not begin at home.
"As we have been doing for the past 24 months, we continue to re-structure, re-organize and, importantly, re-invest in ways that we believe are necessary to meet our ever-growing and changing business needs," said Matthew Henson, Monster's vice president of public relations, in an email.
Here is our
re-tort
Matthew. You should
re-verse
your decision and
re-tain
your employees. Otherwise, you may be viewed as a monster.
Dumb-o-meter score: 75 -- It may not be the definition of irony, but an employment site laying off workers comes pretty darn close.
Apple Sheds Its Soft Core
Apple
(AAPL) - Get Free Report
no longer wants to be accused of being soft core.
Apple is banning many sexually suggestive applications for its iPhone, according to Tuesday's
New York Times
. In a move that surprised many application developers, the company is cracking down on so-called apps that feature photos of women in bikinis and lingerie. Apple said the new policy comes in response to widespread complaints from App Store users.
"It came to the point where we were getting customer complaints from women who found the content getting too degrading and objectionable, as well as parents who were upset with what their kids were able to see," said Philip W. Schiller, head of worldwide product marketing at Apple.
Among the victims of the purge, according to the
Times
, was a game called SlideHer, a puzzle that challenged users to reassemble a photograph of a scantily clad actress, as well as, Sexy Scratch Off, which depicts a woman whose dress could be removed at the swipe of a finger, revealing her undergarments.
Apps not affected by Apple's ban include one from
Sports Illustrated's
famed swimsuit issue and one from
Playboy
.
Schiller says the difference is that these are well-known companies with "previously published material available broadly in a well-accepted format."
In other words, to quote the famous Supreme Court ruling on obscenity, Apple knows it when it sees it. But we're not so sure Apple can say the same about hypocrisy.
Dumb-o-meter score: 80 -- We're pretty sure parents objecting to their kids accessing smut on their iPods really don't care who created it.
CBS's Supreme Cheapness
We are starting to think that
CBS
(CBS) - Get Free Report
stands for
Cheap Broadcasting System
.
Six years and multiple court cases after Janet Jackson's infamous Super Bowl "wardrobe malfunction," CBS argued on Tuesday that it should not pay the $550,000 penalty for the half-second of semi-nudity. The 3rd Circuit Court of Appeals in Philadelphia tossed the
Federal Communications Commission's
fine against CBS as arbitrary, but the U.S. Supreme Court stepped in and sent it back down for review.
FCC lawyer Jacob Lewis argued Tuesday that CBS was warned in advance that its 2004 halftime performers might add some shock value to the song and dance routine. Said Lewis, "While fleeting, it was patently offensive."
Sorry for the commercial interruption, but nobody cares about "Nipplegate" anymore. The whole controversy was barely discernible, let alone patently offensive. And in our opinion, Janet's wardrobe malfunction was far milder than the erectile dysfunction ads that regularly run during the commercial breaks.
That said, CBS has probably spent more on legal bills fighting this than it would have to pay. So, Tiffany network, stop nickeling and diming and pay the fine.
Dumb-o-meter score: 85 -- Better the FCC gets the money than Charlie Sheen -- the $875,000 per episode star of the network's "Two and a Half Men" arrested for attacking his wife.
Glaxo Loses Grip
It's no big deal that
GlaxoSmithKline
(GSK) - Get Free Report
is changing its denture cream formula. In the face of mounting problems with Poligrip and its diabetes drug Avandia, the company's shareholders don't have much to smile about anyway.
Glaxo announced late last week it will remove zinc from its Poligrip denture cream formulas amid dozens of lawsuits claiming years of excessive use caused neurological damage and blood problems in consumers. The company, which reported more than $520 million in denture adhesive sales last year, plans to reformulate the creams without zinc.
In a consumer advisory on its Web site, the company announced the switch, saying that it had "become aware" of potential health problems with its denture adhesive products. Glaxo stressed that the products are safe when used as directed, but that some people go overboard and use too much cream to correct ill-fitting dentures.
Ain't that always the way? There is nothing that will make a company "become aware" of a problem like hundreds of lawsuits from paralyzed people who were allegedly crippled by your product.
If that doesn't break your heart, then maybe some
Avandia will help. A Senate report this week claimed that Glaxo knew about potential cardiac risks from its best-selling Avandia diabetes drug long before they were made public. Avandia accounted for $1.1 billion of Glaxo's $44 billion in sales in 2009.
Maybe all Glaxo needs is a kick in the pants to get them going in the right direction. If that's the case, they may have to wait a while.
Last Thursday the
Food and Drug Administration
delayed approval of Horizant, the restless leg syndrome drug Glaxo is working with its partner
XenoPort
(XNPT)
.
Dumb-o-meter score: 90 -- Will Avandia be the new Vioxx? Class action lawyers are dying to know.
Google Gets the Boot
Talk about an Italian job.
An Italian court convicted three Google executives on privacy violations Wednesday, because they did not quickly enough remove an online video that showed a bunch of teen bullies beating up an autistic boy. Judge Oscar Magi sentenced the three executives in absentia to a six-month suspended sentence and absolved them of defamation charges.
Google called the decision "astonishing." We call it downright
stupido
.
The charges were originally brought by an advocacy group for people with Down syndrome, despite the fact that the boy in the video is not afflicted with that condition. The group alerted prosecutors to the 2006 video showing the autistic student in Turin being pummeled and harassed at school.
Prosecutors argued that viewers had flagged it well before police contacted Google, and the fact that it had 5,500 views and 800 comments during the two months it was online meant it should have been noticed sooner. Google Italy, on the other hand, said it yanked the video two hours after being notified by police, as is required by law.
Thanks to Google's cooperation and quick action, the four bullies were identified and sentenced by a juvenile court to community service. So if anything, Google should be lauded for its actions, not punished. As to the idea that Google should be held even remotely responsible for the actions of a few sadistic individuals, that's just nuts.
Dumb-o-meter score: 95 -- First Chinese hackers, now Italian judges. It's open season on Google.
BONUS:
Click here to see our new editorial cartoon concept!
Before joining TheStreet.com, Gregg Greenberg was a writer and segment producer for CNBC's Closing Bell. He previously worked at FleetBoston and Lehman Brothers in their Private Client Services divisions, covering high net-worth individuals and midsize hedge funds. Greenberg attended New York University's School of Business and Economic Reporting. He also has an M.B.A. from Cornell University's Johnson School of Business, and a B.A. in history from Amherst College.